What The Fuck Is Going On? My Thoughts On The Current State Of The Boston Bruins
The Bruins dropped a 3-2 decision in OT to the Philadelphia Flyers last night, their third straight loss. They have five losses in their last six games. All of those five losses being one goal games. To make things worse, the B's are 6-6-2 against the worst teams in the Eastern Conference this season. That's embarrassing and flat out not good enough. What the fuck is going on?
Last night, Cassidy called out Chara:
"Listen he's the captain of the hockey club, so that message has to come. He won a Stanley Cup here by being a defensive stalwart, and one of the best penalty killers in the league. So yes, he's part of that group and the biggest part of it. So I would hope that.. he's a terrific leader… that the next game he understands what makes us successful." – Bruce Cassidy
Cassidy was fired up last night and challenged his Captain. "[Chara's] got to get Charlie to buy in, got to get Carlo [to buy in]", on the back end the Bruins have to be better, if the goals aren't coming, they have to be tight defensively, close their gaps and shut teams down. That starts from the top. Z knows that. I have no doubt in my mind he'll get the boys ready to play on Sunday in Washington. I have no problem with Bruce calling out Z, either. Chara knows they have to be better.
Charlie McAvoy's shot missed the net late in the 1st (B's were dominating the Flyers the entire period), and it led to a Claude Giroux breakaway and we all know what happened next. Who knows if the Bruins blow that game if they are up 1-0 after 1.
David Pastrnak's 30th of the season tied things up 2-2 in the 3rd period last night. His 30th in 51 games, and the third straight year he's hit the 30 goal plateau.
Late in the 3rd, Danton Heinen had the game on his stick! The B's could put the Flyers away!
…he did not score. He didn't even get a shot off.
Instead, Travis Sanheim scored for Philly in OT (thanks to a Marchand tripping penalty) and that was all she wrote.
So where the fuck do we go from here?
Let's talk about SECONDARY SCORING… There is none. Outside of David Krejci, no one is producing.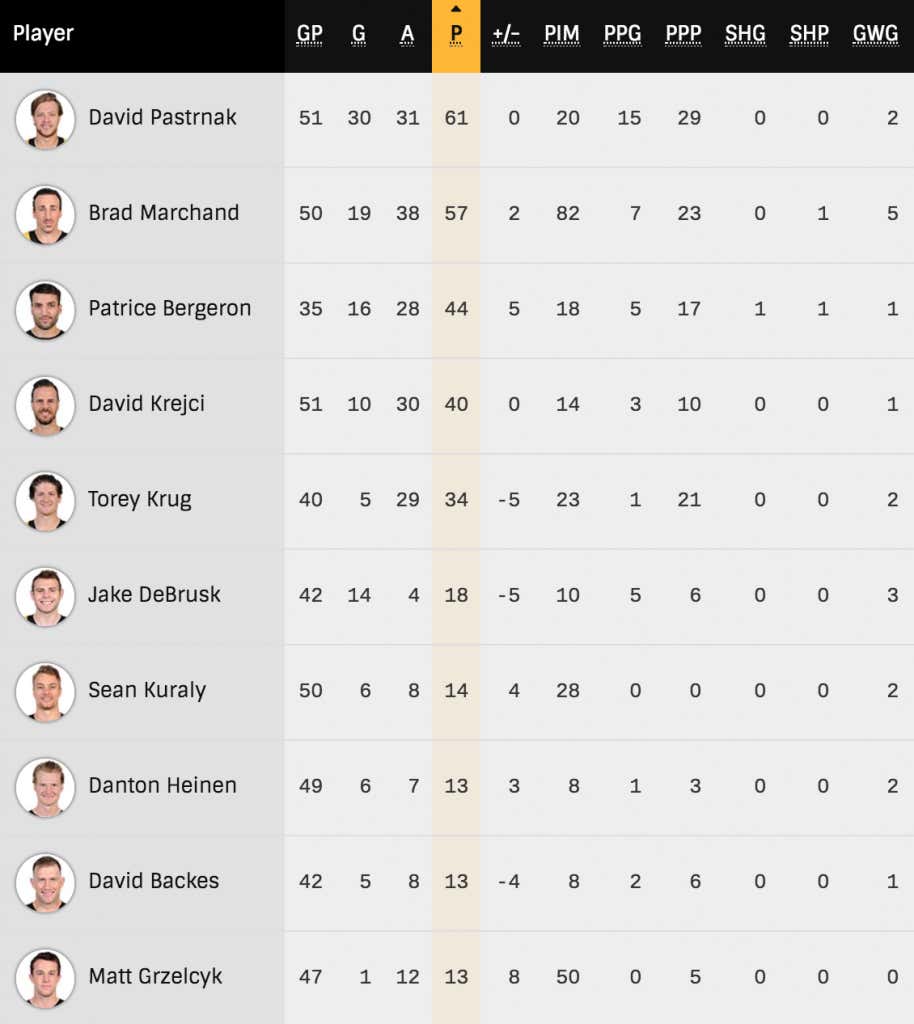 The top line accounts for 44% of the team's total goals. FORTY FOUR PERCENT. David Pastrnak has 30 goals on the season, but he can't play on all four lines.
We got to fix it. Guys got to decide if they're going to play the right way and buy in and understand what we are right now. If we were  scoring five goals a night it'd be a little different animal, you can overlook some of those things. We're not in that position right now. Hopefully we are at some point but we're not there now." – Bruce Cassidy
Still, amazingly the Bruins find themselves 3rd in Atlantic. The fact that they are a one-line team and still a top 10 team in the league is remarkable. Don Sweeney needs to get them some help, and he needs to do it now. The Leafs just shored up their defense by acquiring Jake Muzzin from the Kings.
Don't wait until the deadline. This team is healthy, we know what we have. Make a move. There are 31 games left in the season to get it together.
BIGGEST NEEDS – Scoring winger, third line center.
Trent Frederic has gotten me fired the fuck up, don't get me wrong.. but if the B's want to make a long run to the Cup, they're going to need someone with a little bit more experience to fill that position. Maybe David Backes wakes up and is that guy. But if the Bruins are looking to bring a center in, Brayden Schenn would be a great fit. While he only has 9G, and 18A (27 pts) in 45 games this season, he put up 70 points last year and is a proven veteran. The best part? He's not a rental, he sits at $5.125 million (aav) with another season on his contract. What would it take? Likely a 1st, a roster player (to fit him under cap) and a high end prospect.
We just talked about secondary scoring and how it non-existent it is on the B's. Artemi Panarin is rumored to be on the market (since he won't talk extension with CBJ). At the very least Jarmo Kekalainen is asking for a (conditional) 1st, DeBrusk and a high end prospect (i.e Lauzon, Vaakanainen). Do you pull that trigger for a rental?
Kevin Hayes (shout out Team Portnoy) could be a fit with David Krejci and Jake DeBrusk on the second line. The Bruins could (potentially) hang on to their 1st round pick and nab him for a 2nd or a 3rd and a prospect.
For the last month or so, Michael Ferland has been linked to the Bruins in trade rumors. Quite frankly, he would cost to much (1st, prospect), and for a tough player, in the midst of a career year in Carolina.. he's not the goal scorer we need. I don't see him helping the B's get past Toronto or Tampa Bay.
Wayne Simmonds would look great in the Black & Gold, but I don't see it happening.  Too expensive of a rental. But my god, a girl can dream. Wayne Train in Boston.
Ottawa Senators' Mark Stone could be a nice fit, but does Ottawa deal him within the division? Unlikely.
If I'm Don Sweeney, I'm seriously looking at three guys, 1. Schenn, 2. Panarin, 3. Hayes.
If you can't get the third line C, you get the best scorer on the market, can't get him? I'd settle for Hayes.
Donnie just needs to get this team some help, and we'll be good. You have to beat the teams you're supposed to beat.
I'm all about PVO. Positive vibes only. We play the Washington Capitals on Sunday afternoon, haven't beaten them in 14 straight games. But you know what? It's going to be a great day to win a hockey game.
Let's Go Bruins.