Here's All the Advice the Pats Will Need to Stop Sean McVay's Offense
In the lead up to the AFC championship game, I wrote about a how, "The Patriots Should Crush Kansas City's Defense." Well, 37 points, 524 yards of offense, three late go-ahead touchdown drives and one conference title later, I'm pretty confident I can paint that flag on the side of my cockpit on my way to making Ace. No humble, just brags.
This week I'm more interested in the other side of the ball. And talk about what the Patriots defense needs to do to not be the crushee that the Chiefs' was.
I've heard a little talk about how the Rams' offense is good but they've got no Super Bowl experience and Jared Goff is 24 years old and he's going to melt like a snow cone under the blazing heat of Maroon 5's white hot riffs. But I heard that last year about Nick Folk. Hell, we heard it 15 years ago about Jake bloody Delhomme, and he ended up looking like Shane Falco.  So just expecting an offense to crash and burn just because the quarterback is young is just sheer laziness. This unit is going to be brutal to stop.
The Rams were 2nd in the league in scoring and yards behind only Kansas City, and 2nd in rushing touchdowns behind only New Orleans. They were also 3rd in YPA, and used that rushing ability to set up play action, which they passed out of 35.7 percent of the time, 2nd most in the league. They were held to under 26 points only three times in 18 games and under 23 exactly once, that weird statistical outlier, the 15-6 loss at Chicago in Week 14. That's the challenge facing Brian Flores in his last game before he goes off to get fired in Miami.
So in order to help the Patriots with their preparation, and in order to save them the embarrassment of asking, I'm offering these simple tips to gameplan the Rams' offense:
Don't Go to Magic Camp
Sean McVay has worked with two Grudens and two Shanahans, making him a twig growing from a branch of the West Coast Offense tree. But his particular tendril (that's all I got for plant metaphors) relies a lot more on explosive plays opened up by the aforementioned play action than the old West Coast. As well as motions, misdirections, end-arounds and bubble screens to throw defenses off balance. And a lot of it is just a magician's trick. Throwing a flash-bang or waving toward his assistant's giant boobs to draw your attention away from him opening the door on the back of the magic box. The Patriots will have to ignore all distractions. Stay disciplined as if all that is not going on. Stick to their assignments like who's covering who and setting edges without getting caught crashing down inside and losing containment. Basically to treat the Rams like they're as one-dimensional as the Bills, even though they're anything but.
Pull Tricks of Their Own
Goff does a lot of things well. One of them is NOT calling his own plays. Or even his own audibles and "Kill" calls. Those are called in by McVay on the helmet radio. The Rams typically break the huddle with plenty of time for the coaches upstairs to look over the defense and send down the final play.
To counter that, the Pats will need to disguise their coverages until after the helmet communication is cut off, which is by rule 15 seconds before the play clock runs out. Which is easier said than done when the Rams put in all those presnap motions to get you to reveal your scheme. But for the Pats, that'll mean showing the Cover-1 Robber they played so much against the Chiefs but then, say, drop corners back into Cover-3 or Quarter-Quarter-Half. Or maybe appearing to play a deep shell but then dropping safeties down into the box prior to the snap. If there's an aspect of this game where it's a Dumbledore-Voldemort fight between Belichick and McVay, that'll be it.
Smack Brandin Cooks Around
We all got a season's worth of looks at Brandin Cooks as he's a nice receiver. Really nice. An elusive prey who moves fast and is hard to cover. This year he produced 1,200 yards and a 15.1 YPC average, which is outstanding. We know that. We also know what he is not. He's not physical. He's not going to high-point a lot of passes or fight you for the 50/50 balls. He'll try to outrun your corners deep, which the Patriots handled brilliantly by bracketing the basically uncoverable Tyreek Hill and daring somebody else to beat them. If you've got nine minutes and want to give yourself a football nerdboner, here's a great breakdown of that:
With all due Cooks is not that guy you have to commit so many resources to. If it were me, I'd activate Obi Melifonwu, have him slap Cooks around some with his massive, linebacker-sized lumberjack arms and smack the nipples right off of Cooks. Even if it means a flag or two. They won't do that, obviously. But I think what they will do is play off coverage, let Cooks do that thing he does well which is get you backing up then come back to the sidelines for the ball. Give him that all day if necessary and see if LA has the discipline to keep settling for those. Not many offenses do. Eventually they give into the temptation to "take a shot" and make mistakes.
Flowers for Jared
Against Kansas City, the Patriots front came out as aggressively as they had all year. Putting extra defenders into the gaps. Penetrating while relying on their backs to keep tight coverage long enough to by the rushers time to get after Patrick Mahomes and force bad throws. And it worked almost as well as it ever has. And they'll need that same approach to Goff.
On the season, Goff's numbers speak for themselves:
364 for 561, 64.9 Completion % (27th best in the league), 8.4 YPA, 32 TDs, 12 INTs, 101.1 Passer Rating (13th).
When under pressure, those numbers dropped to:
68 for 157, 43.3 Completion % (43rd), 6.0 YPA, 5 TDs, 6 INTs, 58.2 Passer Rating (34th).
I'll concede that's unfair because every QB's numbers drop off when you pressure them. Otherwise, what would be the point of pressuring them? But I defy you to find a top-tier passer whose numbers drop that much. Which isn't to suggest you blitz him. As Mike Lombardi has said, one of the tenets of Belichick's core philosophy is that blitzing is an admission of your failure to pressure. And it doesn't work well against Goff. His numbers when blitzed:
107 for 180, 59.4 Completion %, 8.7 YPA, 7 TDs, 2 INTs, 96.1 Passer Rating
So it's not sending extra rushers after him. It's sending one rusher in particular after him:
Trey Flowers is having a monster postseason. In what might be his final game in New England (here's wishing it isn't but someone will pay him crazy money), he has to be let off the chain. According to NFL Next Gen Stats, Goff had the 4th highest Average Completed Air Yards (7.0) and the 6th most Time to Throw, with 2.94 seconds. The Pats front was effective as hell disrupting Mahomes sending four using games, stunts, TEX (Tackle/End Cross) rushes, twists. Free Flowers up by rushing him with, say, Kyle Van Noy, in combination rushes while keeping seven in coverage and he'll come after Goff like a Viking Berzerker.
Everybody Pat Chung Tonight
Unless you've spent this week getting hammered in Atlanta and having way more fun that me, you've heard this fact: The Rams love to run out of 11-personnel. One back. One tight end. According to everybody, they do it 77 percent of all their run plays. Get three receivers on the field, make you defend them all, then hand the ball to Todd Gurley or CJ Anderson and force you to try and stop them minus one linebacker and plus one nickel back. The Patriots essentially play a base nickel, and that's where Pat Chung comes in. From their Big Nickel spot, he was second on the team in tackles, despite missing that Week 3 shit sandwich at Detroit with an injury. He's sat out one snap in the playoffs, and that was at the end of the Chargers game. One assumes he's going to draw the tight end – either Gerald Everett or Tyler Higbee – in coverage. But it's going to be largely up to him to be the DB who's stopping those runs the Rams love to call out of the spread.
Take it Easy, Hightower!
Actually, opposite. They need Dont'a Hightower to go off. Even though Gurley had a 2007 LaDainian Tomlinson-like conference championship game with 4 rushes for 10 yards. Even though CJ Anderson is one of those big, punishing, between-the-tackles backs that the Pats have always had success against for as long as I can remember (Jerome Bettis had his worst career games against them), the Rams running attack is an existential threat and Hightower is the One Man Who Can Stop It the movie trailers always talk about. Here's how Sharp Football charts the Rams Directional Runs: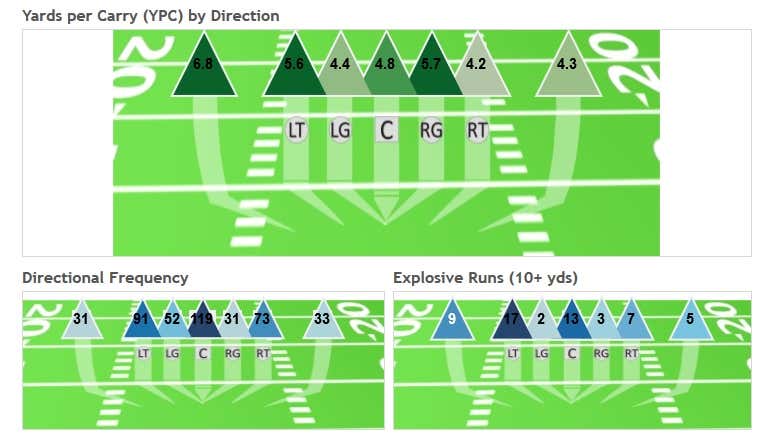 That is a metric shit ton of runs over center and left tackle, with by far the highest percentage of explosive runs (18.7) going behind two-time All Pro Andrew Whitworth on the left. Hightower has predominantly played up on the line at the Will where he'll be facing Whitworth, but he's no stranger to lining up in the middle on the second level, either. Those spots are McVay's preferred place to attack, in the way a velociraptor would cut open your belly or your groin. If you're going to have to rely on anybody to plug those two holes, I'd take Hightower over almost any Pats linebacker of the Dynasty Era not named Bruschi.
And lastly:
Don't Bench Anybody Unexpectedly