The Hornets Prove To Be An Embarrassment To The Sport Of Basketball As The Celtics Continue To Roll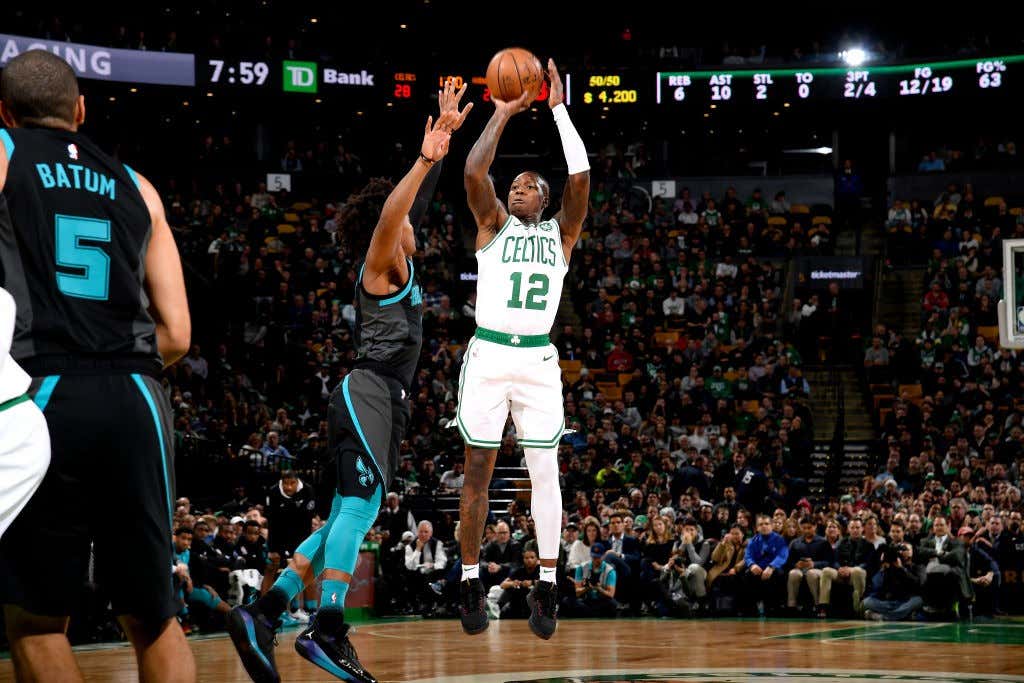 January was a very important month for the Boston Celtics.  They ended December with a tough loss to the San Antonio Spurs and were sitting at 21-15. Once they got to 2019 it was clear the schedule opened up in their favor and provided them with an opportunity to stack up very much needed wins. With 11 of their 15 games at home, a place where the Celtics have one of the best home records in the league. Things started out great with a nice four game winning streak including a very convincing win over the then 3 seed Indiana Pacers. Things looked great! But in classics Celtics fashion they followed that up with a brutal trip to Florida, three straight losses and questions as to whether or not they were going to blow this prime opportunity in their schedule.
Well, since that loss to BKN the Celtics are 7-1 over their last 8 with that only loss being that heartbreaking 4 point loss to GS. Not exactly the end of the world. They rebounded from that by beating two more playoff teams to end the month 10-4, 0.5 games out from the 4 seed and just 1 game out of the 3, and I'll remind you that team right now is the Sixers who the Celtics haven't lost to in many of our lifetimes who also happens to play GS tonight. The reality of their situation is after beating the Hornets by 32 points, there is a very real possibility this team has a top 3 seed by the end of the week, something that earlier in the year definitely did not seem like it would be possible.
The best part about this win and really the entire month of January is the Celts are starting to get strong play from guys who really were the root of their struggles early. Jaylen Brown has completely turned his game around and has been a legit weapon, Terry has stepped in for Kyrie and as a starter is producing at his 2018 Playoff level, Al Horford looks 28, the list goes on and on. In my opinion the Celtics needed to show me a kind of month like this to essentially save their season, and they responded just like I hoped they would. Sure they aren't perfect, but they are starting to look a whole hell of a lot more like the team we expected which is a little something I like to call progress.
But before we get too carried away with what the future holds for this team, we first have to talk about one of the most dominant Celtics wins in recent memory. Allow me to explain.
The Good
– There were a lot of candidates for the top spot today, and after a long deliberation it felt right that we should start with Jaylen Brown. Not only did he put up a team best 24/10 on 10-18 shooting, but it was also his 3rd 20+ point outing in his last 4 games, and with Kyrie out and the need for a primary scorer at an all time high, Jaylen responded not just with the points but with the efficiency to boot
I know I keep talking about it, but I am going to keep stressing it because part of me thinks if I speak it into existence it will continue to work. What am I talking about? I'm talking about Jaylen's shot selection. Last night was another perfect mix of inside/outside basketball from Jaylen, where things were either at the rim or behind the arc. No terrible long two's, no getting into the paint and panicking and fucking up at the rim, he knew he had the advantage and he exposed it time and time again
That one shot that wasn't in the paint or a three was his automatic fadeaway out of the post which has become a real weapon, and I look at that shot chart and I see a guy who knew he couldn't be stopped by any CHA defender and he made the most of it. But that was just half of the story when it comes to Jaylen's night. It's fair to say there are moments where he has bad mental lapses on defense, but last night I thought he was for the most part rock solid. Opponents shot just 3-11 against Jaylen, he owned his matchup with Malik Monk who he matched up with most on 18 possessions and held him to 1-5 shooting, and of any Celtic that played at least 20 minutes, Jaylen had the second lowest Drtg at 90.3. I do not find it a coincidence that the Celtics just completed their best month record wise of the season, and it just so happens to be a month Jaylen is playing the best basketball of the season.
– Like I said with Kyrie out that meant others were going to have to step up offensively, and nothing made my heart swell with joy than seeing Jaylen and Jayson rise to the challenge
For Tatum it was a nice 20/5 on 9-15 shooting and what I liked about his performance was we saw no hangover from his poor night against BKN on Monday. That's been the impressive thing with Tatum so far this season in my opinion, he hasn't really let one bad game become an issue. Remember a few weeks ago when he had just 2 points on 0-6 shooting against MEM? He followed that up with back to back 19 point games shooting no worse than 53%. In fact, there has been only 1 time all season where he's turned in back to back duds and I loved the fact that he came out right away and was aggressive, had 11 quick points and led all starters in FGA with 15.
Right away you knew Brad was going to expose Tatum's matchup of Nicolas Batum, there's just no way it was possible for Batum to be able to stay with Tatum on that end. He's far too slow. So by playing through Tatum it allowed him to attack a big time weakness and he came through, going 5-8 against Batum with a couple threes. I was happy that even with no Kyrie that Tatum didn't just hold the ball and try to iso the whole game, he finished with 23 passes on 39 touches and as we know when this team moves the ball good things tend to happen.
– I know a lot of people still hate Terry for how he started the season, but if you want to get on him for his earlier struggles you also have to admit how well he's played as a starter this season. Remember last year and then the playoffs where we were all cumming ourselves over his production? Well it looked a lot like this
Maybe that ups his trade value, but I don't really care about that right now. I'm focused on this season and it's pretty clear they need this version of Terry if they are going to reach their potential. Why he plays so much better as a starter I'll never know, but I won't question it. I've accepted that this is just who he is and I encourage you to do the same. Coming out and dropping an efficient 17/10/5/3 on 5-10 shooting was certainly a surprise, but I think my favorite part of his night was the fact that he only had 1 TO. When Terry plays under control and takes care of the ball and doesn't force things he can be a real asset and this was a great example of that. He did about as good as anyone limiting Kemba, especially from deep, and I'm ready to say this was the best Terry has looked all year. My guess is Kyrie is going to sit until at least Sunday if not the deadline, so we're about to get a whole lot more of Starter Terry which honestly isn't a bad thing right now.
– The 32 point win was not only the 3rd largest margin of victory of the year, but they also had their third best shooting night of the season at 55.6%. The other two, the win against MIN and the win against IND also came this month. Remember when this team couldn't shoot? That feels like forever ago.
But there's more! When I say this was one of the best most complete outings in recent memory that isn't hyperbole. The Celts won the rebounding battle 53-31 which by itself is pretty ridiculous, but it also happens to be the 4th best rebounding differential in the last 10 seasons. What do I always say, it comes down to defense and rebounding and the Celts were nails in both of those areas.
– Speaking of defense, nothing gets my blood pumping to my dick more than watching this team defend at a high level
10 steals, 7 blocks, held CHA to 43/32% and just 35 second half points, I know it's the Hornets but good defense is good defense. Finally we had a full team effort on that end and not one of those games where one unit plays well and the other comes in and can't stop a nosebleed. Everyone who touched the floor last night brought it on the defensive end and that's how you blow a team the fuck out.
– I mean this was a complete beatdown. Points in the paint were 64-42, 2nd chance points were 27-13, fast break points were 19-4. Talk about massacre my lord.
– Listen I'm not saying I saved Gordon Hayward with my blog the other day explaining how to fix him, all I'm saying is I put that blog out and then it immediately happened. Those are the cold hard facts.
I'm not saying Hayward is back after a 12 point 5-10 performance, but what I am saying is he definitely needed to see himself have a night like this given how tough of a stretch he's had recently. We saw Hayward be so much more aggressive, we saw him not settle off the high screen for threes and instead attack the basket, and we got another glimpse of what his passing can do in terms of creating for others when he's running the show with that second unit. This game was such a better example of how Brad should use Hayward and it's not all that surprising that he responded the way he did.
It's true they brought Hayward in not to be good against the Hornets but to be good against teams that matter, but I'll take games like this to get his confidence up every single time.
– I don't know what the Celtics did to Al Horford, but he looks 5 years younger. Another solid 14/7/5 with 2 more blocks on 7-9 shooting, Al has been fantastic this entire month
Is anyone surprised that over these last 8 games the Celtics have looked like the team we expected all while Horford is doing things like this?
He's rebounding, he's facilitating, he's efficient, he looks like he has his speed back on the defensive end, it's beautiful to watch. We all know how important a healthy Horford is to how this team wants to play on both ends and while the Hornets didn't have a big man that is all that intimidating, where Horford really excelled last night was his held defense. It feels so good to have a healthy Horford back in our lives, he is very much needed.
– Is Mook finally working his way out of his slump? You be the judge
The Bad
– What could possibly be bad about a 32 point win? Well how about the fact that this team gave up 59 first half points on 55% shooting? That certainly isn't all that good for a team in CHA that can't really score. The Celts had all sorts of trouble actually getting stops and for every Celts fan watching that game it made you a little nervous because the last thing I wanted was to see this be a close game with Kemba on the other side. That's just asking for trouble.
– The reason things got so close? Because once again the Celts had a 2nd quarter turnover problem. That's always been the quarter that plagues them, not only did they give up 31 points but they couldn't stop turning it over. Surprisingly it was the starting unit that had the issues, but it's definitely a trend that has been an issue all season.
The Ugly
– Yabu played only 6 minutes in a 32 point win. How is that even possible? Why won't Brad just give us what we want in a game they definitely could have just played him the entire fourth quarter. He came in and immediately dominated so that was certainly annoying.
All in all, the positive feelings you should have right now shouldn't be because they beat the Hornets, but because of how they played this entire month. Their schedule is still fairly light for the next few weeks so it's not as if we'll learn anything about this team because they beat the Knicks/Cavs etc. The point is they need to stack these wins and get back into competing against TOR/MIL, and in order to do that you have to clean up against bad teams, that's just a fact. Hopefully, February proves to be just as good as January was, and if that's the case this team is going to look like the one we all thought they could be, and that's a relief.