Kate's Atlanta Super Bowl Week Travel Guide: Part 1
When I woke up this morning it was dark, rainy & cold so I stayed in bed writing and researching for the day ahead until I finally got hungry enough to go downstairs. By this point it was 10:15am and I thought I'd be in the clear, but wouldn't you know.. there goes El Pres walking past the stairs in a suit jacket & tie, fresh off the previous day's Media event & an evening of NFL interrogations. He was unfazed & ready to roll.
I adjusted my giant flannel pajamas & smoothed back my frizzled bangs a little before holding up the laptop in my hands & saying, "Hey, ha ha! Good morning!" with a sense of purpose. Nothing to see here, just working hard. In my pajamas. Mid morning. Teeth/hair not brushed yet but that's not important. Heh, heh.
Great impression on the guy who made it clear there was to be no loitering around if you came on this trip. Was I becoming the Jay & Silent Bob of the house?
By the time I was done with my *yogurt (*salad-bowl-sized helping of Reeces Puffs) everyone had finally left for The Ivy to do radio & I had the whole mansion to myself for the second day in a row. Sitting still has never been my strong suit, even if it's in a place with a hot tub, putting green & party basement, so I was antsy to get on the move & create a travel guide of sorts.
Once the basic route was mapped, I went online & got a ticket to the "NFL Super Bowl Experience" for later in the evening, & then got a ride downtown to start exploring. One of my favorite things to do is go loosely off suggestions on my social media & it's gone pretty well thus far…
My drop-off spot was the top of Piedmont Park, which locals had sold to me as "The Central Park of Atlanta". Lo & behold, there among the trails was an electric scooter, and seeing as I'd put $40 on my scooter account back in Nashville after a few beers, a cruise was meant to me.
It was beautiful with forests, rolling hills, fields & a lake, but after about a mile it became clear I'd overestimated the year-round balminess of the South & should have brought a real coat with me on this trip. Looking at a map, the Ponce City Market wasn't too far so I headed that way to warm up.
If you're here for the week & looking to shop I'd recommend it. Think I can say this because I hate to shop & never want to waste time doing that when I'm visiting somewhere new, but I didn't want to smash my face into a wall when I was there so it must be ok. (Bonus: You can grab a beer & drink throughout the entire covered yet open-air, spacious property. It's not like regular malls, it's a cool mall.)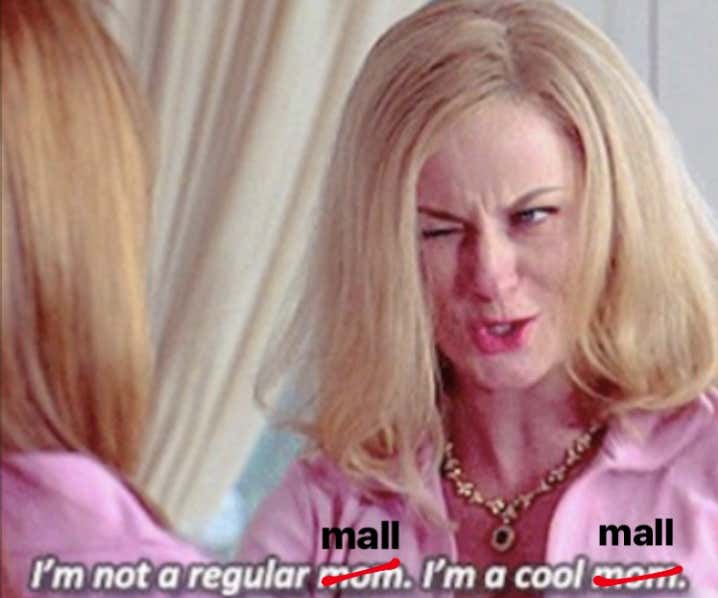 There's a mix of chain stores & local merchants, and the food seems to be all local stuff, too. People suggested Minero & Ton Ton but I got a California 'Dog from Drafts + Dogs and it was legit. What says "trying Georgia local flavors" more than a California hot dog?
From there I wanted to see the Ponce City Market's rooftop, which, on top of great views, has an ice skating rink & amusement park rides. A guide told me it was closed at the moment but walked me over to the stairs leading up to The Beltway. As we walked he said I had to check out Little 5 Points while I was here, too, but…
"Not 5 Points… Little 5 Points. At the regular 5 Points you'll just see human zombies."
Noted. But back to the plan…
I was excited to stroll The Beltway because it was another top recommendation from my Twitter & Insta, and I wanted to see it even though I wasn't quite sure what it was. Turns out it's sort of similar to the High Line in NYC; old railway lines & trails turned into paths around the city that they hope to link full-circle in the future.
Early on I ran into a trumpeter who let me put in a request for $5, and off I went as he played Outkast's SpottieOttieDopaliscious into the cool breeze.
People following along must have recognized the musician & his location because right away my DMs blew up with people telling me I had to make a pit stop at New Realm Brewing, a short jaunt down the path. Never one to turn down a beer-stop, I pulled in for a post-hot-dog pint. (Breweries, standup open mic nights, and judging guys on Bumble with no intention of swiping are great ways to get the local vibe, and beer is my favorite of the three.)
Apparently one of the co-founders is the former head brewer for Stone Brewing; one of the spots I loved when I lived in California. Gotta say, it showed… the beers were fantastic & Hazy Like A Fox blew my dick off. (No free ads, but I can't help it.) I asked for a flight of six & when I had questions about the description on the '5 Points Of Contact" IPA, rep Zach Thoren took the time to pop over & tell me about it. This particular beer is a special blend of hops compiled by U.S. veterans who own breweries (new road trip to visit all of those already forming in my head…) and it tasted like I was floating on a cloud of soft citrus. #TYFYS veteran brewers…
As I looked out at other sun-soaked visitors sipping beers outside on the patio that overlooked The Beltway like a boardwalk bar, Thoren lamented that the Tuesday night trivia DJ had cancelled on them over fears of the day's bad weather. What started out dark & rainy should have been a snow day that sent the city into chaos, but it's turned into a beaut.
Speaking of, I'm back onto The Beltway for the next stop.
Because I have a backpack with me I can't get into the Super Bowl event I'd gotten a ticket for. Perhaps subconsciously I just wanted to fit in with my coworkers in not being allowed at NFL events. So now I'm probably going to keep exploring & then eventually hit up the strip club where "Atlanta's Strippers go to die…", the Clermont Lounge. If the tour continues like this I may be up on stage doing the robot, collecting those dollar bills. If the week keeps up how it's been going, Dave & PFT may need the bail money.
The week is young & I'm sure by the time I'm back at the Super Bowl house tonight I'll have still missed a lot. If you have any suggestions give me a shout & I'll try to cover them for Part II!