Grading the Newest Sex Scandal Teacher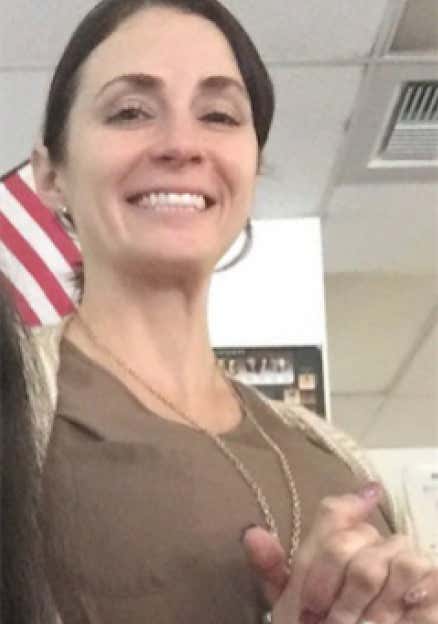 California – The Kern High School District said Monday that a science teacher at Frontier High School has been place on paid administrative leave for an investigation into a "personnel matter."
Meanwhile, Eyewitness News has received unconfirmed viewer reports that the teacher in question appeared in a sexually explicit video. Eyewitness News has yet to confirm that the woman appearing in the video is in fact the Frontier High School teacher.
The district identified the teacher placed on leave as Emily Salazar. A district spokeswoman declined to comment on the allegations or acknowledge that the investigation is focused on a possible sex tape.
Reader email No. 1 – Jerry, I got a good one for you. A little backstory is that this teacher is well liked, considered the cool teacher. Turns out she had an entire porn site, mainly ran through Twitter, where she was fucked by multiple dudes, preferring BBCs. Attached is the link to the story and to one of her videos. Unfortunately there was no sex between her and students, but the rumor is that one or more scenes were shot on campus and that her husband was the one behind the camera and not her. Your decision to run it, but holy shit it's a good one.
Reader email No. 2 – Jerry; Think you should do a little research on this story coming out of here in Bakersfield. So this teach at Frontier High School, Emily Salazar, was leading a secret life online as the Queen of Spades. She has her husband film her while she get fucked by BBC. She decided to go to the AVNs this weekend and that's when she got outed. Supposedly, at school on Monday someone had taped up printouts of her getting railed all over school.
Well, there's certainly a lot to unpack here. And ordinarily I'd say I can't confirm that the woman in the videos the Stoolies sent me is, in fact, the Emily Salazar who was suspended by the Kern High School District. And I looked. And looked. For the better part of the afternoon. Just because it's all part of the job and I want to uphold the impeccable standards of this running gag where Sex Scandal Teachers get evaluated. The sacrifices I make for you people, without asking anything in return. …
It's hard to be sure because the camera only focused on part of her face in these very, very, extremely NSFW files. And in this definitely, unquestionably, not-at-all-ambiguously NSFW video she's wearing an imperial stormtrooper helmet. Which doesn't make sense in the context of the story they're trying to tell, but does make sense if you're trying not to lose your job as a teacher.
Anyway, I followed the Twitter link one guy sent me and it got me nowhere.
But the guy was thorough enough to link an Instagram page (SFW) obviously set up by Frontier High School students.
Jackpot.
Since Mrs. Salazar is a science teacher let me just say, "Houston, this is Tranquility Base. The Eagle has landed."
The Grades:
Looks: Your classic MILF. In outstanding shape, no matter what her age. All too often this grade has to be skewed by a mugshot or selfies. But Emily and Mr. Salazar have set a new standard for seeing the total package that can never be surpassed. For that alone she's getting an
Grade: A
Moral Compass/Bad Judgment: First of all, going to the AVN Awards in Vegas, playing the part of your alter ego "Queen of Spades" while trying to protect your secret identity as Mrs. Salazar, mild-mannered science teacher from Bakersfield, is such a baller move I don't have words. Yes, Emailer No. 1, she did not have sex with a student. But she's done more for those kids than 99 percent of other Sex Scandal Teachers. Not to mention the fact while a lot of educators talk a good game, she is out doing something real to celebrate diversity.
Grade: A
Intangibles: The memes those students came up with are all the grade she needs. But as a bonus, here's one more: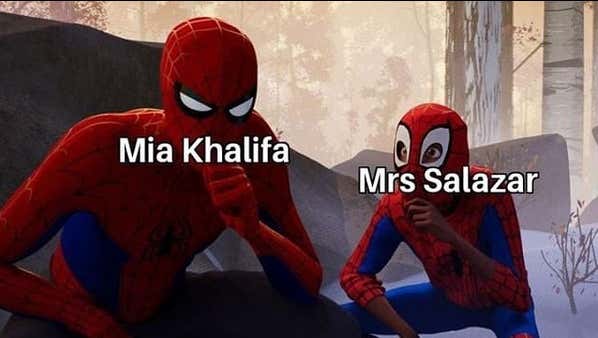 Cruel but hilarious. Kids being kids.
Grade: A
Overall: A. We have our first truly great SST of 2019.
Do you have someone you want to see graded? Tweet her to me @jerrythornton1 or email me at jerry@barstoolsports.com. Your service to the betterment of mankind will be its own reward.