How Would You Like To Own A Piece Of Chicago History? (Mansion Tour)
Chicago Tribune –  The International College of Surgeons on Thursday made a $4 million price cut to its asking price for the college's 10-bedroom, 12,000-square-foot French chateau-inspired mansion at 1516 N. Lake Shore Drive on the Gold Coast.The group now is seeking $9 million for the four-story mansion, which was built in 1916.
The new asking price is a far cry from the $17 million the group had sought when it listed the mansion in September 2015. The asking price was cut to $15.75 million in April 2016 and then to $13 million in July 2016. "We had to make adjustments to reflect the market," the listing agent said. "We're still seeking to sell, and we hope to find a buyer."
The mansion has millwork, marble staircases, stained-glass windows, stone walls, wood paneling, herringbone-laid hardwood floors, an elevator, a second level with 16-foot ceilings and a two-story, 2,400-square-foot coach house. It's one of only seven mansions remaining on North Lake Shore Drive.
---
I love a good mansion. You guys should know this by now. I have a personal obsession with the lives of rich & fancy people, and mansions play a huge role in that obsession. Just last month we took a splendid tour of a sprawling 13,400 square foot 6 bed 7 bath masterpiece in the heart of Chicago's famous Gold Coast.
This time I'm back to celebrate and explore 1516 N. Lake Shore as a *unique* opportunity to own a piece of Chicago history. Let's get to this dazzling property:
History – 1516 is one of only 7 remaining mansions on N. Lake Shore Drive. This is big boy fancy pants stuff. Back in the day big swinging dicks lead by Potter Palmer wanted to have their own lakefront row of million dollar mansions. Shortly thereafter insert the most famous stretch of road in Chicago. It was big hitters only forever until commercial development slowly eroded mansion life. Like I said there are only 7 habitable mansions remaining.
Location – Big real estate guys like me know it's all about location location location. That's why you say it 3 separate times, each utterance more emphatic than the last. location loCATION LOCATION. In this case the Gold Coast doesn't disappoint. Here's what the Mansion's website (yes, our mansions have their own website) has to say about the neighborhood:
The Gold Coast is Chicago's most prestigious neighborhood, rich in historical significance and artful scenery. This area initially expanded in the 1880's with Georgian and Romanesque residences built for wealthy Chicagoans, lending a present-day look into the past. In 1882, millionaire Potter Palmer moved to the area and he filled in a swampy area which later became Lake Shore Drive. Other wealthy Chicagoans followed Potter into the neighborhood, which became one of the richest in Chicago.

Its prime position on the Magnificent Mile and Lake Michigan encompasses the city's finest shopping, dining, and lakefront recreational activities, while its community includes private houses and architecturally renowned high-rises that are home to some of Chicago's most affluent residents. North and East Lake Shore Drive affords the viewer some of the most magnificent views of the city's beautiful shoreline. The Magnificent Mile is the Gold Coast's shopping mainstay offering upscale retail, while independent boutiques are conveniently found on Oak Street.  Also within walking distance are numerous world-class restaurants, museums, and cultural institutions.
Alexa show me all the million dollar+ homes in Gold Coast
Jesus Christ Alexa narrow it down to lake shore drive mansions
As you can tell, pretty rare circumstance to have a mansion on LSD. There's only 7 total and 3 of them are owned by the same non-profit, the American College of Surgeons, which is like a not so secret society of the world's best surgeons I guess? Idk we're starting to get into Eyes Wide Shut kind of rich and I'm getting v uncomfortable
Anyways I hope you're starting to realize this isn't just about custom millwork and marble staircases adorned with stain glass windows and rich wood paneling. That there's more to a home than herringbone laid hardwood and custom stonework around century old fireplaces. This is about the OPPORTUNITY to prove your dead father wrong and show him you're not a complete loser.
The resolution isn't tight enough but first glance that statue looks like he's getting a blowjob if we're being honest. That's up to you regarding positive/negative curb appeal. Outside of that you like the 4 stories and French Chateau inspired vibe. But you definitely LOVE the flag poles waiting to be adorned with several Barstool themed flags. BUY NOW.
Moving past the wrought iron gates and into the grand entrance you will be immediately greeted by another statue. This one seems to be the same guy getting a hummer on the front lawn, just can't tell if it's pre or post blowjob. Either way it's a nice touch if you want to be known as the rich guy. Like yeah you might have a racquet ball court but do you have 7 feet and 650 pounds of hand carved stone next to your front door? Didn't think so.
Once inside the grand entrance, you'll immediately recognize that this place is kind of shithole. If I told you this was a lobby to a rundown Lake View or Irving Park apartment building you would have no choice but to believe me. This just screams broken buzzer and one of those elevators that takes 3 minutes to ascend 4 stories. No me gusta.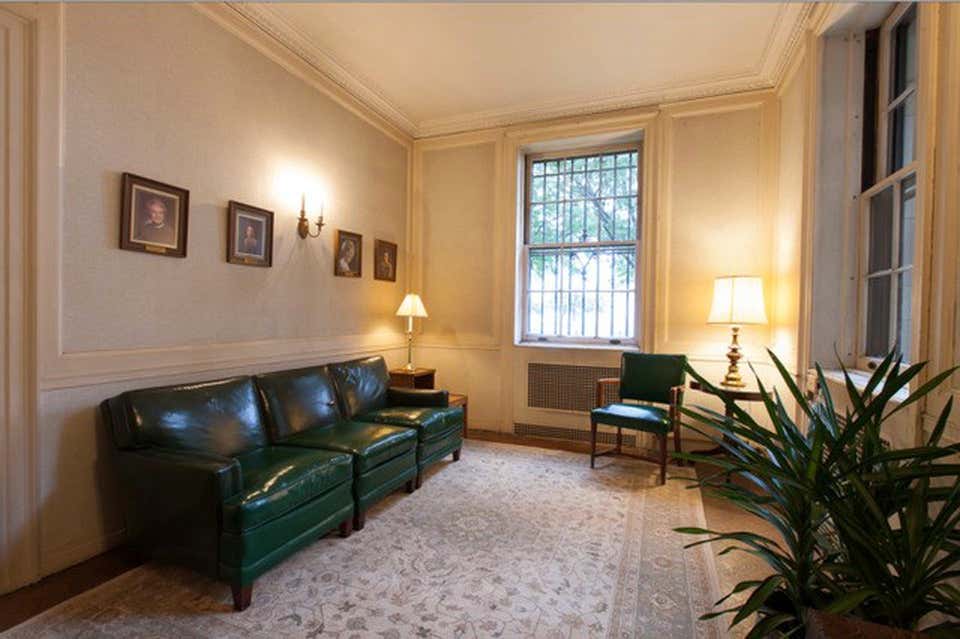 The entrance is flanked by two rooms that can best be described as offices. The south room features furniture no one has ever napped on. Big no no.
The north room has equally terrible furniture.
Moving past the grand entrance and initial offices, you'll notice the master staircase has been thoughtfully tucked away to avoid any potential eyesores. The hidden nature of this beauty is naturally inviting. Let's explore.
Right away you're greeted with a painting of an old bishop looking type. This man has probably been dead for several decades, and that's how you know we're in the Big Leagues. It's not a real mansion unless the walls are adorned with paintings of dead people.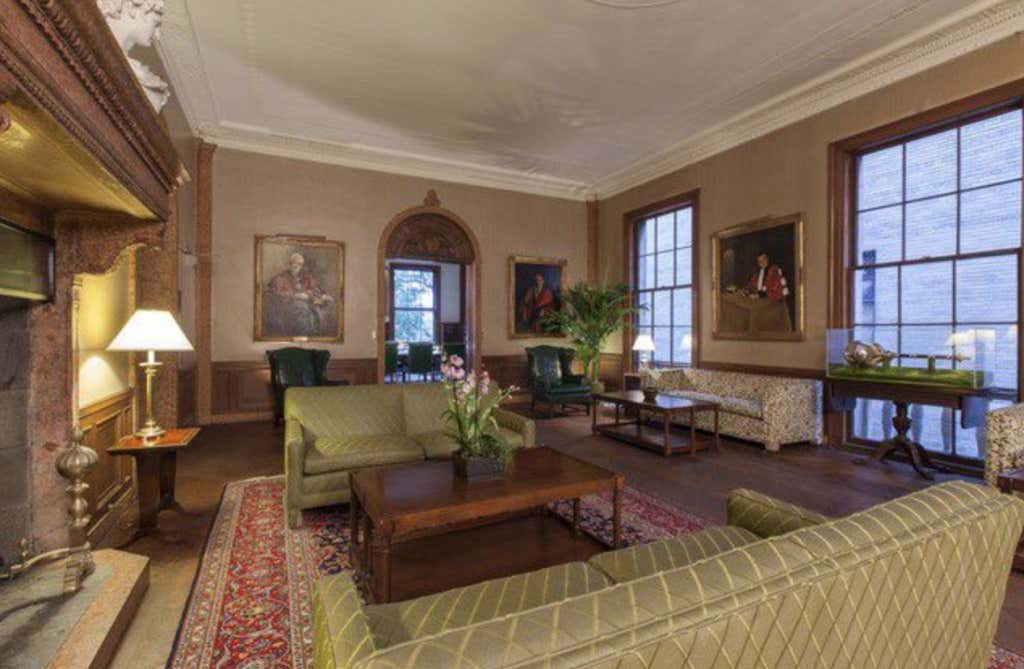 Moving upstairs, we're going to make our way into the main living area. This is starting to look like an old SEC frat house that went on probation in the late 90's.
I can't be the only one who smells the furniture from here, am I? Because I feel like I just opened up the front door to my buddy's lake house after a long winter and got punched in the face with musk. This is not a $9 million living room.
From there we move into one of the two adjacent "meeting rooms" that also require substantial renovations to be considered remotely habitable. You'll notice this room is unique because (a) it hasn't been used in presumably 75 years and (b) more pictures of more dead guys. Look hard enough and you'll see not just a bookcase built into the walls, but a bookcase built into the walls that's filled with BOOKS. That's another classic rich guy move. We're checking a lot of mansion boxes.
From there we move into another meeting room that you'll have to drop at least another $500k on renovating if you so desire. I know it looks like all the others save for extremely intricate wood panelling. But I assure you this one is different. This might be the most important feature yet. Ladies and gentlemen….
ENHANCE
WE'VE ENTERED TRAP DOOR TERRITORY MY APOLOGIES FOR YELLING I'M JUST SO EXCITED
Trap doors are awesome. The fact this isn't marketed as a trap door house is bananaland to me. No shit they've had to change the price 15 fucking times in 6 years or whatever. You're not selling the trap door game hard enough. This is the second richest thing you can do. The first is human trafficking and we're not going there this is a mansion blog ONLY.
Stone Work
House fucking Gryffindor up in this bitch. Look at that craftmanship. Do you know how many European immigrant indentured servants were needed to pull that shit off? Me neither but you imagine a lot just because it's so good.
Rich people like to say the devil is in the details and honestly maybe they're referring to their contract with Satan or more generally that paying attention to the small stuff helps you tackle the big stuff. Idk. I just know that's fancy fucking stonework and now I want some.
The Rest Of The House
Not available for tour apparently. I've scoured the internet for the 3rd and 4th levels of this house but they won't let me tour it. Probably for the better as I hardly belong on the property much less snooping around for content.
For what it's worth you may have noticed that we did not look at: a garage, kitchen, bathroom (1 fully, 7 half, allegedly) or even a bedroom. The listing site says there's 10. Normally I'll need to see at least 40% of the listed bedrooms to believe all 100% exist. In this case I got goose egged by the American College of Surgeons. Go figure.
Final Verdict
I'm giving this house a D and that's generous. Nine million doesn't buy you shit other than a fancy introduction at some black tie event. This is Carl, he just snatched up 1516 N Lake Shore. OMG Carl is that one of the Original 7??? It is ladies, blowjob statue on the front lawn and everything. OMG YOU'RE SO FANCY.
It's all downhill from there. You're gonna need at least double the purchase price to make this baby sing. Call me old fashioned but no fucking thanks. I'll take that Lake View 2-bed with a duffle bag of cash 100/100 times.
---
If you have a mansion you want me to review please email me carl@barstoolsports. Preferably it's yours. Even better if your parents'.