Last Night In The NBA: James Harden Is A Freak Of Nature, Down Goes Oladipo, Blue Shirt Guy Saves The Day And Much More!
Good morning everybody happy Thursday and welcome back to another edition of Last Night In The NBA where we bring you up to speed on everything that went down from the night before in the Association. With 10 games on the schedule it was another full slate of hoops and boy did it not disappoint. Of those 10, 6 of them were decided by 6 points or less which meant everywhere you looked there was an entertaining game. Wednesday night had it all from insane brain breaking performances, high late game drama, some fights, you name it we saw it. Now if for whatever reason you weren't able to watch that's cool, just keep reading. Here's what happened.
Toronto Raptors (36-14) 106 vs Indiana Pacers (32-15) 110
The night got started with a premiere matchup of two Eastern Conference contenders, despite the fact that Kawhi was still sitting for "rest". Sadly though the whole narrative of this game changed when Victor Oladipo went down with a brutal knee injury
https://www.youtube.com/watch?v=SqjJYGgoay8https://twitter.com/LAClippers
God does that fucking suck. I'm not sure what the final diagnosis is, I haven't seen it reported yet but either way it's not great. For a guy having such a great season and IND being so good, this is tough. But the game had to go on and it was nice to see IND pick up the win despite mentally for sure being out of it. Thad Young led the way with a beastly 23/15 on 10-19 shooting
they finished with 6 total players in double figures and even withheld a late TOR fourth quarter rally to pull out the win. Now 18-6 at home this win was important for IND form a confidence standpoint because they already lost the H2H series 2-1, but with both PHI and BOS playing well they are keeping pace as this was their 3rd straight win. They're not just 2.5 games behind TOR but it'll certainly be tough for them to maintain this without their best player. Postgame, it was depressing to hear all his teammates talk about it
For TOR, I have no idea what they are giving Serge Ibaka, but there's no way it's legal. This man is too old to be this good and the fact that he hasn't regressed one bit is annoying as hell. With no Kawhi it was him and Kyle Lowry who carried most of the load
They struggled early, dropped only 16 points in the first quarter which gave IND confidence, and finished the game with just 41/30% splits. As we know if there's one area where the Raptors are semi beatable it's on the road where they are now 15-10 on the year. Obviously no Kawhi makes a huge difference, and even with the loss they are still tied with MIL so this is basically no big deal for them. Still a wagon.
Orlando Magic (20-25) 110 vs Brooklyn Nets (26-23) 114
Guess who is one of three teams tied for the most active wins in the East right now? The Brooklyn Nets. They are playing so well over the last few weeks they've started to separate themselves from the 7/8 seed and a large part of that has to be due to the play of D'Angelo Russell
Serious question, do you think the Nets are starting to regret that they didn't reach an early extension with Russell to maybe get him at a discount? It feels like maybe they gave up on him too soon and now he's in a position to get a big time RFA offer they can't match. At the same time maybe they don't really care because the guard they did invest in, Spender Dinwiddie, had an even better game off the bench
The Nets play hard, they're feisty, they are just the type of team that could very well pull off a first round upset once we get to the Spring. A huge charge late in this game from Joe Harris is what sealed it, and they were a little lucky at the end where Vucevic looked like he initially tied it up with a tip in with 3.1 seconds only they called him for basket interference. That's a tough break.
For ORL, no real surprise they lost given their 8-15 road record, but they did have their fair share of solid performances
it was good to see Aaron Gordon back from his back injury and him play 25 minutes, sadly though their consistent scoring option off the bench in Terrance Ross had a rough night going 3-12, otherwise they probably pull off this upset. We're only a few weeks before the Magic ultimately trade their best player this season in Vucevic since he's not part of their future, so sadly an already unwatchable team is about to get a whole lot worse.
Los Angeles Clippers (26-22) 111 vs Miami Heat (22-24) 99
If there's one thing we know, it's that the Clippers need to start getting their shit together. They're 4-6 over their last 10, but at the same time are just 1.5 games out of the 5 seed. Welcome to West. This win has them sitting in 8th for the moment, and credit them for going on the road, being tied at the break and then coming out in the third and putting the clamps on MIA holding them to just 18 third quarter points. That gave them a little momentum and then they blew things open with their best quarter in the fourth dropping 37 points. After struggling in their last game, Tobias Harris responded nicely with an efficient 31/7/6 on 12-19 shooting
and with Harrell and Lou Williams back in their normal roles coming off the bench, they both had nice bounce back games as well combining for 29 points.
Surviving without Gallo is going to be a challenge considering he was one of their more consistent scorers, which is why when they play a bad team like MIA these are the games they have to win. Now .500 on the road and LeBron returning sooner than later, the Clippers are in a fork in the road. Play well and you could see yourself move up rather quickly, continue this up and down stretch of play and it's the lottery for you.
For MIA, Whiteside was a beast with 22/16 on 10-13 shooting but honestly the coolest part of this game was seeing White Chocolate come from the stands and swap jerseys with Wade
This team is now 2 games under .500 at home, lost 2 in a row and now in jeopardy of falling out of the top 8. This was also Eric Spoelstra's 850th game as the Heat head coach which surpasses Pat Riley, and he becomes only the 13th coach in history to reach that milestone.
Cleveland Cavaliers (9-40) 103 vs Boston Celtics (30-18) 123
We'll be focusing on the Celtics in their usual blog, so let me show you the only good things to come from the CLE side. I was mocked yesterday for being annoyed that someone like Ante Zizic or Cedi Osman would have huge nights, well would you look at what happened
It's almost as if I know this Celtics team better than I know my own life. The Cavs are a tanking masterpiece so the result was expected, it was just rather annoying that neither of these two guys could be stopped. That could have been VERY bad for yours truly.
Houston Rockets (27-20) 114 vs New York Knicks (10-36) 110
It's official, James Harden has broken our collective brains. What is he up to now, 261 points after dropping another 61 last night all of which are unassisted? How on fucking earth is that even possible?
He took 38 of their 90 shots, and at this point his run is unlike anything I've ever seen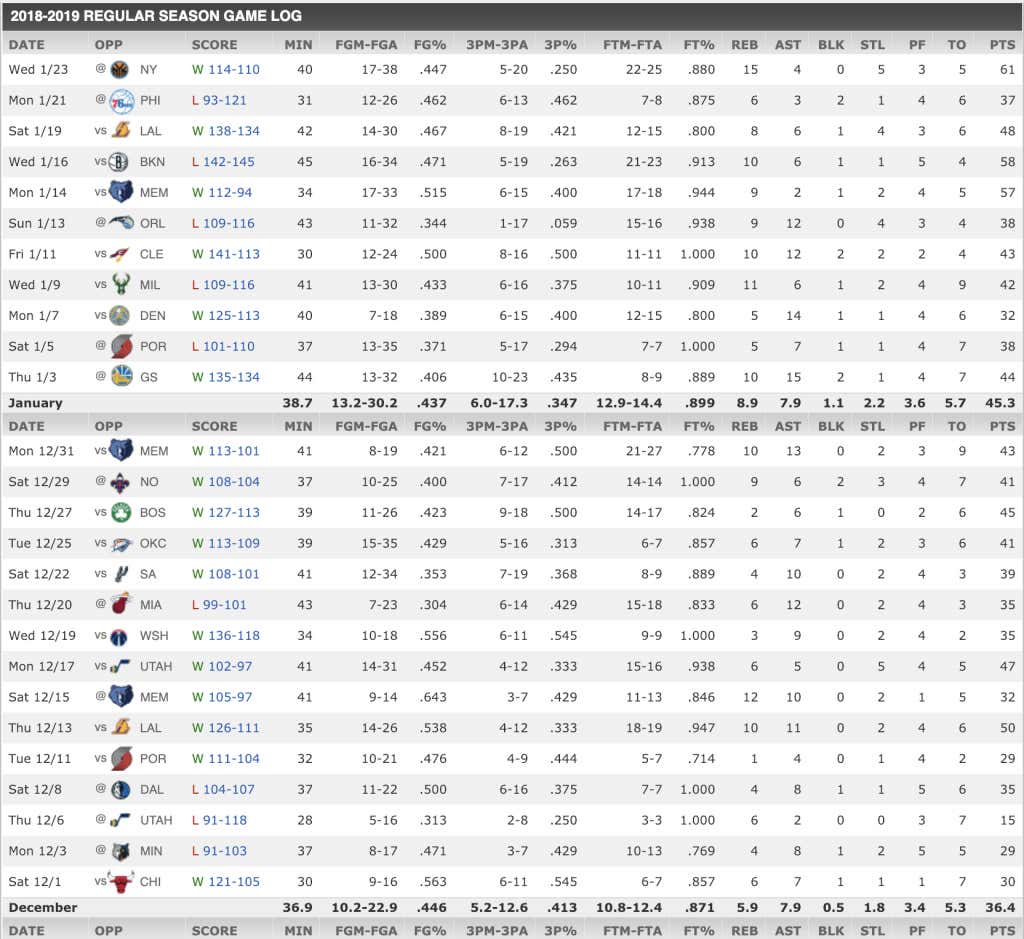 This is beyond 2K numbers, this is some like Wilt Chamerblain shit, and I don't know how you couldn't have him as your MVP right now. He's doing things none of us have ever seen before. Now it did get a little dicey at the end when PJ Tucket forgot how to play basketball
it was almost as if the Knicks tank stink was rubbing off on him and for some reason the Knicks kept trying all the way to the final buzzer. You can't be risking Zion like that, just let HOU have it. Once they got down 10 heading into the fourth it should of been mailtime city.
For NYK, don't tell that to THJ or Alonzo Trier though
At the end of the day, this was a perfect Knicks tank. A close competitive fun game, good performances from your young talent while ultimately making sure you secured the L. That is a 10/10 tank performance and something the Knicks have done a lot of. When you consider all the unwatchable tanking teams, the Knicks aren't one of them. Sure they stink like the rest do, but at least you can watch them play.
San Antonio Spurs (27-22) 120 vs Philadelphia 76ers (32-17) 122
The Spurs should be embarrassed with themselves. Up 8 with like 1:30 to go, how are you going to let PHI go on a 10-0 to win the game. Then not even get a shot off on the final possession because you can't inbound the basketball? Gross
They wasted a great DeRozan performance
even though he missed what would have been a go ahead layup at the end and then Pop didn't even have him on the floor for the final possession, that sure as shit isn't smart considering he's their best player. Very weird to see Pop mess up like that, but this was a collapse, no other way to say it. At least Pop gave us this funny moment pregame
For PHI, look I hate them, but I respect what they've been able to do without Butler. They are beating all the good teams in their schedule, are nasty at home, and when they get big time performances from Embiid/Simmons they are for sure tough to beat
You add in 17 3PM and 50/47% splits, that's how you pull off the late comeback. The Spurs had a bad switch and fouled Redick on a big time late three
and it was at that moment that I knew the Spurs were screwed. Play defense for me one time would you please. Awful. PHI has now won 2 in a row and maintains their 1.5 game lead over BOS.
Atlanta Hawks (15-32) 121 vs Chicago Bulls (11-37) 101
Ah, the worst matchup of the night. Both these teams stink so let's make this quick. We learned that John Collins is in no way shape or form slowing down, he had another 35/8 on 14-16 shooting
ATL scored 42 points in the first and it was pretty much a wrap from there. Jeremy Lin led the way for the second unit with 15
and while I'm sure they didn't like having to be the one to get the W, the Bulls are just that much better at tanking.
For CHI, pretty simple, it was Baby Dirk and LaVine and nothing else
Not much else to say about the 11 win Bulls other than they are executing their tank perfectly.
Charlotte Hornets (23-24) 118 vs Memphis Grizzlies (19-29) 107
Jesus Christ when will the madness stop for the Grizzlies? This was now their 7th loss in a row, they are 1-9 over their last 10, and now you see why it's time for them to blow it the fuck up. It's over, it's a wrap, time to move on
Your star players still have something left in the tank, go ahead and get something for them to kick start your rebuild because this whole winning thing is not going to happen for you.
For CHA, as always they were led by Kemba and his 23/7 and really he took over this game
it certainly helped that they also got some vintage Tony Parker off the bench who had 17 points on 7-11 shooting
and for a team that's 7-16 on the road to go out and shoot 53% and drop 118 points, well that's pretty impressive. Things were relatively close until CHA was able to pull away in the third quarter, and they find themselves firmly planted in that 7 spot for the time being.
Detroit Pistons (21-26) 98 vs New Orleans Pelicans (22-26) 94
Man if the Pelicans can't win at home against the lottery bound Pistons then what the hell are they even doing. Even on a night where they actually played defense they still couldn't get it done. I get not having Anthony Davis, but you got enough in his absence
to where you should have won, but at the end of the day that 19 point second quarter did them in. Even with a late fourth quarter rally they still came up short, and the 6-22 from deep sure didn't help. I can't imagine AD is looking at this and is all that pumped. At 15-7 at home you have to be able to beat the Pistons. Have to.
For DET, they got on Blakes back and let him carry them to the promise land
As awesome as his performance was, it was the postgame interview that stole the show
Just like Pistons fans and I'm sure the rest of his teammates do, Blake probably hates Reggie Jackson. Talking about maintaining focus and all that only do have him immediately pull a stunt like that. You can tell by his face that Blake did not find any of that remotely funny. Man they need to trade that guy.
Denver Nuggets (31-15) 108 vs Utah Jazz (27-22) 114
The last matchup of the night was probably the most entertaining. Not only was it a meeting of two pretty good teams, the Nuggets being the best in the West for most of the year and the Jazz currently playing their best basketball of the season. The Nuggets came out and hit them with their depth
with 5 players in double figures, three of which came from the second unit. It was a rough night for Jamal Murray who went 3-12, and as a team they struggled from deep going 8-27 so it's no surprise they only dropped 108. That's all well and good but the main reason this game was exciting was the fight
Not only was this actually a decent fight by NBA standards, we were also blessed with Blue Shirt Guy who was going to make DAMN sure nothing escalated on his watch. Nobody really cares about Derrick Favors or Mason Plumlee so I'm not sure why he stopped it, but he was a hero last night through and through.
For the Jazz, it was once again a collective team effort
Donovan Mitchell became the first Jazz player with back to back 35 point performances since Karl Malone back in 1998. It sure looks like he's starting to snap out of his season long slump which is going to be key for this team if they want to stay in the top 8. They're 8-2 over their last 10, so don't sleep on the possibility we could see this team go on a run.
And that's it! You're now all caught up on everything that went down last night in the NBA. We're back tonight with 4 more games and as always if you can't watch just make sure to check back in the morning and I'll bring you up to speed!