Every Last Fucking Thing You Need To Know About Boxing Going Into This Weekend
First off, keep it moving if you don't like boxing.
Secondly, I love Special K cereal as much as the next guy, but you gotta spread it out, man.
Thirdly (is that a word?), a little update on the fights from last week…
1) Manny Pacquiao returned to his LA home on Sunday (after beating up Adrien Broner on Saturday night), only to find that his house had been robbed.  Burglars apparently rifled through his bedroom knowing he would be predisposed in Vegas but were disappointed when all they found was an extensive collection of tiny sneakers and gaudy t-shirts all sized Mens Small.
To add a little injury to insult, Pacquiao suffered a scratched cornea during his match with AB… Certainly not from a punch, because Adrien barely threw any of those.  Manny scratched his eye on a piece of loose tape on Broner's glove during a tie-up.  Pacquiao has had an injury like this before and is expected to recover fully.
2) Speaking of injuries, Bhadou Jack is reportedly recovering nicely from the episiotomy carved into his forehead after a 7th round inadvertent headbutt from Marcus Brown left him with a vertical gash that was big enough to show skull.
Just under 100 stitches, and you can barely tell it ever happened.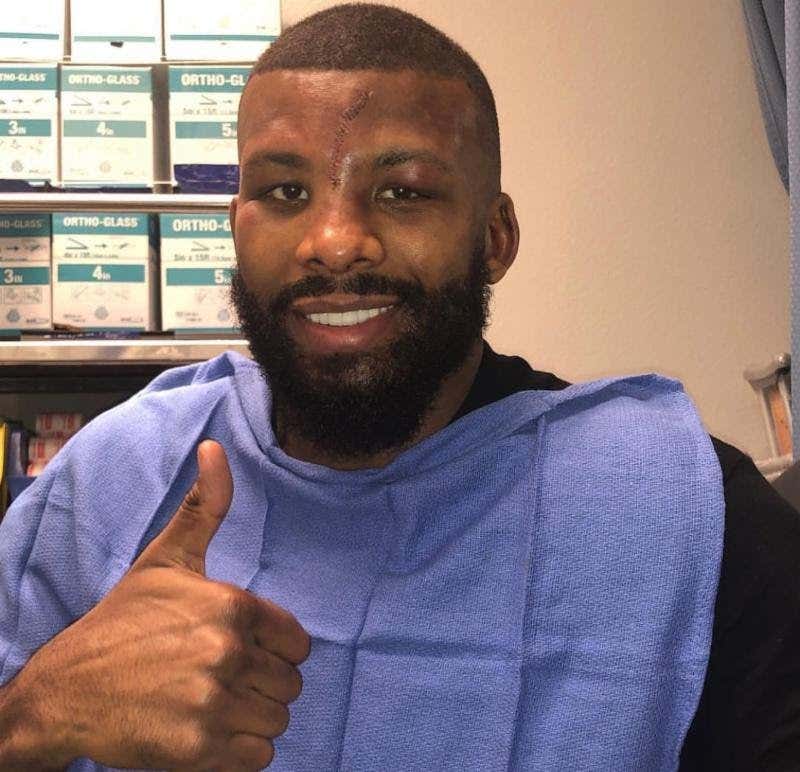 3) I highlighted Boo-Boo Andrade's fight last week and gave you a little history on how his middleweight title fight with Billy Joe Saunders (27-0, 13 KOs) was canceled last October after Saunders tested positive for a banned stimulant called oxilofrine.  As a result, Billy was given a 6-month ban.  That suspension was lifted by the WBO this week and Saunders was named the 160-pound mandatory title challenger.  Which means Andrade (27-0, 17 KOs) vs Saunders is back on, only with Saunders the challenger this time around… And the winner of that bout could be Canelo's next opponent in September (if GGG Part III doesn't materialize), but maybe I am looking too far ahead.
Fourthly (?), a little more cheesecake…
And now on to this week's action…
Some free fights are on tomorrow night on FOX from the Barclays Center, and DAZN has a scheduled card as well.
The Main Event for FOX is 30-year-old Keith 'One Time' Thurman (28-0, 22 KOs) making his return to the ring after an almost 2-year absence due to injuries.  He is fighting what should be an outmatched Josesito Lopez (36-7, 19 KOs).
Thurman's last fight was in March of 2017, a split decision over Danny Garcia.  Since then his battles with injuries have caused some to wonder if he is too brittle for the sport.
Undercard coverage starts at 8:00 p.m. ET, and I think I am going to go… A young kid at barstool named Chuck did a Luger's run before the MMA event at Barclays last weekend, and I got jealous hearing about it.  So I think me and the bride will drag our asses to Williamsburg for a fat steak and then slink on over to Barclays to see Thurman's return.
Thurman vacated his WBC welterweight title last year only because it was about to be stripped from him by the sanctioning body.  The WBA stuck with him, however, and, as a result, Keith sat on their title without defending it for a long stretch.  This frustrated the SHIT out of the WBA's other contenders, who are champing at the bit to beat his ass, now that he's back.
I mentioned that Joesito should be overmatched by a healthy Thurman Saturday night, and I meant it… I don't think it goes the distance.  Thurman even said before his return that 2019 will be a "rebuild year" after his long absence, so after Saturday, we can expect at least one other fight where he is heavily favored before we get a juicy matchup against Terence Crawford or Errol Spence Jr… or perhaps a rematch vs either Garcia or Porter.
The undercard for the Thurman fight is not attractive enough to rush me out of Peter Luger's.  It does, however, have a white heavyweight which always piques my interest, so I will try my hardest to get there in order to watch Adam Kownacki (18-0, 29 years old, white) face Gerald Washington (19-2-1, 36 years old, not white).
I don't know much about Kownacki except that he's Polish, his idol is Andrew Golota*, and he kinda looks like me…
Kownacki's opponent is a little more interesting.
Gerald Washington has only 22 fights at 36 years old because he didn't start boxing professionally until he was 30.
Before that he did a stint in the US Navy, played tight end at USC, and spent a cup of coffee in the NFL, playing on the practice squads of both the Bills and the Seahawks.
I want to root for him Saturday, but I watched him lose to Jarrell "Big Baby" Miller, AND I wasn't impressed when I saw him get knocked out by a flailing Deontay Wilder in early 2017.  So I would probably bet on Kownacki if you put a gun to my head.
So that's it for the FOX card… Over on DAZN, you probably have a slightly less lopsided Main Event to watch Saturday night when Mexican warrior Jaime Munguia (31-0, 26 KOs) takes on Japanese contender Takeshi Inoue (13-0-1, 7 KOs) at the Toyota Center in Houston for the WBO Junior Middleweight World Title.
I don't know a thing about Inoue, and neither do you.  He is not related to Japanese pound-for-pound star Naoya Inoue, and Takeshi is fighting for only the second time outside of his homeland (first time in the US).
Munguia is a rising Golden Boy prospect, who was declined a license to challenge then-unified middleweight world champion Gennady Golovkin this past May when GGG needed a short-notice opponent after Alvarez's suspension for a positive drug test… The Tainted Mexican Sausage Incident.
The Nevada officials deemed Munguia too inexperienced at a world-class level to face Golovkin, especially since he would have to move up in weight.  And in retrospect, they probably saved the kid's career.  Jaime has slowly built an impressive record since then, and I expect his undefeated streak to continue after tomorrow night.
I know there are other undercard fights I could highlight, but I feel like after 1,000 words the average reader begins to tell me, "Go fuck yourself.", so I will stop here.
Enjoy the fights, and take a report.
-Large
Real quick: When I mentioned Adam Kownacki's idol above, I put an asterisk next to Golota's name because I fear that not enough people know who Andrew Golota is… He's a 6'4″ 250 pound 51-year-old former heavyweight fighter from Poland.  His nickname was the "Powerful Pole" which is also my nickname in bed, and he famously gave up vs Mike Tyson… A fight that Tyson admitted smoking weed immediately before he left the locker room.