Tate Martell (Real Name Is Tathan) Is Now Listed In The Transfer Portal
Well, that was quick. Just 6 days after Justin Fields transferred to Ohio State, Tathan Martell has hit the transfer PORTAL:
All this means is that Tathan is exploring other options. You can hit the transfer PORTAl and not transfer, but more likely than not he will not being on Ohio State in 2019. Weird, considering Tathan talked some serious shit about Justin once it was rumored that Fields was interested in Ohio State:
There is this since deleted tweet: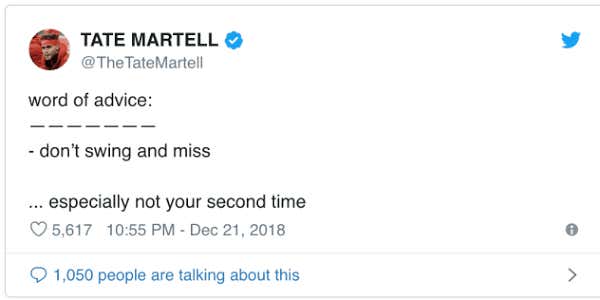 He, also, said he doesn't "care" to know Justin Fields:
Justin Fields responded by following Tathan's sister on Instagram, but not following him:
Where will Tathan end up? West Virginia and Miami are the rumored favorites.
The biggest surprise here is the name Tathan. I've never heard that name before. Maybe I didn't spend enough time at the local country clubs.