Last Night In The NBA: You Get A Game Winner! And You Get A Game Winner!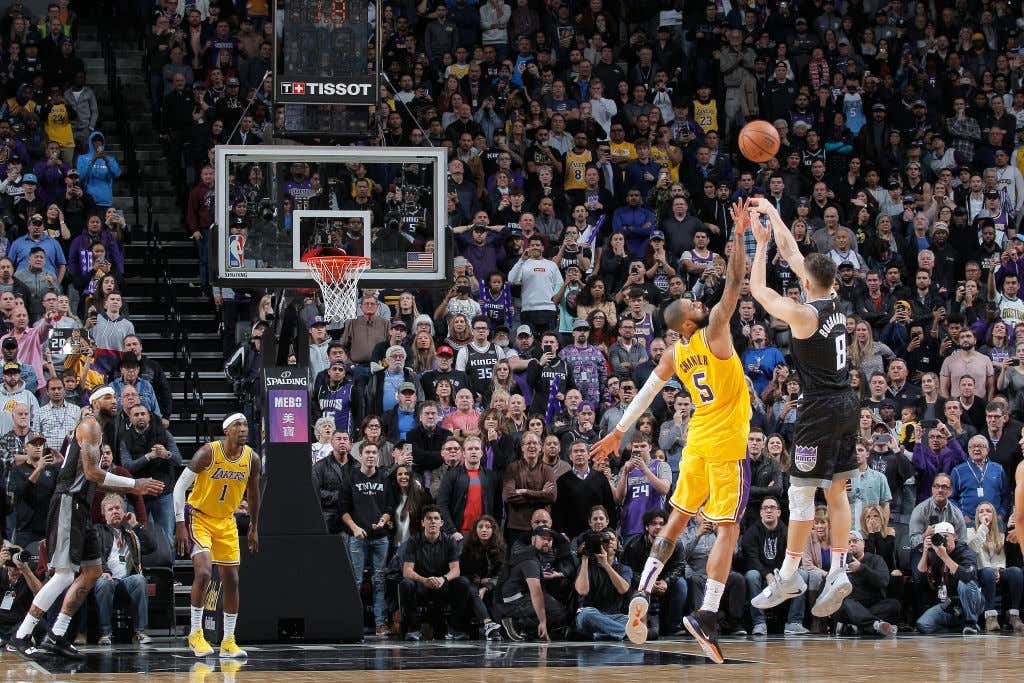 Good morning everybody happy Friday and welcome back to another edition of Last Night In The NBA where we bring you up to speed on everything that went down from the night before in the Association. If you've been stuck at work this whole week after Christmas, just try and hold on for a little longer, and you should also try and find a new job but that's a different discussion for a different time. For now, we have basketball to discuss and some pretty exciting games at that. There were MZVP performances, upsets, and a couple of legit game winners which all made for quite the eventful night of hoops. Seeing as how there's no way you want to work, and maybe you've already caught up on the top blog countdown, let's give you something fresh that includes some awesome highlights. If you missed Thursday's action, here's what happened
New York Knicks (9-27) 96 vs Milwaukee Bucks (24-10) 112
Little Christmas Day rematch between these two, and once again it went pretty much exactly like the last one. Close for a quarter, then the Bucks woke up and it was a wrap from there. Just like on Christmas the Knicks had no answer for Giannis
or Khris Middleton
the two guys that may end up as All Stars for this team. This win now moved the Bucks to a 15-3 record at home, and as a team they've now won 6 of their last 7 to stay just 1 game behind TOR for the top spot in the East. When you look at what makes this year's team different isn't just the continued development of Giannis, but also the addion of Brook Lopez, who has been so good for them especially when it comes to spacing the floor
and then additional help off the bench
the Bucks look more complete by the day, and yeah this was just against the tanking Knicks but if there's one thing this team doesn't really do it's lose to bad teams. They had that one loss to PHX which was bad, but other than that they are an impressive 11-4 against teams under .500.
For NYK, I mean this is just impressive at this point. They've lost 6 in a row, and 11 of their last 12. They are putting on a tanking clinic right now, and I can't imagine Knicks fans are even a little mad about it.
They go UTA/DEN/LAL/GS/IND/PHI up next, so we could be seeing more of the same in the near future.
Boston Celtics (20-14) 113 vs Houston Rockets (19-15) 127
We'll be talking about the Celts in the next blog, so instead let's spend this time talking Houston and James Harden. Harden has been playing at a legit MVP level for a few weeks now after their slow start and last night was certainly no exception.
I know people complain about how Harden plays, but how can you watch that highlight and not be impressed? I just don't get how you guard that stepback, it's ridiculous. He finished 11-26 which isn't great, but 9-18 from deep which is stupid. You combine that with 14-17 from the line, all of which came in the second half, and that was about a classic a Harden beatdown as you're going to get. The problem was, Harden was not the only Rocket player that killed the Celtics. We knew heading in that without Baynes available and no Robert Williams that Clint Capela was going to feast, and feast he did.
There was no answer for him either. Then you combine that with Eric Gordon's 20, and then Austin fucking Rivers doing shit like this
and it was the Rockets night. They played harder, they played their style with a shit ton of layups, threes, and FTs, and the Celtics didn't have enough. That's how you get your ass blown out. The Rockets are one of the hottest team in the league right now, winners of 8 of their last 9, and just like that they are right back into the thick of things out West. I'm not sure how you beat this team if they make 18 3PM, and as the Celtics you have to be ready for that coming in considering we all know that's how they play. They weren't, and they paid the price.
Philadelphia 76ers (23-13) 114 vs Utah Jazz (17-19) 97
Sure maybe they got embarrassed against on Christmas, but at least the Sixers came right back out and didn't let it turn into something bigger. Utah is a weird team, some nights they look like world beaters some nights they can't do shit, but that building is still a tough place to play so to go in and win by this much is impressive. As a team PHI shot well, finished with 50% and 13 3PM, and the damage was done through their starters, who outside of Wilson Chandler all looked great
If only PHI could see this team in the playoffs then they'd really have something. As a Sixers fan you probably liked a couple things. First JJ responded well from his poor shooting night against BOS, he's so important to what they do that's good to see. But you also saw a team defend at a pretty high level. The Jazz had just scored 120 and 117 not too long ago so to see them for the first time under 100 since their loss to Orlando a little while ago, that's encouraging for a Sixers team that if they are going to make progress in the playoffs, has to defend. That's number 1.
For UTA, I still can't figure them out. Do they stink or was this just an off night? Gorbet was good, as was Donovan Mitchell
they even got 20 points from Dante Exum!
but as a team they shot just 38/31% and guys like Rubio (1-10), Ingles (4-12), and Kyle Korver (3-10), really made it tough to hang with a team that can score at a high rate in PHI. Now 7-8 at home and 2.5 games out of the 8th spot, the Jazz need to start their run or it's going to be a lottery year.
Los Angeles Lakers (20-15) 116 vs Sacramento Kings (19-16) 117
I know LeBron didn't play, I know Rondo didn't play, and I know I should be mad the Kings won because of draft pick implications, but I can't fight it. I will always enjoy seeing the Lakers lose, and I will certainly enjoy when it comes via a game winner.
What a huge fourth quarter for SAC, one they won 33-21 after playing the Lakers close but trailing entering the fourth quarter. They were so balanced, whether it was Bogdanovic's 23, or Bjelica's 18
Iman Shumpert's 18 off 6 3PM
or the battle between Fox and Lonzo Ball
The Baby Kings fought back and pulled off the improbably comeback. They did it all with Buddy Hield, their best scorer, only chipping in 6 points on m2-8 shooting. That's impressive. Obviously things are different if the Lakers have LeBron at the end, but that's not happening any time soon. As it stands now the Kings are back in the top 8 and they're the only current playoff team with a negative point differential.
For LAL< look they played about as well as you can expect given who they were missing, the young guys showed out
You see those three performances and it's hard to complain other than the fact they blew it at the end. The Lakers defense let them down which is always a little disappointing, and they need to be careful because their current spot at 5th in the West is suddenly up for grabs. The Blazers are right there, the Kings are only 1.0 games back, so now is not the time to go on a slide even if they don't have LeBron. They've lost 4 of their last 6 games, and that's just something you hate to see.
Portland Trail Blazers (20-15) 110 vs Golden State Warriors (23-13) 109
If you thought that game was exciting, boy you must have loved what you saw with this one. Neither team really shot the ball all that well, but that doesn't mean there wasn't a great amount of drama. For GS, their Big 3 were fairly ridiculous as you would expect
but just like we see from time to time with this team, turnovers kill them. Curry had 7 and a pretty brutal one late which ultimately lost them the game
and you combine that with pretty much no production from the second unit, and that's how you get upset at home. They are still a nice 15-5 in that building, but the Warriors are certainly going through it right now. The reality is they still are tied with DEN atop the West standings so it's not as if there should be any real panic, but OKC is just 0.5 games back and it's not crazy to think that they could take over that #2 spot if the Warriors keep this up.
For POR, what a night for the Oakland native Damian Lillard
I'm sure he's thrilled with the game winner and all that, but even more so that he got some legit help against one of the best teams in the league
POR has underachieved a little bit so far this season, but this win clearly shows you that on any given night they can hang with anyone. They matched GS punch for punch and we even got a nice little brother vs brother duel which was fun
If the Blazers are going to start jumping teams, this is the kind of win that can light that spark and guess who's up next for them tomorrow? Golden State. Then they go PHI/SAC/OKC/HOU, so we're about to see what the Blazers are made of. They come out of this stretch with a legit record, it's time to think maybe they're starting to figure things out.
And that's it! You're now all caught up on everything that went down last night in the NBA. We're back tonight with 10 more games so just make sure to check back in the morning if you aren't able to watch. Have a great Friday!