Police in Alabama Blame a String of Murders on Satan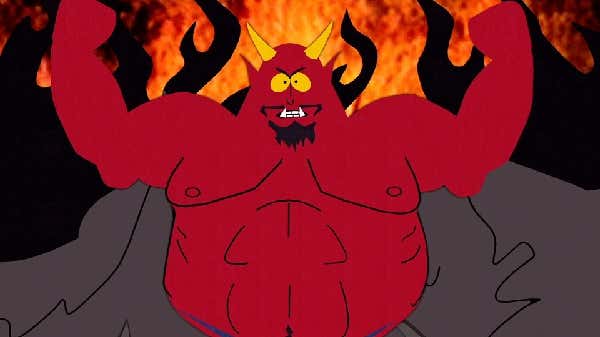 Source – A rural Alabama police department that used social media to scold community members for rejecting God is coming under fire from a group that opposes mixing government and religious faith.
A statement posted on Facebook by the Opp Police Department on Tuesday blames a spike in area homicides on the idea that young people have turned away from God and "embraced Satan." …
This was the Facebook message:
THIS PAST SUNDAY, A YOUNG MAN WAS SHOT AND KILLED IN KINSTON. MONDAY NIGHT, A MOTHER WAS SHOT AND KILLED IN NORTHERN COVINGTON COUNTY. THERE HAVE BEEN FIVE MURDERS IN COVINGTON COUNTY IN 2018. THESE MURDERS HAVE BEEN DONE BY OUR YOUNG PEOPLE. THIS IS HAPPENING BECAUSE WE HAVE TURNED AWAY FROM GOD AND EMBRACED SATAN. WE MAY HAVE NOT MEANT TO DO SO BUT, WE HAVE. IT IS TIME TO ASK FOR GOD'S HELP TO STOP THIS. IT IS TIME TO BE PARENTS AND RAISE OUR CHILDREN, NOT HAVE THEM RAISE US. IT IS TIME TO FULLY SUPPORT LAW ENFORCEMENT AND STAND BY THE OFFICERS AND DEPUTIES THAT ARE FAR TOO OFTEN HAVING TO WALK INTO THESE DANGEROUS SITUATIONS AND CLEAN UP THE MESS. FRIENDS, IT IS TIME TO STAND UP AND BE RESPONSIBLE, GROWN UP LEADERS IN OUR COMMUNITY. BOTTOM LINE, THERE ARE SHEEP; THERE ARE WOLVES AND THERE ARE SHEEP DOGS. WHICH GROUP DO YOU BELONG TO ?
If I can just take that last question first … Um, is there a fourth option? Some other animal I can choose? Like a friendly, clever fox who likes the sheep and has no use for wolves and isn't quite sheep dog material but maybe tries to make everybody laugh while supporting the work the sheep dog do? I think I'd like to be him.
Anyhoo, while I stand with the Opp PD when it comes to taking a very tough, anti-Satan stance and agree that sure, the young people of Opp should probably knock that devil worship right the fuck off. (Except to the extent that it gets them laid of course. Because I've always assumed those chicks who dabble in the occult are absolute tigresses in the sack. But beyond that? I draw a line.) But that's because I'm a writer and a below average Catholic. I'm not so sure this is where the police ought to focusing their attention.
Call me the Spawn of Satan, call me what you will. Accuse me of being the devil Beelzebub put aside for you. But I think when it's your job to solve crimes, blaming a non-corporeal demonic entity who lives in a mythical realm is not really your best, most methodical approach. I don't know any more about crime investigations than I learn watching procedural dramas. But I'd think the best route to take when it comes to cracking murders cases is to interview witnesses, dust for prints and check for surveillance videos. I'd call in CSI: Opp before I ran to Facebook and started trying to pin these homicides on loner goth kids burning candles around a pentagram because they hate their parents. Unless you know for sure that some coven is behind the killings. In which case you get their names, find out where they are, get a no-knock warrant and bring them in. I believe that's the way it's usually done.
But hey, what do I know? If they think blaming the Prince of Darkness will help crack these cases, be my guest. I just don't think they'll get an arrest that way. And even if they do somehow managed to indict, they'll never get a conviction. Because he has all the best lawyers.