Gas Money Bob's Week 15 Bears Preview
When I was growing up my mom always told me that the word hate was a strong word and I should use extremely dislike instead. Well, Mom, while I extremely dislike Aaron Rodgers and the Packers I also fucking hate them.
Get pumped up Bears fans. Today we win the NFC North and eliminate the Packers at the same time. It doesn't get much better than that. So go ahead and dislike them, loathe them, and hate them. The NFC North is Bears property for the foreseeable future.
All-Time Head to Head:
The Packers lead the all-time 97-94 but a lot of that has to do with the referees bias for Brett Favre, Aaron Rodgers, and Tim Majkowski. You all know I never make excuses but how else do you explain the Packers winning 17 of the last 20? By the time Mitch retires in 16 years we will be well ahead of the Pack.
Bear Weather Report:
41 Degrees (feels 36)
Precipitation 0%
Humidity 69%
Wind WSW 8 mph
I guess we'll have to wait until the playoffs to get some actual Bear Weather. It won't matter today though, this Bears team is so pissed off about Week 1 they could play the game on the surface of the sun and still kick the shit out of the Packers.
You Bet Your Ass:
Bears -5
Over/Under 46.5
I made you rich last week with my betting advice and today I want you to take all of that money and press it on the Bears giving the points and the over.
The Bears are going to be scoring points at ease and the Packers will get a little bit when they are in chase mode. Bet bet bet and win win win!
Fantasy Start 'em Sit 'em:
Start:
Mitch Trubisky: Mitch was a little off last week against a much much better defense than he will face today. Expect Mitch to bounce back and throw for at least a pair of scores and possible rush for one.
Allen Robinson: He's been dealing with a hip issue but he got in a full practice on Friday and big time players make big time plays in big time games. A-Rob is going to be big today.
Bears D/ST: This unit is playing at an unbelievable level right now. They shut down what could be the best offense in the NFC last week and now they play a QB on the tail end of his career with no one to throw to. Keep Aaron Jones in check and the Packers will hardly be able to move the ball.
Sit:
Aaron Rodgers: A-Rodg just doesn't have it anymore. But GMB, he only has 1 pick this season. You would too if you just threw it away every time a little pass rush was coming at you. The Bears will take picks #2 and #3 today and Mack and the boys will get to him for a handful of sacks. I would start 31 other QBs in fantasy this week.
Devante Adams: He's a really good WR but if Rodgers can't do anything Adams won't be able to either. If you play in a IDP league Devante might get you points for the tackles he makes after the Pack turn it over.
Packers D/ST: Packers Defense? LOL
The Packers:
Offense: For some reason they fired they're offensive guru head coach because the little baby QB needed someone else to blame for his pathetic play. This team used to put some fear into on offense but now they are just another mediocre at best O. Aaron Jones and Devante Adams are nice players but that's all they've got. The O-Line is in shambles.
Defense: I think I covered this in the fantasy segment but I will go over it again. They have no one that scares you and they can't even stop Josh Rosen from beating them. Good luck against an offense as hungry as this Bears O. Can you believe they still think this douche is good?
Da Bears:
Offense: I'll give props to the LA Rams. They have a good defense and they kept us quiet last week. That tends to happens with good defenses. But this week the Bears face a terrible defense. Expect a big bounce back from the offense especially since they should have great field position all game. I didn't even mention our RBs in the fantasy segment. They could both go off as well.
Defense: The Bears have the best Defense in the NFL. Point blank period. If you think otherwise you're delusional or in this case a fucking idiot:
The Fans:
Packers: Speaking of dipshit Packers, let's transition to the "ownership". Can you believe this guy actually thought he could take the CHICAGO BEARS, the premiere team in all of sport, to court and win. Please.  Keep your Packer gear off of Soldiers Field. Better luck next time.
Bears Fans: I'm so proud to be a part of the greatest fan base in the world. We showed up big time last week and what did it get us? A win yes, but much more importantly we got the game ball from Da Coach Matt Nagy himself. This might be our best season as fans in 33 years.
Fun Fact:
I'm not sure if this is necessarily a fun fact but I don't think this gets enough attention. We never ever talk about how big of a trader former Bears (and Bulls) play by play man Wayne Larrivee is. Who leaves the best city in the world calling games for the best teams in sports to go to Green Bay? Benedict Arnold wouldn't even move there. What a jerk.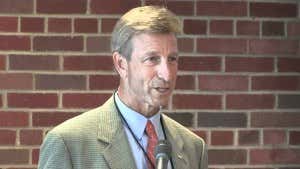 Game Prediction:
Bears 34
Packers 16
Coming Up Next Week: On our way to the Bay area to get another victory over a team that has no business being on the same field as the Bears.
Bear Down!