Nathan Eovaldi Is Returning To The Boston Red Sox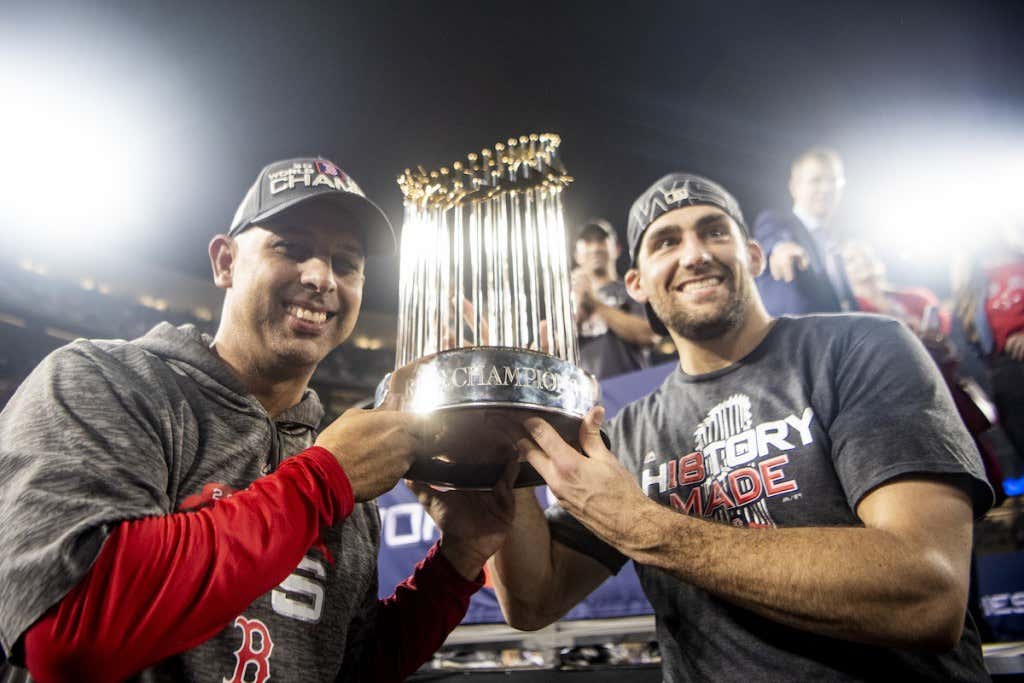 The salary figure is not yet known, but Nathan Eovaldi is returning to the Boston Red Sox on what is presumed to be a four-year deal pending a physical. Big Dick Davey does it AGAIN!
I'm hoping for an average annual value of around $17 million, but if it took a little more to get this thing done in the window of time that it was completed, then I'm fine with that, too. You have to figure that the timing of this signing being just a couple of days after Patrick Corbin landing with the Nationals is no coincidence.
Teams that missed out on signing the free agent lefty more than likely turned up the gas on their courtship of Eovaldi after Corbin went to DC. For Boston, though, their top free agent target was Eovaldi all along. I'm sure that was made clear to the right-hander before the postseason started, and even more so after Boston claimed their fourth World Series title in 15 seasons. That's because Eovaldi threw 22.1 innings this past October with a 1.61 ERA and 16 strikeouts, including the game of his life in Game 3 of the World Series.
This signing won't come without skepticism, though. And I'm sure that most will understand that, even the ones who are very excited about Eovaldi's return. The 28-year-old Texan has undergone not one but two Tommy John surgeries, and I'm sure that storyline will be beaten to death for his entire tenure in Boston by sports radio hosts because they're incapable of just calling a good move a good move. It's a good move, even if he ends up re-injuring himself (knock on wood). Eovaldi is worth the roll of the dice.
Regardless of the prior injury history, I'll give a 28-year-old, 102 mile per hour-throwing, big nuts-having, World Series-winning Eovaldi a four-year deal at $17 million per any day.
UPDATE: It's a four-year deal worth $67.5 million, which is an average annual value of $16,875,000. Is it a little bit of an overpay? Yeah, maybe a little bit. Eovaldi's postseason undoubtedly boosted his value on the open market, but I'm sure the Red Sox don't mind compensating him for his efforts this past postseason in addition to paying him what they believe he'll be worth over the next four seasons.