This blog is going to be all over the road… Apologies in advance.
First off, "Chag Urim Sameach!" to both of my Jewish friends as Hanukkah began yesterday, and continues on through 12/10.
To celebrate the Festival of Lights, the morning show crew released their first t-shirt in the Barstool Store.
(clearly, that is a short-stack of latkes pictured on that shirt and not pancakes)
In Finance news, the markets apparently like what they saw out of the G20 conference down in Argentina this past weekend.  Trump and the Chinese have agreed to play nice in the sandbox (at least for now), so we're seeing investors pile back into companies that rely on China for a significant chunk of their sales such as tech giants Apple, Nvidia, and Qualcomm, as well as industrial companies like Boeing, Caterpillar, and Deere.
Also today, after its worst month in a decade, oil prices surging on two main factors:
1) Although Russia and Saudi Arabia have yet to confirm any fresh cuts, their leaders'  came to an agreement over the weekend which opens the door for a potential deal at OPEC's meeting this week in Vienna.
2) Canadian province Alberta's decision to curtail production by 325,000 barrels a day.
Qatar also made a surprise announcement that it will leave the OPEC to focus on natural gas, but no one seems to care.
Barstool Finance Calendar For Week Ending 12/7
Tuesday — Bank of Montreal (BMO), Dollar General (DG) and Restoration Hardware (RH) earnings; Podfathers podcast drops w/Peanut Tillman interview
Wednesday — Large co-hosting Barstool Breakfast; US financial markets closed for national day of mourning in honor of former President George H.W. Bush
Thursday — OPEC meeting, Kroger (KR), Ulta (ULTA) and Broadcom (AVGO) earnings; Trial for government's appeal of AT&T-Time Warner deal begins
Friday — Large co-hosting Barstool Breakfast; US jobs report; Barstool Breakfast- Second Helping podcast drops
Lululemon was scheduled to report Wednesday after the market closed, but with the day of mourning, they moved it back to Thursday.  I have done a deep dive into their product line and will have a preview on their figures for later this week.
I am just going to leave this story here…
Do with it what you must, but I am not saying a word about this scumbag.
Happy 70th birthday to Ozzy Osbourne.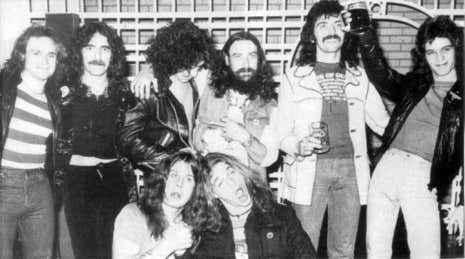 In 1978 Black Sabbath toured with Van Halen, and one night while partying in Tennessee, David Lee Roth challenged Ozzy to a "coke off."  After a half-day binge, Roth and Osbourne went their separate ways.
Diamond Dave showed up for sound check the next day, whereas Ozzy did not.  Members of Sabbath were so desperate to find their front man, they reported him as kidnapped to the local authorities, who in turn launched a manhunt involving the FBI.
Less than a day later, The Prince of Darkness finally arose, saying he stumbled into the wrong hotel room and slept for 18 hours straight once the coke wore off, missing the Nashville show completely.
Moral of this story: Don't fuck with Diamond Dave.
Speaking of idiotic substance abuse stories, I just received a call from my wife informing me that the charity event we attended on Friday just reached out saying we were the high bidder for concert tickets I honestly don't remember bidding on.
Either way, In order to break even, if anyone wants to pay $500 for 2 tickets to someone named Post Malone at the Barclay's Center in Brooklyn on New Year's Eve, let me know… Reason being, I don't have much use for Post Malone, Brooklyn, or New Year's Eve (but Drunk Large apparently felt differently).
And finally… Speaking of Drunk Large, I stopped off at Pizza Hut for some reason, and they sat me at a table with an absolute stranger.  I would've complained, but we loved the same toppings, so I gutted it out.