Mistress Googles 'How to Prepare for Anal Sex' the Night Before Her Boyfriend Murdered His Family
As a general rule, I don't follow violent crime drama stories if I can avoid them. Like if the crimes spill over into sports or pop culture and I have to pay attention. It's just a personal choice. Life can be dark enough without dwelling on real horrors happening around us. So I don't watch Murder Porn TV. I've never listened to the Serial podcast. I got a few episodes into Making a Murder before I decided that's not how I want to spend my precious downtime.
But there's been a crime story playing out in the online tabloids that has been hard to avoid. And that is the case of Chris Watts, the guy who murdered his wife and two daughters. By his own admission. Out of respect for the victims and simple human decency I won't post their pictures here. But try to imagine the perfect family. The ones you dream about when you propose to someone who also wants to have children. They're like the wife and kids you'd see in a commercial for some family vacation spot or a cruise or something. Possessing what my mother used to say about her grandchildren, "the light of the world in their eyes." Killed by a monster because he wanted to leave them for the chick he was cheating on them with. And why?
Source - The woman who was having an affair with Chris Watts …  Nichol Kessinger spent over two hours searching the internet for wedding dresses exactly one week before Watts killed his family.

Then, on the night before the murders, Kessinger spent 45 minutes Googling 'how to prepare for anal sex,' 'the anal sex guide,' soon after began looking at videos of threesomes on a pornographic website.

The final Google search conducted by Kessinger that was noted by investigators came after the murders of August 19 when she looked into how much money Amber Frey made in her book deal and her net worth, while also searching 'did people hate Amber Frey.'

Frey was the mistress of Scott Peterson during the time that he killed his wife Laci and their unborn child.

A search of Watts' phone meanwhile found thousands of hidden photos in a secret calculator app that was only accessed by typing in a four digit code.

A number of those pics showed a nude or semi-naked Kessinger.
And just when you think a human being isn't capable of sinking lower than planning to murder his family while prepping his sidepiece for anal, a wedding and a book deal like Scott Peterson's girlfriend got, I'm sorry to say you're mistaken. Hard as it is to imagine, Chris Watts is actually worse than that:
Source – A woman who claims she had a one-night stand with Chris Watts detailed her experience with the murderer in an interview with investigators.

Amanda McMahon says that the two first connected on Tinder and agreed to meet up one night in March of 2018 at the parking lot of a local Chick-fil-A.. …

The date was not meant to be the start of a relationship however, and McMahon said that the two were only joining up for physical purposes. …

'When I asked her to explain she said Watts was very rough and described seeing Watts' face and tattoos,' wrote the investigator.  …

Amanda said she was humiliated, it was weird and that Watts attempted to "stick it in her butt." Amanda said Watts also pulled her hair and put his arms around her neck. She described it as a "rape fantasy."
Since you asked, here's Amanda McMahon: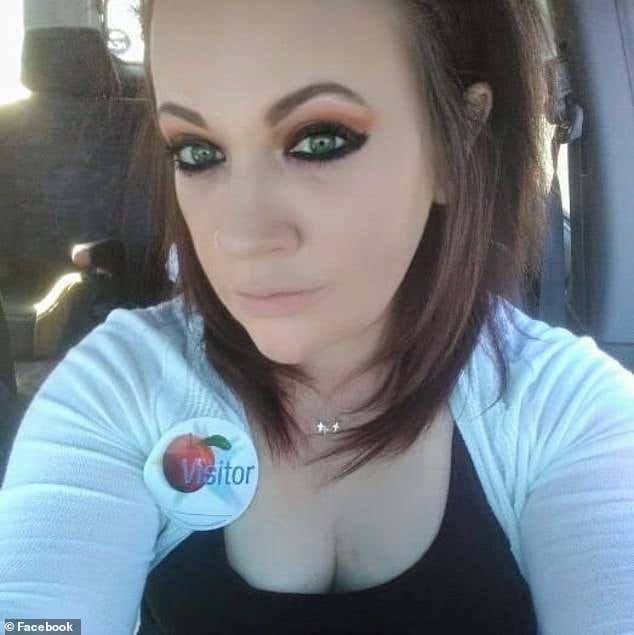 To review, Chris Watt had:
A) What appears in photos anyway to be the a pretty idyllic life.
B) Nichol Kessinger on the side.
C) Tinder hookups meeting him at Chick-fil-A for casual, commitment-free parking lot sex.
But wasn't going to be truly satisfied without … anal? Does that sound about right? Even if he has to commit triple homicide and rape an otherwise willing casual sex partner to get it?
Believe me, if you haven't been following this story, there are so many more layers of it. How he put his little girls to bed the night he killed them. How he sent a text to his wife's phone after he'd murdered her. How he disposed of his victims' bodies. And confessed it to his father on a surveillance camera while in custody. It's all there in the links provided if you want to dive into it. I'm not going in any deeper than I already have. And as far as I can tell the only motive he had was wanting butt sex from Nicole Kessinger and randoms he met on Tinder. Which is ironic because I imagine he'll be getting more anal than he bargained for for the rest of his miserable – and one can only hope – very short life. Then an eternity of being on the receiving end of Satan's rape fantasies awaits him after that. \
P.S. This destroyed a piece of my soul. I might never follow one of these murder stories again.