LeBron Returns to Cleveland Tonight, Here's Some Possible Chants For The Game
Man, I already miss the good old days. It seems like just last year that we had the best player in the world, and there was nothing anyone could do to stop us. Especially those silly Raptors and Celtics. Right about now would be the time during the season where people start to predict that this was the end of Cleveland's run in the East, and analysts would start to say that Toronto and Boston were the best two teams in the conference. Anyways, now we have the worst professional sports team in the world, with the Cavs sitting at 2-13, and we only have one intriguing game left on the entire schedule. Well, that game happens tonight, when LeBron James returns to Cleveland for the first time since leaving us (again). Folks, he's coming home.
So how is Cleveland going to react? He brought us a title, which ended the 52 year championship drought for the city, but he also is a dramatic oversized baby that toyed us around like a rag doll for 4 years, signed all his buddies to ridiculous contracts, then left us after the draft. That's now the 2nd time he's left us. And it wasn't even for a better team this time! He literally chose to leave "home" to go pursue a career in the entertainment industry. So with all of that in mind, what's the move tonight Cleveland? Let's check in with our resident crowd expert, Bill Simmons, with how he's handled LeBron visiting his city in previous years.
Was this not the weirdest tweet of all time? How about this one Billy: "You were can-celled!" But I do like the idea of giving the people some organized cheer's to chant in unison. It's like a high school basketball student section, except instead of cheering against 17 year olds that can't shoot free throws in the clutch, we're cheering against a hundred million dollar man that can't shoot free throws in the clutch. To be clear though, LeBron does care what people cheer at him. He has and always will care about what people think about him. So here's some ideas for tonight, Cleveland – I figured we'll go with 1 positive followed by 1 negative. It'll keep him on his toes and also get it through his thick, yet not covered head, that we appreciate the title but think he's a douche for leaving twice.
(Disclaimer: Do NOT boo LeBron tonight. George Hill said you'll be an asshole)
Possible Chants for Tonight's Game:
1. (Positive) "LaVar's Your Dad-dy"
Yeah, this would usually fall under the negative category, but at least it's not "Delonte's Your Dad-dy". Too far? Eh, idk. LeBron doesn't know who his dad is, so maybe this is actually factual that it's LaVar? But anyways, the point strikes home that LeBron gave up playing for titles to go be a part of a reality show in LA.
2. (Negative) "Baker's Bet-ter"
And that's a fact. No, not better at their sport……yet. But just a better person and a better representation of Cleveland. Baker is more electric, the city cares more about the Browns, and Baker GETS US. LeBron and his posse use the media to control the story. Baker fires up the fan base every time he speaks.
3. (Positive) "Thanks for Zion"
Sheeeeesh this Zion Williamson kid looks like he's the real deal. The Cavs front office (now that LeBron isn't the GM) have to be thinking the same thing every time Duke comes on:
And this tanking is made possible by our savior, LeBron James. No, not just because he left. Add in the left that he departed and left us with terrible contracts for some of his best friends.
4. (Negative) "MVP! Was Ky-Rie! MVP, Was Ky-Rie!"
People forget that Kyrie is the one that hit the dagger in the NBA Finals. Well, everyone forgets except for Steph Curry.
But anyways, the point is that Bron Bron thinks he delivered the title to Cleveland. To be clear, he 1000% did. But I know it'll sting someone like LeBron if the people act like Kyrie was our real King.
5. (Positive) "Where's your sidekick? K-D's Com-ing"
Make sure we stay in unison on this one, guys. The fact of the matter is that LeBron can't do it by himself. That's why I think he made the wrong decision to go to LA. If KD or another two superstars don't go to the Lakers, his career is going to start ending in the regular season and maybe 1st round for the rest of his career. This is a postive cheer though because it's a reminder that there's some major shit going down in Golden State right now. LeBron and the Lakers stink. LeBron and KD and the Lakers are the favorites in the NBA.
6. (Negative) "You're Not M-J"
Tip of the cap to Simmons here. He hit the nail on the head with this one. There's nothing that would get inside LeBron's head more than his hometown reminding him that as hard as he tries, he'll always be remembered as the second best player to ever walk the Earth. Good stuff, Bill.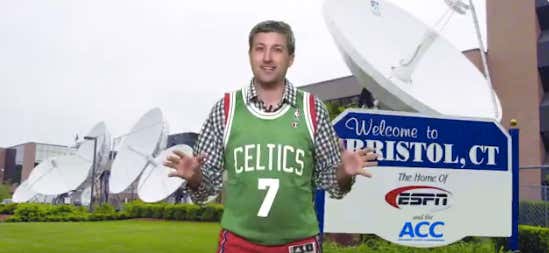 Alright yeah I'm done with the cheers. These all stink, just like Bill Simmons' cheers did, and just like the Cavs do. Cleveland: let's not look like assholes tonight and boo him. But let's also not get down on all fours for him either. He's a really good basketball player, a huge douche, and a good Samaritan. I hope you enjoy your Hollywood career out there, LeBron! Because (without KD) the rest of your career within the game of basketball will be a Trainwreck.