Enjoying Stadium Architecture - Ohio Stadium
It's Rivalry Week in College Football! We already had, an albeit boring, Egg Bowl go down last night with the Apple Cup, Iron Bowl, and more on the horizon. Not to mention Oklahoma/WVU tonight which isn't per say a rivalry game due to WVU's late entry into the Big 12, but that's gonna be a hoot so I felt obligated to bring it up.
So there's a whole bunch of awesome going down this weekend, but all of it pails in comparison to 'The Game'…ESPECIALLY when it's a top 10 matchup featuring playoff implications. I'm salivating over here! And what do I do when I salivate? Eat and then think about the architecture and atmosphere surrounding said game. Time for some Stadium Architecture.
Since Ohio Stadium is undoubtedly in the upper echelon of College Football stadiums, we gotta begin this extravaganza with a little background on this heralded joint. Ohio Stadium opened in 1922 which is good enough to make it the 12th oldest football stadium in the FBS behind only the Rose Bowl (UCLA), Neyland Stadium (Tennessee), David Boothe Kansas Memorial Stadium (Kansas), Husky Stadium (Washington), Boone Pickens (Oklahoma State), Camp Randall (Wisconsin), Vaught-Hemingway (Ole Miss), Nippert Stadium (Cincinnati), Davis Wade (Miss St), Bobby Dodd (Georgia Tech), and Kyle Field (A&M). That's some elderly shit. The horseshoe has been renovated 4 times in what's led to it touting the 3rd biggest capacity at 104k behind only Beaver Stadium and the Big House (cucked?).
The above facts were essential, but nothing tickled my fancy more than learning they just installed permanent lights in 2014. TWENTY-FOURTEEN. 4 YEARS AGO! People absolutely love to let others know that Wrigley Field only installed lights a mere 30 years ago so this threw me for a fucking loop. Oh well, on to the architecture.
We'll begin at the Pantheon-Inspired Rotunda right outside of the Jesse Owens Plaza. Little presumptuous to have anything inspired by the fucking Pantheon at a place for football games are played if you ask me, but hey that's Ohio State (and Neoclassical Architecture) for ya!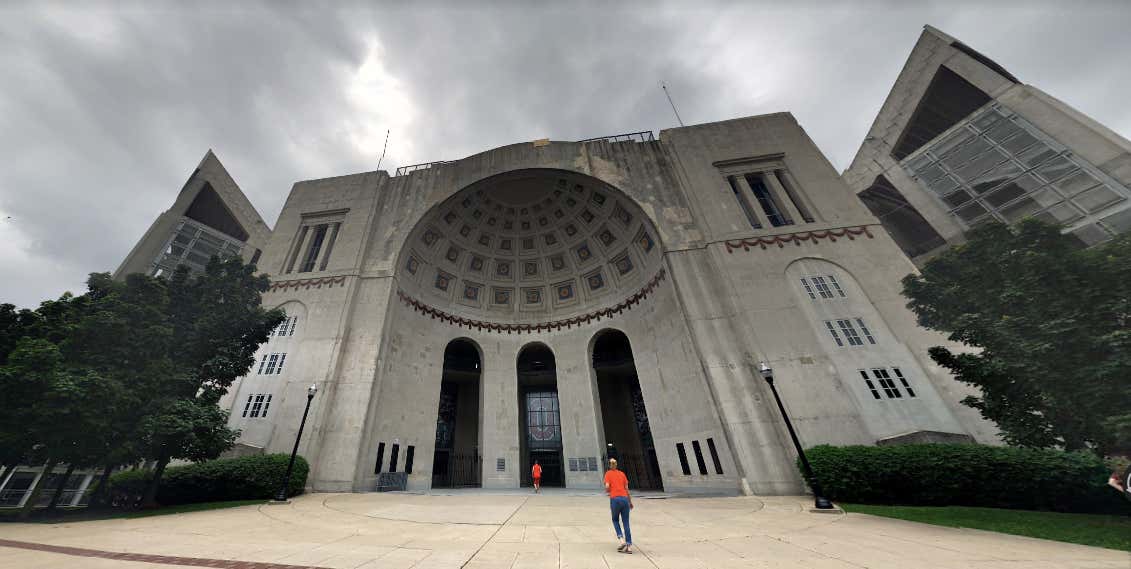 As we advance around the stadium you can see the exterior sure does continue with the Roman-type looks. If they ever bring back gladiatorial games at least we have a venue.
It's pretty much the same exterior all the way around so next we'll check out a little 3D aerial shot to show off how the horseshoe got it's self-explanatory nickname. It was the first-ever double deck horseshoe stadium (the first horseshoe stadium in general is Franklin Field at UPENN) as you can see by the U-Shaped structure before more seats were added behind the 'Buckeyes' end zone in 1995.
Once you're inside and there's 104k other people decked out in the reddest of reds it sure makes for a beautiful scene. My only beef with this shot is the video board. You'd think Ohio FUCKING STATE could spring for a new video board? It's 2018 for Christ's sake. Maybe throw a huge one at the 50 yard line on the top deck…Just a thought!
Here's a close-up of the video board. Sure did not look like a lot of folks wanted to take in pregame against Bowling Green.
Let's check the seat scenario. Looks like there's actual seats behind the home benches and bleachers behind the away benches so keep that in mind if you're ever buying tickets. Seats > Bleachers.
Finally it's time for the most fun part! The surrounding areas that make the game day experience what it is AKA the spots to do cold ones.
The main bar scene is over on Lane Avenue. That's where you're gonna have all the classic Columbus bars like Out-R-Inn & the Varsity Club no more than 0.7 miles from Jesse Owens Plaza. Varsity Club is only 0.3 miles away! 0.3! Nothing like drinking a brew at a bar with the stadium right over the horizon.
I dig the cottage feel at Varsity Club.
Out-R-Inn looks fucking AWESOME. Shoutout to the Google Maps car for driving around on Game Day.
Sure the a marvelous bar scene is great and all, but any stadium worth its salt is sporting some fantastic tailgate spots & Ohio Stadiums is up by the Schottenstein Center (their Basketball arena) a few blocks north of Ohio Stadium.
That's where the magic happens.
As you can tell Columbus is THE place tomorrow. When it's all said & done you know this is gonna wind up being the biggest College Football game of the year which means Barstool has to be there. Catch Dave, Big Cat, Kayce, Big Ev, Tommy Smokes, and more at the game at 10am for a live Barstool College Football Show presented by Panera. You can catch everyone posted up in the college neighborhood just east of the Stadium on Fraternity Row- They will play gracious hosts before the game of the year.
Bring your bread bowls…It's gonna be a hell of a time. #SaturdaysAreForTheMac