Mitchell Robinson Rained Terror On The Magic Last Night And Became The 2nd Youngest Player To Record 9+ Blocks In An NBA Game (In Only 22 Minutes)
Ho hum, just another day at the office for Mitchell Robinson snatching multiple basketball souls out of the air months before he can legally drink. I know us Knicks fans specialize in putting completely unrealistic expectations on players our team drafts, especially guys in the 2nd round that are "diamonds in the rough". I literally told Coley before the season started I would do my best not to flood his timeline with Kevin Knox AND Mitchell Robinson hype propaganda because I hate when a fanbase is trying to convince itself as well as everyone else just how good a rookie is.
But I think Mitchell Robinson has delivered on everything we hoped he would be thus far and then some. I mean the block he made to break the Knicks rookie mark for blocks has me more convinced than ever that Robinson is an alien that was sent to Earth to play basketball.
Like how are you supposed to get a shot off against a freak like that?
The most common comparison I saw to Robinson during the summer was Hassan Whiteside, which is terrifying off the court for Knicks fans but terrifying on the court for opposing teams. And wouldn't you look at who is number 1 and 10 in the NBA in blocks per game.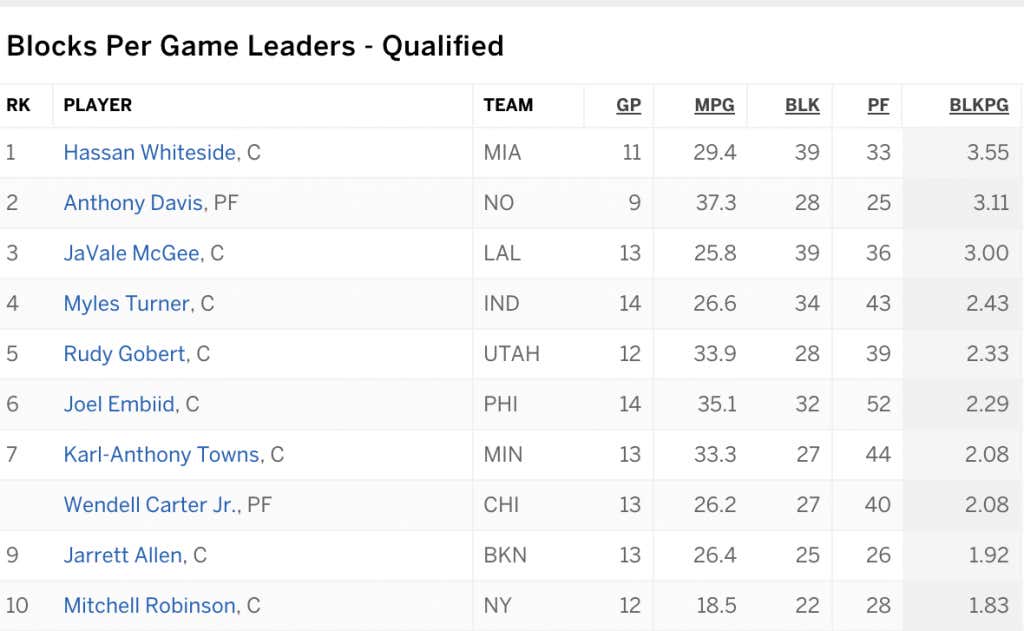 Since Mitchell averages less than 20 minutes per game but also got those 9 blocks in only 22 minutes, I figured I would sort by Blocks per 48 Minutes. And he has some interesting (to say the least) company.
Mitchell Robinson is to blocks as NBA Jam On Fire Klay Thompson is to three-pointers when he's hot, huh? Not to belittle Josh Smith's 10 blocks at the ripe age of 19 years and 13 days, which is ridiculous as well. But Monster Mitch would have had that record locked up if he got the 34 minutes that Smith did when he set that record.
Again, I'm doing everything I can to not put a funnel to my mouth and drink every ounce of the Mitchell Robinson is going to be a motherfucking monster Kool Aid. But having a 7'1″ maybe alien maybe human that can make plays on both ends of the court to go along with whatever Dukie the Knicks end up with if the Lottery Gods decide to shine upon us in May.
Writer's Note: I know the Knicks got their shit pushed in last night and were toast from the jump, but wins are poison for the Knicks until we are comfortably locked in their lottery spot, so I am chalking up last night as a double win. Sorry haters