Thank God This West Coast Trip Is Over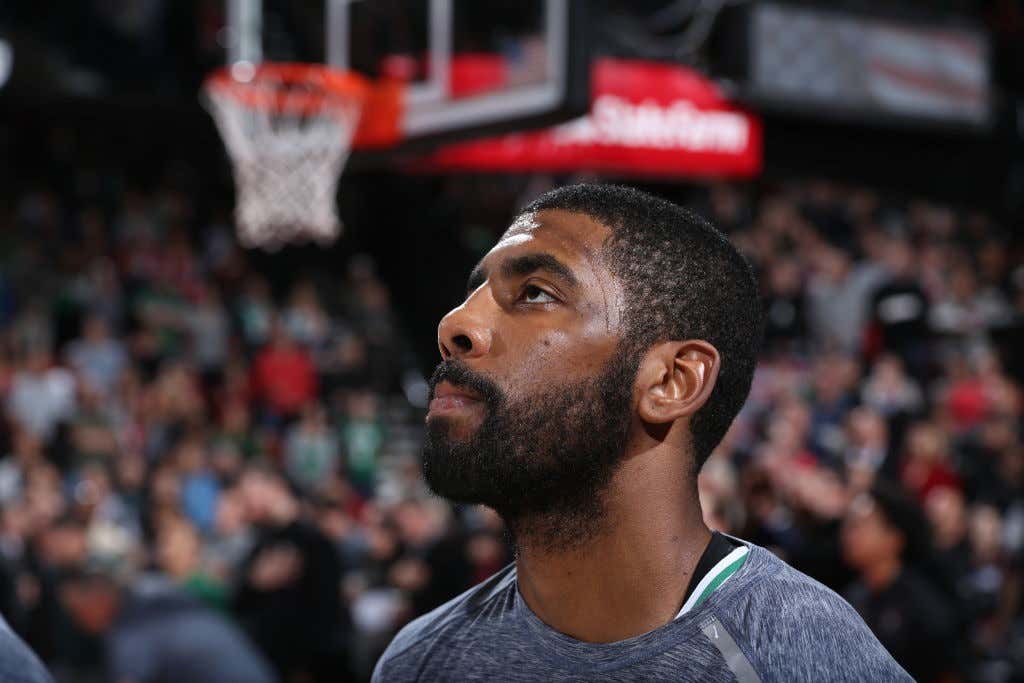 We should have known. When Kyrie missed that layup and then played poor transition defense on Victor Oladipo and he hit that dagger game winning three, we should have seen this coming. Let's not kid ourselves, the Celtics played this road trip like a team that should have been 0-5. When your one win is a game against PHX that you had to come back form a huge deficit, that's not exactly a positive. This trip included two blown double digit leads, 13 against IND, 18 against DEN, and then three straight games in which you trailed by 20 points. What the fuck? This shit was OK when it was the underachieving Celtics, when they wouldn't play defense early, get down by deep, and needed a huge Isaiah performance to pull out the win. Those were fun, but clearly things had to change. This team was supposed to be so goddamn deep with talent that those days were supposed to be over. They were supposed to have upgraded at almost every position, from PG to wing to bench depth. Well someone is going to have to explain to my why this team is playing like the 2016 version, only more shitty. What happened to the team that would league the East in road wins? What happened to the team that could somehow shoot 42%?
Look there isn't really any positive way to spin this trip, it was awful and the Celtics look like trash. Hot trash even. You cannot continue to get down 20 points every night and think that is a winning formula. The offense was supposed to be fixed with Kyrie back in the lineup, and frankly it looked like the same old garbage to me. I need less quotes about how they are "too cool" to start games and more actually showing up to start games. I feel like that isn't that crazy of a demand, just play 48 minutes of basketball for me one time. This is especially annoying because POR didn't even get outrageous nights from their two best players, and this was a tied game with 7 minutes to go. That is a game I expect the Celtics to win if they want to be as good as we think. That's a quarter I expect Kyrie to lead his team to victory, not go 2-7. This team looks soft, their body language looks awful, and everyone is to blame from Brad to the last person on the bench. They fucked around and got cute and look what happened. They're now 7-6 and have the worst offense in the NBA while their defense took a major hit compared to where it was when the trip started.
Things are gross right now, but we do not run from that. We accept it and take it on the chin. It sucks, but let's get started
The Good
– Alright, maybe there isn't a need to freak out about Jayson Tatum. Back to back solid nights, he was really the only Celtic that truly showed up last night
As with everything, the best way to see if Tatum is figuring his way out of his slump is to look at his approach. Last night it was much better, either at the rim, or behind the arc
To be honest I would have loved him to attack even more, but the biggest thing for Tatum moving forward is that he saw his three ball drop. His 5-9 was huge because up until this point he hadn't really shot the ball all that well from deep, and you could tell he was getting hesitant to shoot and then trying to put the ball on the floor into a contested long two. Seeing him have the confidence to let it fly was great
– As bad as things have been to start the year, can you imagine what they would look like if Mook wasn't playing the best basketball of his life?
At some point he's going to cool off, and then what. I'm not so mad at his shot selection in that fourth quarter mostly because he's been on fire this whole season, but the fact that this team now has to heavily rely on Mook isn't fair to him and it isn't fair to us.
– 8-10 from the line. Sweet.
– Dame/CJ didn't kill you. I guess that's good.
The Bad
– Here's a question. The Celtics just played a team in UTA that torched them with the P&R. One would think this would be something you would want to address right? Well, guess what POR ran a billion times to start this game with the Celtics putting up zero resistance to. Pick and rolls. Nurkic had 12 points on 5-5 shooting in that first quarter and I would guess at least 8 were from simple P&R. How can this team all of the sudden not know how to defend the most commonly used play in the NBA? What is going on? Where is Brad? Where is Horford? Why is it that this team can be so inept on the defensive end to start games when nobody is running anything crazy against them. That's the infuriating part. Show some goddamn energy on the defensive end and learn how to guard a goddamn P&R.
The Celtics actually came out and started OK offensively, they finished the quarter at 45.5%. One would think that strong showing got them off to a good start, but nope, they allowed 26 points on 50% shooting. No biggie though, just a 5 point game heading into the second quarter. No reason to worry right? Wrong. They gave up another 28 points while enduring their typical second quarter shitfest offensively where they scored 16 points on 28/16% splits. I will never get it, why can't this team just be average in the second quarter? Why do they have to be horrific? Al Horford played 8 minutes and went 0-5, Morris 6 minutes and 1-4, Kyrie 6 minutes and 0-2, so it's everyone.
By the end of the half the Celtics were down 17 points with 37/18% shooting. It could have been way worse because the Blazers already had 50+ points with like 3 minutes left in the quarter. You simply cannot win games with this type of effort.
– For the second game in a row, we learned what happens when you refuse to rebound. It killed them late in UTA with Derrick Favors getting all those OREB, and guess what happened this time around. POR grabbed 55 rebounds, 15 OREB which led by 13 second chance points. They had 3 OREB in the fourth quarter that I'm pretty sure all led to points. What good is getting a stop if you aren't going to clear the glass you know?
– Neither team got to the line, just 10 FTA for each, and I can understand the frustration seeing as how 42 of the 93 Celtics FGA were from deep. Kyrie and Al went a combined 3-15 from deep which surely isn't great, and then you add a 2-7 showing from Hayward/Jaylen and it was clearly a night where things weren't falling. So why settle? Why not just run plays that get you easier looks? This was one of those games where their three point shooting gave them life for a moment, but ultimately played a big role in their demise.
– I know he had 21 points, but this was not a great night for Kyrie. He went 9-24 from the field, 2-7 in the fourth quarter and it got to the point where he was clearly forcing shots. When this game became tied midway through the quarter, this is a game I expect Kyrie to carry into the win column. That's why he's out best player, that's why he's a max player, and I think that is fair expectations. This team needed him to pull out this win to salvage the trip, and he looked like he was on his way with a big three around 2ish minutes left, but then he went back to forcing. I don't think he looked to pass once, which you have to live with but don't have to love.
– Another rough night for both Hayward/Jaylen. Hayward's wasn't as bad, with 7/9/5 in his 31 minutes, so what you like is the rebounding and playmaking all while playing over 30 minutes. That's encouraging. The problem is his shot is still not there yet. He had a couple wide open looks I think we all expect him to make, especially from three, and they just aren't falling right now.
On the defensive end, this is where Hayward really struggled. Opponents last night shot 6-9 against Hayward, and his inability to stay with three point shooters ultimately cost the Celtics this game.
With Jaylen, what's frustrating is we just saw him execute the formula of success. He attacked the rim and looked great. Well for whatever reason he went back to a strictly outside approach with 4 of his 7 FGA coming from deep, and then the times he did get by the basket he struggled to make layups. Very annoying. He did a great job on CJ McCollum holding him to just 2 points on 29 possessions, so defensively Jaylen has been great this trip, but everything else has been a bit of a struggle.
– I hate to do this, but I have to. Brad Stevens has to take some heat for this trip and how the team looked. They need to be better at the start of games, and I feel like you have to put some of that on the coach. We can't just slob his knob when this team looks great and not give him some heat when they look like they currently do. I'm not calling for him to do anything drastic with his lineups, but I'm looking to him down the stretch to get the best shots possible. Run an actual play or something. He even admitted it after the game, he's been coaching like dogshit and it shows.
The Ugly
– Not the best trip or game for Al Horford. A rough night offensively going 4-14 (0-5), and honestly even worse defensively. Opponents went 8-18 against him, but 4 of those shots were Meyers Leonard, so when you look at his main matchup of Nurkic, he went 6-12 for 14 points. This is right after he struggled on that end against UTA. It's pretty simple, this team needs Horford to be elite on the defensive end if they want this whole thing to work. Their guard defense is too inconsistent, their wing defense is young and mistake prone, so you have to be able to rely on Al to be that defensive anchor, and he hasn't been. His outside shot is struggling and that's fine, but his defense should never look like this no matter how much he struggles on the offensive end.
– This trash. Aminu is a 34% three point shooter so what the fuck is this
Did Hayward have to help like this? Probably not, but that just goes to show what a mess defensively this team is right now. I feel like Aminu always has dagger threes against the Celtics in this building, and of course all of his baskets were 3PM.
– Someone explain to me why the best player on this team had 1 FGA in the fourth quarter. Nobody showed they could stop Tatum, so let's not give him the ball or get him any shots down the stretch. Great idea.
Here's the thing. The Celts have had a tough part to their schedule no doubt, but that isn't the excuse for what we've seen. Will it help when they finally get to play at home? Of course. There is good news on the horizon
There's two way to look at this. Building up your wins against shitty teams doesn't mean their problems are fixed, so don't do that. It'll matter how they look against UTA/TOR etc over this stretch. But what it can do is build confidence, because right now I just think this team just needs to see wins and see themselves play well. There's really no other way to spin things right now, the defense has been the 27th ranked defense to start this month, and that is just not going to cut it.
West Coast trips are always wacky, that's how they go. But what we just saw over these last 5 games is unacceptable under any circumstance, and I don't know how many more wakeup calls this team needs, but they stink right now and they have no one other to blame but themselves.