You Want to Talk Brady vs. Rodgers? OK, Let's Do This.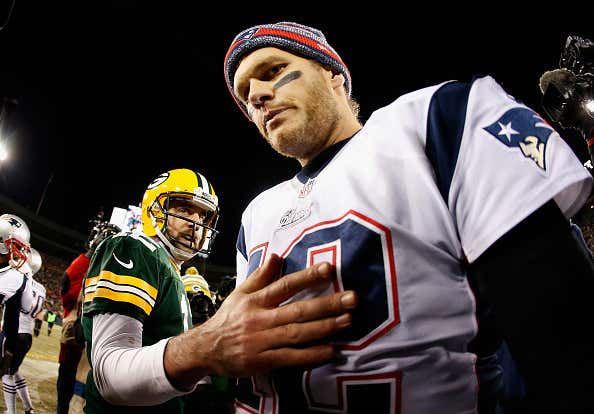 "He's got five championships, so that ends most discussions, I think." – Aaron Rodger on Tom Brady

"He'd throw for 7,000 yards every year. He's so much more talented than me." – Brady on Rodgers, if he played in the Patriots system

"Physically, I don't think it's even close — [Rodgers is] the best ever. Just his arm talent, and what he does. I know Tom's incredible, and Joe Montana's amazing, but when it comes to straight physical ability … it's not even a contest." – Jared Goff

"That Patriots system did go 11-5 with Matt Cassel when Brady was out in 2008. And I think Green Bay is 3-13 without Aaron Rodgers." – Anonymous league executive

"There's no competition. Aaron Rodgers has 1 Super Bowl, Tom Brady has played in 8 and won 5. This isn't even a question." – Skip Bayless

"They both wear No. 12." – Bill Belichick
Don't worry. I was not about to let an occasion like  Tom Brady and Aaron Rodgers declaring "pistols at dawn" (Sunday at 8:20) without climbing on board the hype train. I'm a veteran of the "Brady vs ___" wars. And you don't last this long in the game without knowing when to milk a thing for all its worth. Brady faced Peyton Manning faced each other 17 times – winning 11 – and believe me, those blogs practically wrote themselves. So I'm not missing out on this chance.
Through a cruel twist of the schedule and injuries to both guys, Brady and Rodgers have been on the field together exactly twice. The first time in 2011, Rodgers came off the bench at the end of a savage 35-0 beatdown of Brett Favre. The other came in 2014, a 26-21 Packers win at Lambeau. A game – and a season – that was forever marred by the revelation that one of the quarterbacks cheated by doctoring the footballs with an amount of air outside the legal limit and tainting everything he ever accomplished in his career:
But you remember the national uproar over that major scandal. Aaron Rodgers's reputation has suffered enough. He'll never live it down. So there's no need to get into it any further.
The comparisons between Brady and Manning were easy. Brady buried that thumb-headed goober early on in their careers and any time someone cited Manning's stats to argue he was better, they were just digging the hole deeper. Because he spent his career surrounded by offensive talent. Played the vast majority of his best years in a dome. And set records that will never be broken for playoff losses and one & dones.
Rodgers is a different animal altogether. And such a different style of quarterback than Brady that it's almost like comparing two different positions. Which is not me telling you anything you don't know, but it's part of the conversation. Going strictly by the numbers, it's impossible not to concede Rodgers has the edge. From ESPN:
Which I won't even try to mitigate in the way you could with Manning. Because Rodgers has pulled this off playing in some of the most shit weather conditions on the continent. He's had some talent to throw to, with Green Bay using three 2nd round picks on receivers Greg Jennings, Jordy Nelson and Davante Adams. Which is way more than Brady's had over his career but not nearly the kind of capital Indy or Denver spent for Manning or say, Atlanta has for Matt Ryan. And looking at that chart, I won't even cite QBR because I've always believed passer rating is the best measure of quarterback performance and I'm not going to be inconsistent just to make a point.
Again, I'll state the obvious that Rodgers vs. Brady all comes down to Athleticism vs. Success. Ability vs. Performance. Rodgers can leave the pocket, extend a play and create a Michelin Star meal out of chickenshit like no mortal male should. Get a load of what he did with those tampered footballs back in 2014:
That's inhuman. And I'm not taking anything away from him or diminishing what he does because I'm 99 percent sure I've never seen him throw an incompletion. I just don't put all that much stock in the ability of quarterbacks to run. I simply don't. To me it's like having a pitcher who can hit. It's nice. It'll steal you a game once in a while. It's better than them not hitting. But in the long run, the best there have ever been couldn't necessarily do it. And ultimately the ones that could (Greg Maddux, John Elway) were great because of what they did with their arms, not their other skills.
Doug Flutie was the best running/scrambling QB I've ever seen next to Michael Vick. And he said what made him a good quarterback wasn't that he could run; it was that he could line up under center, see a defense and know what they were going to do. Rodgers does that better than anybody. Which is to say, better than anyone besides Brady, who is the undisputed GOAT at it. And to illustrate Flutie's point, the one career statistical advantage he has over Rodgers is the one you'd least suspect:
Career Sack percentage:
Tom Brady: 4.8%
Aaron Rodgers: 6.9%
So much for the importance of scrambling.
But if you want to back Rodgers over Brady and deal in hypotheticals about who'd be better if he wasn't coached by Mike McCarthy standing in a puddle of his own urine at the end of close games, be my guest. "What ifs" are one of life's great pleasures. But actual career performances are much more satisfying.
Talk about athleticism and arm talent and physical ability all you want. Knock yourself out. I'll take the preposterous amount of actual achievement. I'll take the guy who has three more postseason losses (10 to 7) but three times the number of postseason wins (27 to 9). Then later we can argue about which of us is having more fun watching our quarterbacks. Kiss the rings.