Who ordered 7 shots of Brandi?... (and 1 video)
Morning.
I shone a spotlight on a rock and roll star yesterday after penning a birthday blog about Anthony Kiedis, and today I am going to kind of stay in that same vein with a rock and roll Ass From The Past who also just happens to be a birthday girl.
Some of the girls in weeks past were chosen on the basis of good looks alone, and others were chosen mainly for their fascinating backstory… This broad is a combination of both. As a matter of fact, I like to think of her as a Renaissance Woman.
It's Nikki Sixx's ex-wife, music video star, sitcom actress, former Playmate, Australian cocaine dealer, ex-con, and mother of 3 Brandi Brandt.
Not sure I have ever given an AFTP's dimensions before because it seems so overtly sexist, but fuck it… At her apex, "Brandi with an i" was 5'5", 105 pounds, and measured out at 36"-24"-36"… Which are 2 inches too tall for Sir Mix-A-Lot's anaconda, but just fine for my Western hognose.
As luck would have it, Brandi turns 50-years-old today (BIRTHDAY BLOG!), but at the tender age of 18, both she and her huge 80's hair were Playmate of Month for October 1987.
She appeared on the cover of the magazine 2 more times- Once in The Women of Wall Street issue in August of 1989 (which contained one of the greatest Mike Tyson quotes of all time on the cover)…
and again with some hate-monger named Donald Trump in March of 1990.
I may have misspoken when I called her a "sitcom star," but she did appear as herself in an episode of Married With Children where she tries to purchase a pair of stiletto heels from Al Bundy. At the end of her scene, she asks how much the shoes are, and a grateful Al gives them to her for free, explaining that her centerfolds made it possible for him to have sex with his wife.
She also appeared as the elevator operator in the 1989 video for Aerosmith's "Love In An Elevator" with classic pedophile and multiple scarf wearer, Steven Tyler*.
She was married to the bassist for Motley Crüe, Nikki Sixx, for just over sixx years (see what I did there), in which time they had a lot of sexx (did it again) and also 3 children.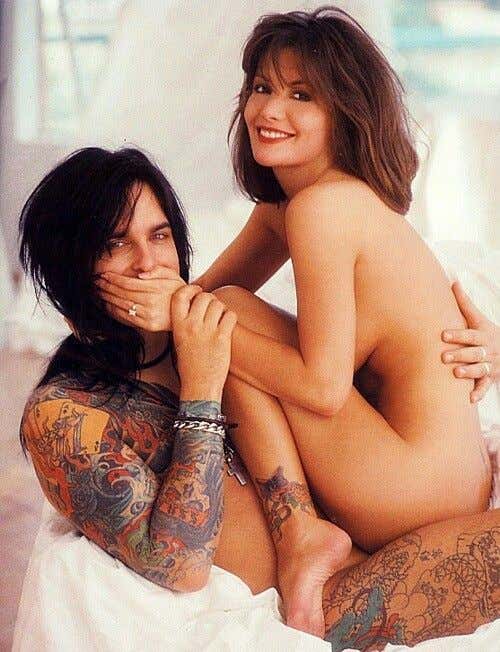 I can't imagine I won't eventually get around to writing about Nikki and the rest of the Crüe, but here's a little tidbit in the meantime- Even after Sixx nearly died from a heroin overdose in 1987, the first thing he did when a couple of fans gave him a lift home from the hospital was shoot up more heroin. The near-death experience inspired one of the band's most successful songs, "Kickstart My Heart."
Back to Brandi… And finally, Brandt was involved with a cocaine-trafficking syndicate importing the drug into Australia in 2007.
On November 15, 2013, Brandt was extradited from LA to Sydney, to face criminal charges. She eventually plead guilty to a charge of conspiring to import drugs and was sentenced to sixx (last one, I promise) years in prison…
(If you ever do an image search for "prison porn", make sure to specify "female"… YIKES!)
She became eligible for parole in November 2016.
So that's it… Brandi Brandt is the newest member of the AFTP Club.
Small town girl who conquered Hollywood but wound up incarcerated after getting mixxed up (sorry… it's fucking infectious) with the wrong people.
Take a report
-Large
* Just a reminder, I penned a blog in August about rock & roll pedophiles (including Steven Tyler) called
If you don't want to pore through the whole thing, here are the Steven Tyler Cliffs Notes-
Moving on… Aerosmith front-man, Steven Tyler was known for having relationships with some of the most beautiful women of their day, but it's one in particular that I find interesting.  In 1975, Tyler somehow managed to wrangle custody of 14-year-old groupie, Julia Holcomb, from her parents so they could live together.  They were together for almost 4 years, during which time she drank, used drugs, and fucked.  They split when she was 17 after Tyler pressured her to get an abortion at five months into her term (one week before the legal cut-off for abortions… PHEW!). She went through with it, moved home, and except for a few phone calls, never heard from Tyler again.
So, to sum up, Steven took her at 14 and then returned her at 17 after 3 years of pumping her full of booze, semen, and ultimately an unwanted abortion… Lucky he kept the receipt.
Tyler went on to make countless hit records and eventually morph into a hip vegan grandma.