All I Want From The Philadelphia Flyers Is A Simple Apology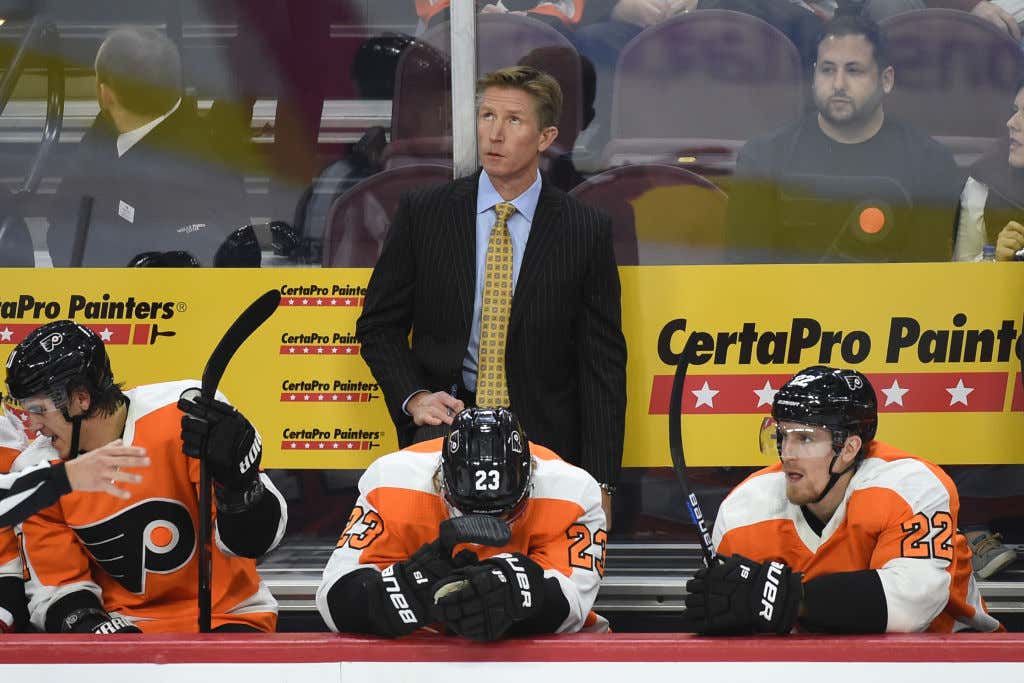 Just say you're sorry. That's all I'm looking for. I don't need any excuses. I don't need any talk about how the team is trying hard but just not getting the results. I don't need the team to say how disappointed they are in the locker room after the game. All I want is for anybody in that organization to come out and just apologize. I've said this before and I'll say it again–Philadelphia used to be such a great hockey city. But the Flyers have robbed that from us. They took it away by playing boring ass hockey for the past 4-5 years. There are so many other things right now that would be a more enjoyable way to spend 2.5 hours than to watch a Flyers game. Going to the dentist would be one of them. The only interesting thing about the Flyers right now is the goddamn mascot. Do you have any idea how embarrassing that is? They clearly don't because they still go and put out the same product night after night. Just apologize, dammit.
Say you're sorry for ever trying to convince the fans that you weren't in a full rebuild mode. Ron Hextall took over as General Manger for this team on May 7, 2014. "The Process" started just one year before Hextall took over for Holmgren. Sure, it took 4-5 years for The Process to get to the point where the Sixers are today, but at least the fans knew that ahead of time. At least the fans were told that the team was going to suck for a few years for the greater good of the organization. Ron Hextall and the Philadelphia Flyers have been parading this half-assed rebuild/reload for just about the same amount of time now as "The Process" and they still have nothing to show for it. They still don't have a playoff series win since 2012. They still don't have any sort of identity ever since Laviolette was fired. I know that the prospect pool is built up but they never said that was the only plan going into this. Apologize for not being truthful to your fans. For completely destroying hockey in this city and expecting the fans to just go along for the ride.
Apologize for Dave Hakstol still being the head coach of this team. Hakstol was hired on May 18, 2015. In that time, the Flyers have become one of the most irrelevant team to watch in all of professional sports. In that time, the Flyers have lost playoff games by scores of 7-0, 5-1, 5-0, 8-5, 4-1, 6-1. The Wells Fargo Center used to be a place where opposing teams hated to play. You talk to anybody who is retired right now and they'll say that Philly was one of their least favorite cities in the league, and the fans should take that as an accomplishment. But today? If I'm an opposing team, I am DYING to play against Philly in Philly because the Flyers are going to have the home crowd booing them out of the barn by the end of the first period. And that's not on the fans, that's on the team. Apologize for that, actually. Apologize for making us feel like shitty fans because we constantly feel the need to boo our own team at home. And it's clear as fucking night and day that this team doesn't respond to Dave Hakstol because if that were the case, they wouldn't constantly be getting their ass kicked at home. The only reason why Dave Hakstol still has a job right now is because Ron Hextall is too goddamn stubborn to admit he made a mistake. Chip Kelly was fired in his 3rd season in Philly. I don't know if anybody can make any sort of argument that says that Hakstol isn't just as bad as Chip.
Apologize for the penalty kill. That used to be the heart and soul of the Flyers. It didn't matter if they took penalties because they had guys on that team who would work their fucking asses off to kill it. The Flyers used to be a team who could be on the penalty kill for 60 minutes a night and it wouldn't change a thing because guys like Mike Richards would be out there grinding away for every second he was on the ice. The penalty kill now?
Lazy cowards who just leave guys all alone on the crease. Killing penalties takes heart. It takes grit. It takes a set of fucking balls to get out there and give that power play nothing to work with. Killing penalties is what the city of Philadelphia is all about. It's not fancy, it's not flashy, but it's about getting the job done. This penalty kill? It's a disgrace. It's shameful. But Ian Laperriere still has a job because Ron Hextall is too stubborn to admit he made a mistake.
Apologize for not doing anything to the defense this offseason besides sign Christian Folin. Apologize for Brian Elliott. For Michal Neuvirth. For thinking that bringing in Cal Pickard would help this team at all both in the short term and the long term.
Apologize for making mediocrity your standard.