"Wait 'til dad gets home."
Good morning.
I saw that Evander Holyfield just celebrated his 55th birthday over this past weekend… Happy belated birthday, "Real Deal".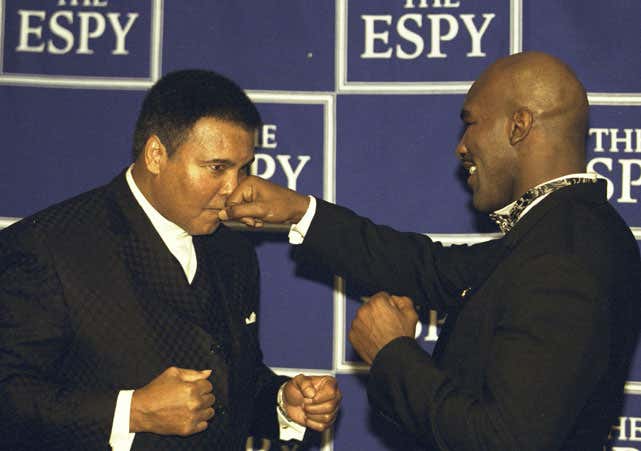 "Got your nose, Cassius."
I know that "Boxing is dead" even though a Mexican with an affinity for tainted sausages just signed a $300-plus-million deal, and Floyd Mayweather has been at the top of the Highest Paid Athletes list for the past decade.  But since I didn't watch the World Series last night, I am going to talk about Evander this morning… No matter how "dead" his sport may be perceived.
For the uninitiated, Evander Holyfield is a four-time world heavyweight champion boxer. He won his first heavyweight belt when he defeated James "Buster" Douglas* in 1990, reigned as the World Heavyweight Champion from 1990 to 1992, and again from 1993 to 1994.  He was also a bronze medal Olympian after a bullshit disqualification in the 1984 Olympic Games in Los Angeles.
With the help of steroids (which he has denied repeatedly, but, come on, Evander), he retired at the age of 49 with a record of 44-10-2-1.
Evander's most infamous bouts were Holyfield/Bowe Part 2 in 1993, where a crazy person parachuted into the arena…
… and Holyfield/Tyson Part 2 in 1997, where an even crazier person bit his fucking ear off.
I just noticed in the GIFs above that Mills lane was the referee in both these fights… "Let's get it on!"
MMA fans were clutching their pearls when Khabib went into the crowd after he humiliated McGregor, but that shit is plain-old adorable considering that within a four-year window, Evander was a Pay-Per-View victim of attempted cannibalism AND an unauthorized air-strike.
Outside of boxing, Holyfield came in fifth in the 2005 season of Dancing With The Stars with his often terrified partner, Edyta Sliwinska…
And in 2014, he was the first housemate evicted from Celebrity Big Brother (UK) after saying in a conversation with another housemate that gayness is abnormal and can be fixed.
— SPOILER ALERT —
It is not, and it cannot.
Back to boxing… Evander was always considered an undersized warrior and no round in his career shows that more clearly than the 10th Round of Holyfield/Bowe Part 1 in 1992…
30 seconds in and he gets rocked by an uppercut, but Holyfield weathers the storm and then comes back at Riddick even after the bell rings.
As a father, I have always had people I looked up to as Pillars of Paternity.  Evander isn't one of those guys, but he does have a couple of traits that I admire, including the story I am about to tell…
I don't remember a ton of details, but at some point in his career, Evander had left his home in Atlanta and traveled to (I believe) Houston to train for an upcoming title fight.  As is the case with most fighters, Evander would leave his family for weeks at a time when he was training for a big bout.
At some point during camp, Evander received a call from his wife telling him that one of his sons had gotten into trouble and that same son was being defiant after the fact, and not listening to his mother.  So Evander told his wife he would be home ASAP, hung up the phone, and took a car to the nearest airport where his private jet whisked him back to Atlanta so he could discipline his kid.
Think about that… This kid had a dad who was the heavyweight champion of the fucking world, and yet he was dropping everything he was doing in training camp and grabbing a flight home for the express reason of kicking this kid's ass.
When I was growing up, if I got into trouble and my mother said, "Wait until your father gets home." I would be properly terrified… And my dad was just an ironworker** who would be coming home at his regularly scheduled time anyway.  And there was always a chance my dad would probably forget to hit me if my mom was making her world-famous Salisbury steaks that night.
Evander, on the other hand, HATES Salisbury steaks and probably left the wraps on his fists as he came home in the dead of night to find this little punk pissing in the corner of his closet with a dozen pillows duct-taped around him like cushion armor.
That little punk kid, by the way, I believe was Elijah Holyfield***.
For the equally uninitiated, Elijah is a running back at the University of Georgia, and the Bulldogs' leading rusher through the first seven games with 488 yards on 65 carries.  Before this past weekend (where UGA was idle), Holyfield was ranked 5th nationally in yards per carry.
In high school, Elijah had 1,700 yards his Junior year and another 1,400 yards in his Senior campaign, which is pretty extraordinary… But it is more extraordinary to note he never fumbled once during that time.
And for those of you out there who are against disciplining your children, I wonder if Elijah would've taken the same path had Evander not taken the midnight train to Georgia that night and whooped his ass.
(Elijah was arrested in May of last year for marijuana possession, but 'boys will be boys', amirite?)
I mentioned above that Evander is not one of my Pillars of Paternity even though I gushed about him laying down the law from another state.  And the reason he isn't a pillar is that for a man who prides himself on discipline, he certainly has one chink in the armor… And the chink is unprotected sex with any broad who grants consent.  As a result, Evander has 11 kids with 6 different women.
Ein Ezekiel Holyfield (son), Elijah Esaias Holyfield (son), Evette Ashley Holyfield (daughter), Eleazar Evan Holyfield (son), Eli Ethan Holyfield (son), Elijah Jedidiah Holyfield (son), Eden Eloise Holyfield (daughter), Eve Elizabeth Holyfield (daughter), Evander Holyfield Jr. (son), Ebonne Esheal Holyfield (daughter), Emani Winter Holyfield (daughter).
And I think the only thing holding him back from having his 12th is the fact that it can't be easy finding more names beginning with "E".
My wife was editing a draft of this blog last night, and she commented that maybe Evander stopped at eleven because 11 starts with an "E"… But so does Eight, so I think my theory that he just loves to raw dog bitches holds more weight.
Eleven children with six different women is a feat that is not uncommon with athletes nowadays, but I think Evander's irresponsibility when it comes to having kids went past disrespectful and went straight into the realm of having a blatant disregard for human life. 
And although it seems like he rules his roost with an iron fist, I personally don't see how Evander could possibly discipline his children for either knocking-up or getting knocked-up in the future.  Por ejemplo: If his daughter were to come to Evander and say that she was going to have 10 kids with five different men, it would be hypocritical of Holyfield to balk at the idea since his daughter is technically showing more restraint than he did.
Let me ask you… Are condoms really that bad?  Or is the fact that professional athletes spend so much time with their ankles and wrists wrapped up tight with tape make them less prone to want to wrap up another appendage?… Either way, after his 10th, I think Evander would've been a key candidate for chemical castration
Happy belated again, Evander… Take fewer reports.
-Large
*Remember Buster Douglas?… Mike Tyson probably doesn't.
**I said my dad was just an ironworker, but his profession was/is well regarded as the "macho men of the construction industry", and he can easily beat up your dad.
*** I am not sure Elijah was the kid Evander flew home to beat (because he has so many fucking kids) but makes for a better story, no?