It's the first day of Q4, so we are truly in the homestretch of 2018.  I always remember this time of year as the time where Halloween costumes hit store shelves and managers start tempering down Christmas bonus expectations before they grab a flight down to Secession to spend money that they didn't earn.
Markets higher today on excitement over the new trade agreement between the US, Canada, and Mexico.  GE up 8% after removing their CEO, and Tesla roaring (up 16%) after news over the weekend that Musk agreed to a settlement with the SEC that requires him to step down as Tesla's chairman and pay a $20 million fine.
BARSTOOL FINANCE CALENDAR FOR THE WEEK ENDING 10/5
Monday — Stitch Fix and WageWorks earnings after the bell; Rao's dinner
Tuesday — PepsiCo and Paychex earnings; US auto sales for September
Wednesday — Co-Hosting Barstool Breakfast; Lennar and Pier 1 earnings; ADP employment report
Thursday — Co-Hosting Barstool Breakfast; Costco and Constellation Brands earnings; CNN Business launches
Friday — Co-Hosting Barstool Breakfast; Origen Financial earnings; US jobs report
As mentioned above, I am taking the bride to Rao's tonight with one other couple.  I haven't been there in years… I am not even sure that Nicky the Vest is still alive.  I do remember it not being worth the hype last time I was there, but will report back tomorrow.
I was helping out with my kid's flag football team this weekend.  I don't know all the players' names, but I try to be supportive from the sidelines.  I yell out random benign shit like, "Good hustle, guys.", and maybe help out with a couple pairs of untied cleats, but that's really about all I do.
Some kid made a nice flag pull, and as he trotted back to the sideline towards me I said, "Nice job, random Chinese kid.", and I got nasty looks from the other parents.
I guess I need to get better at that.
This video turned 9 years old over the weekend…
It's terrible, but it has almost 10 million hits, and I remember a desk full of people singing it for weeks because the tune is kind of catchy.
I played it for my kids last night, and all three left for school this morning singing it on the way out the door, including the line "tug on his winky", and "Shut up, woman… Get on my horse."
I guess I need to get better at that also.
Not a ton of positives to take away from the Giants' loss yesterday, but someone in the comments attached this pic of a Saints fan helping a handicapped Giants fan stand up for the anthem, and it made me feel good about people for about 5 seconds…
And finally, ASS FROM THE PAST
I had a different girl all cued up for this week's AFTP, and then I saw this broad in the background of the Kavanaugh hearing.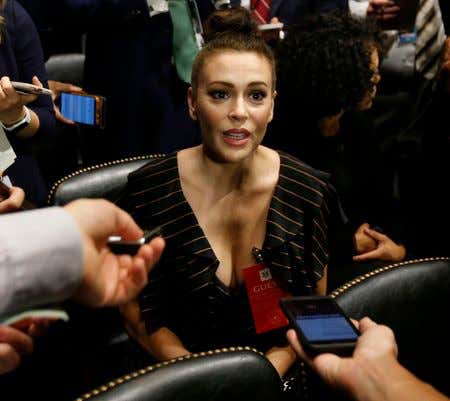 She stirred my nostalgic loins, so I decided to dust her off for this week… It's Alyssa Milano.
I will not get political, but I know Alyssa was there last week in support of Dr. Ford.  She had her cell phone confiscated at one point during the trial because- 1) She was photographing and recording parts of the questioning.  And 2) She was inexplicably posting comments on social media from her seat within the courtroom.
Both of those things are a big no-no, and if you couple them with the fact she wore an outfit where her tits were out at a Senate Judiciary hearing on sexual misconduct, then I am led to believe she's a bit of a moron no matter which way she leans politically.
It's reminiscent of that alleged Cosby victim, Chloe Goins, who showed up at LAPD headquarters to make her official statement dressed as though she just worked a double shift at The Spearmint Rhino.
But that is NOW, let's concentrate on THEN.
Alyssa and I have many similarities.  We are both from Brooklyn, we both married someone from New Jersey, and she's almost exactly 1 year younger than me.
That's where the similarities end because Alyssa is also a staunch vegetarian, whereas I ate a koala steak at an underground eating club run by a chef from the now-closed New Deal Restaurant in the mid 90's.  My only regret 20 years later is that I didn't take pictures because security there was tighter than security at the Kavanaugh hearing, apparently.
Milano has been in over 30 movies… Most of them were soft-core, and all of them more terrible than the next.
Alyssa cut 4 bubblegum pop albums between 1988 and 1992 that sold well in Japan because… Well… Because Japan is kind of fucked up when it comes to young girls singing bubblegum pop.
She's had the most success on Television, where she had starring roles in Charmed, Melrose Place, and most famously Who's The Boss?
I was always a Mona guy, but young Milano used the show's platform to become a teenage heartthrob and launch a mediocre Hollywood career that culminated this afternoon as she becomes the latest member of Ass From The Past.