Conor McGregor Posted A Beautiful Love Letter To All Mexicans Yesterday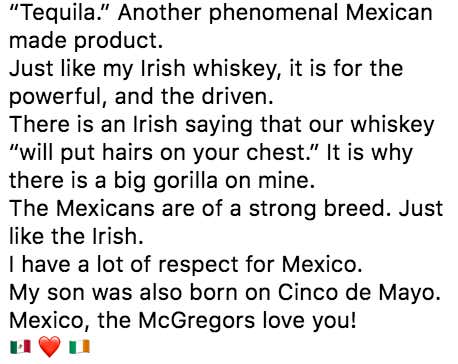 Alright, not gonna lie, sorta weird and out of nowhere message to all Mexicans from Mr. McGregor yesterday, but I don't hate it at all. Just showing some love on a Wednesday, brought on by a fascination of horse-hair boxing gloves. What's wrong with that?
I don't have a TON to add here, because it seems McGregor really hit this one from every angle, but I'd love to tell you guys what my favorite three moments from this post were.
1. "Nothing however, feels as blunt and as nom nom tasty as the 4oz baby gloves of MMA though, but these are some top big gloves."
"Nom nom tasty" is just a fucking phenomenal phrase. So versatile. 4oz MMA gloves? Nom nom tasty. A nice skirt steak, medium rare? Nom nom tasty. Your mom's box? Nom nom tasty.
2. "I do love the Mexicans."
3. There is an Irish saying that our whiskey "will put hairs on your chest." It is why there is a big gorilla on mine.
Like "nom nom tasty", this is a phrase that's just going to work it's way into my arsenal now. Apparently it's pretty common in Ireland and other countries as well, I never heard it before. I sorta feel like it should be Barstool's new slogan.
"Barstool Sports: We'll Put Hairs On Your Chest"
Eh, actually that doesn't sound too great as a slogan. Better than "Be A Dude" though. And as for McGregor's whiskey he referenced a ton in this post, Notorious Irish Whiskey…well I can PROMISE you that'll be the very first thing to touch my lips at 12:01am on July 9th, 2027 when I turn 21. Only the best. Get some hairs on this chest.