The Red Sox Gave Up 12 Runs And Still Beat The Orioles By Seven Runs
This team does some sick shit sometimes, man. Nathan Eovaldi gave up EIGHT runs (four earned) over two and two thirds innings. It was looking like it was gonna be a long night. The bullpen gave up another four on top of that, and the Red Sox still won this game by seven goddamn runs. I mean, yeah. It's the Orioles. But we've seen some other teams within this division struggle mightily against these same Orioles. For a minute there, when they were trailing 8-3, it was looking like the Red Sox were going to suffer the same fate.
Jk, I didn't think they were losing that game for a single second. Trailing by five runs was a mere annoyance because I love watching Eovaldi when he's on. He was not even remotely close to being on in the series opener. The broadcast made reference to his pace being much slower. Maybe that had something to do it, but some guys just have off nights and this was clearly one of them for Eovaldi.
The ridiculous scoring in this one started with a three-run homer off the bat of Xander Bogaerts, who kind of just reached out over the plate and dragged a 1-2 slider over the fence. Bogaerts drove in four runs in this one and is quietly having the best year of his career. His .860 OPS would be a career high. His 72 RBI puts him on a pace to drive in an even 100 runs, a career high. His 17th home run on Friday puts him on pace to hit 24, which would be a career high. He's at 32 doubles and on pace to hit 44 of those, a career high. With everyone else around him putting up video game numbers, we've gotta show some more love for the X-man.
Trailing 8-3, the Red Sox chipped away with an RBI triple by Jackie Bradley Jr., who had three hits, a home run by Brock Holt, and a pair of bases loaded walks gave the Red Sox a 9-8 lead. By that point, the game was officially a shit show. Andrew Benintendi blasted a three-run bomb to make it 14-10, so now we're talking football scores. Since July 6, when we started campaigning our balls off to get Benintendi to DC for the All Star Game, he's hitting .379 with a 1.031 OPS, 12 doubles, 2 homers, 26 runs, and 17 RBI in 26 games.
Mookie Betts, also a noted sicko, went 3-for-4 a night after hitting for the cycle. He doubled twice, walked twice, and drove in three on a bases loaded, bases-clearing double. I feel like it's been a while since we've updated everyone on how much better Mookie is than everyone else. He's leading the majors in batting average (.352), slugging percentage (.675), and OPS (1.114). Feel like that's pretty good.
You know who else is better than everyone else? JD Martinez. He went 2-for-5 with a double and drove in a pair of runs, his 100th and 101st RBIs of the season. He became the first Red Sox player since David Ortiz in 2003 to hit 30 homers and drive in 100 runs in their debut season with Boston. Over his last 162 games, Martinez has hit 59 home runs and driven in 153 runs with 105 extra-base hits and 429 total bases. If he had done this in a single season, his 429 total bases would tie Stan Musial for the sixth most in any single season, and the 105 extra-base hits would tie Todd Helton for fifth most in any single season. All-time.
The 19 runs for the Red Sox in this one were a season high, as Boston is now averaging an even nine runs per game in the month of August, a month in which they've lost one game. As a team, they're hitting .306 with a .981 OPS this month, scoring a grand total of 72 runs in eight games. This Red Sox win and Orioles loss also mathematically eliminated Baltimore from the AL East race here on August 10.
On Saturday, they'll play a doubleheader to make up for the game that they got fucked over in a few weeks ago when they jumped out to a 5-0 lead before the game got called. David Price gets the ball in the day game against Jimmy Yacabonis. Over Price's last three starts, he's got a 1.33 ERA with 15 strikeouts in 20.1 innings.
This Yacabonis fella has appeared in one game a month for the Orioles this season. He's got a relief appearance in April, another one in May, a start in June, another one in July, and now this is his first start in August. He's allowed nine earned runs in those 11.1 innings, which is good for a 7.15 ERA. He's also walked seven batters in those 11.1 innings. Looking forward to it.
Final score: Red Sox 19, Orioles 12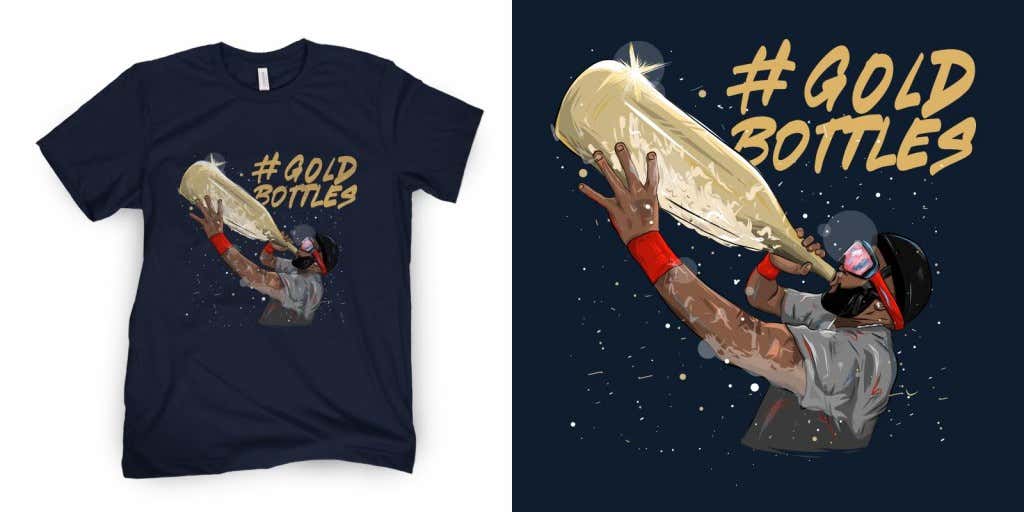 GOLD BOTTLES SHIRTS ON SALE NOW! GRAB YOURS BY CLICKING HERE!