What Is Going On With The Carolina Hurricanes?
So this was a topic of conversation at the end of this week's episode of Spittin' Chiclets. What is going on with the Carolina Hurricanes? They play in empty arenas, trade away their star players, they are burning bridges with some of their most decorated alum, and frankly, it just seems like they have no idea what the fuck they are doing.
Tom Dundon is the new owner of the Hurricanes. He signed the deal to buy the team in December, after the team seemed like it was on the market forever. While Dundon isn't really known in the sports ownership world, he is one of the top investors in Top Golf. So the guy must have an eye for business. I mean, he also comes from Texas oil money, so who knows.
Last season, the Hurricanes were 29th in the NHL in average attendance and dead last in percentage of arena that is filled. With the young talent and the roster the Hurricanes had last season, there is no reason that rink should have been empty every night. And it was empty, every night.
This must make people in Quebec irate. Specially because there are people in Carolina who believe that they actually have a decent fan base. Let's call a spade a spade here. The Carolina Hurricanes probably have the worst fan base in the entire NHL.
Not only does their fan base stink, but their front office is incompetent. Let's talk about that Jeff Skinner trade for a second. What the fuck was that? They got hosed. Jeff Skinner is premier top-6 forward. Guys like that don't grow on trees. The guys is 26 and has been putting up numbers since the day he joined the league and they essentially got nothing for him.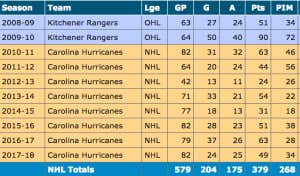 I mean, even EA Sports took the time out of their day to chirp them..
Then we can talk about the Lindholm/Hanifin trade. The Hurricanes sent Elias Lindholm and Noah Hanifin to the Flames for Dougie Hamilton, Adam Fox and Michael Ferland. Advantage Calgary. Adam Fox is a stud at Harvard, but what if he doesn't pan out? And you're going to add Dougie Hamilton into what was already a toxic locker room? That sounds like a great idea. Noah Hanifin is a young, puck moving, all-star defenseman. Do you know how hard those are to come by? Some franchises would give an arm and a leg for one. Granted, you gained that in Hamilton who had a hell of a season last year, but how does that make them better? You're adding a guy with a big contract that no one seems to like and getting rid of a young guy who you have under control. Doesn't make much sense to me. And don't even get me started on Lindholm. Calgary is going to be a wagon next season.
So my solution? They should just move the team to Quebec. I know part of Dundon's ownership deal was that he cannot move the team for 7 years, but I'm sure they can find a way around that. This franchise needs some life. Needs to play in front of some fans. There are also some rumors that his plan is to move the team to Houston after the Seattle expansion. Interesting move to say the least. I know he's a Texas oil guy and Houston has caught the NHL's eye recently, but I can't imagine putting a team in Houston Texas would be better than Quebec City.
And let's not forget about them burning their bridge with arguably their most decorated player of all time when they abruptly fired Ronnie Franchise as their GM. How can you do that to Ron Francis? He was the face of the franchise since they moved from Hartford and was loyal to the organization. Ron Francis wasn't the problem with the Hurricanes, let's be real.
The problem with the Hurricanes is everything. The roster, the ownership, the front office, all of it.
Listen to the full episode here: