Surprised, Motherfuckers? Nate Diaz Makes His Return At Madison Square Garden Against Dustin Poirier At UFC 230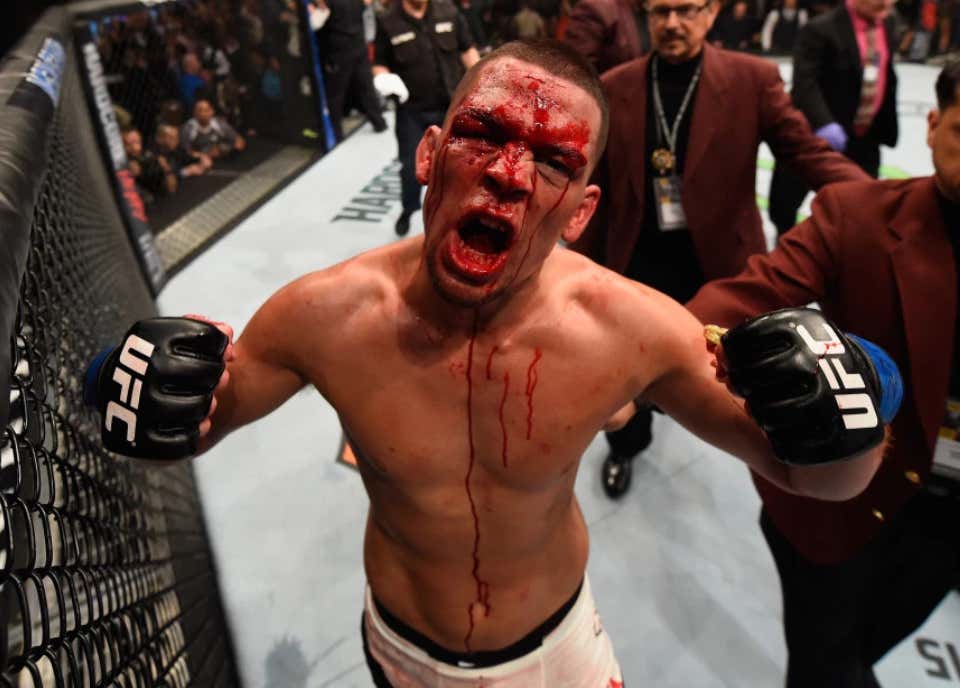 LATimes- Nate Diaz will return to the UFC octagon after more than a two-year absence Nov. 3 at Madison Square Garden for an expected firefight of a stand-up bout against destructive puncher Dustin Poirier, the Los Angeles Times learned Thursday.
The lightweight bout will serve as the co-main event at UFC 230.
Stockton's Diaz (20-11) has participated in the main event of two of the most lucrative UFC pay-per-view cards in history, first by taking a March 2016 fight against Conor McGregor on less than two weeks' notice to submit him in the second round.
Then, after Diaz and his fighter brother, Nick, engaged McGregor in a bottle-and-can throwing exchange during a pre-fight news conference, he lost to McGregor by decision in one of the most thrilling bouts in the organization's history.
Surprise, surprise…it's the return of the 209. After over two years, Nate Diaz is finally getting back into the octagon on November 3rd in this relative dream matchup with Dustin Poirier at Madison Square Garden. A hardcore fan favorite for many years, Nate Diaz, the younger brother of Nick Diaz, really hit mainstream success like few in the sport's history have after submitting Conor McGregor in a fight he took on short notice at UFC 196. Their rematch at UFC 202 in August of 2016 instantly became, and still remains the most successful pay-per-view in company history, and that pretty much afforded Nate the opportunity to fight whenever, and whoever he wanted to immediately following. Now, the right matchup has finally come around, and it's Dustin "The Diamond" Poirier. As Shaun Al-Shatti points out here, there's really only one scenario in which this couldn't be parlayed into a completion of the trilogy with Conor himself…
As for the fight itself, well that's a fucking banger of a bout if I've ever seen one. Two violent motherfuckers who will just stand and trade, and leave it all in the cage without giving a fuuuuuuck. So get hype. Get very hype.