Blackhawks Unwilling To Trade Brandon Saad For Justin Faulk, Per Elliotte Friedman
"I heard Detroit had been in on Faulk, and I don't think that's gone away. I had heard Chicago had been on Faulk, but I heard the hang up there was Brandon Saad. That Carolina wanted Saad and Chicago didn't want to do that."–Elliotte Friedman on 31 Thoughts Podcast
Not exactly a new story, but Friedman put it out there on his podcast with Jeff Marek. This was the rumor from before the draft. The Hawks were interested in Faulk, but they couldn't reach an agreement. Faulk's name has come up again because the Canes are now loaded on defense after signing Calvin DeHaan. Carolina now has Slavin, Faulk, DeHaan, Pesce, TVR, and Dougie Hamilton as sure fire NHL Defensemen with both Jake Bean and Haydyn Fleury coming soon. And guess what…DeHaan is the oldest guy of that group at 27 years-old(Dougie Hamilton being only 25 years old blows my mind. Perry Ellis effect). It's an annoyingly good and young defense-core. An embarassment of riches. The Canes have holes in other places though and theoretically they should  be able to trade Faulk for help on the wings and/or at center.
Not for Brandon Saad though. Sure you can ask for him, especially since he is coming off such a shit season, but all that would plug a hole in one spot and open one up somewhere else. The Blackhawks already have issues in their top 6 and taking Saad out of the equation doesn't help matters.
The problem is that when you look at the Blackhawks roster, Brandon Saad is really the only attractive trade chip. You're not going to trade DeBrincat, Schmaltz, Hinostroza, Hayden, etc. The core guys aren't going anywhere. Nobody is lining up to take Arty Anisimov. All roads lead back to Brandon Saad, which means that help coming in the form of a trade is likely a dead-end.
Later in the podcast when Friedman was asked "Cam Ward, Kunitz, Manning…WHAT is Chicago doing?", Friedman answered that it was "a bit of place-holding until they figure out what they want to do". Uhhh…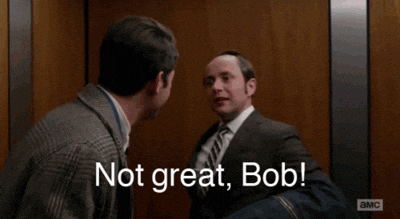 I personally do think the Blackhawks know what they're doing. They know they've boxed themselves into a place where they don't have many options. They're stuck with a few bad contracts, a captain that they can necessarily rely on they way they once had, and a goalie who also has reliability issues. So rather than try to sell out to win one more the Blackhawks decided to rebuild. They're rebuilding because that's the only option Stan really seems to have left. So when they spend two draft picks on offensive and undersized defensemen and you ask aloud "HOW CAN THESE GUYS HELP TOEWS AND KANE WIN?!?"…the answer is obvious…they won't help them win. The Blackhawks would never say it bluntly because they need to sell tickets, but actions speak louder than words. This is a rebuild. Why didn't they trade Hossa, Anisimov, Murphy/Rutta…because they didn't have to. They're not looking at a 3 year window to win big anymore, it seems, they're looking to just have a competitive team for the next 10 years.
Now, this clip was edited and chopped a bit. I don't think drafting Boqvist, in a vacuum, is a disaster. I think he's going to be a SENSATIONAL player for a long time, he's just also not going to be a top flight player for a long time either. When he's truly ready, Toews, Kane, Keith, and Crawford will be too far gone to be the best players on the best team. So the Hawks will be in this sort of limbo where they sneak into the playoffs every year and lose to team that are bigger, meaner, younger, faster, and have managed the Cap properly.
There's just one thing that gives me pause, and maybe it should give Stan Bowman pause too.
But, "if things are off at the beginning of the year, that's a different story. . . .Nothing lasts forever."

Asked if that means changes could occur right after the holiday season if the team is doing poorly, Wirtz had a short answer: "Yes."
That quote came from an interview of Rocky Wirtz from Crain's in June. Now, it's cryptic enough that it could mean players and coaches could be changed, but it could also mean Stan Bowman and the front office as well. Maybe Stan has already sold Rocky on this plan or has sold him that he has a plan whatsoever.
And if this is a rebuild, who are you even rebuilding around? I love what I've seen from Nick Schmaltz and Alex DeBrincat as young players, but they are NOT what Jonathan Toews and Patrick Kane were. Schmaltz and DeBrincat are good enough to be on a Championship team, but they're not good enough to be the best players on a Championship team. And it's HARD to find special players like Toews, Kane, Keith and Crawford. They don't come along very often. Looking at the Blackhawks alone…there's a reason they went almost 50 years between Stanley Cups. They had guys like Savard, Roenick, Chelios, Belfour, and Larmer. They had GREAT players who couldn't win. That is why I am such an advocate for maxing the FUCK out with THIS core because they're proven winners. And if it means being a bottom feeder from 2023 to 2027 after this is all said and done then so be it.
I am sure the roster today won't be the roster come October, but I have serious doubts that the Blackhawks will be able to make a move that vastly changes their team for the better in the short term. Friedman says its a holding period, everything else points to a full rebuild. I hope I have to write a retraction blog, but as things stand right now the days of having realistic Cup aspirations are over and it's by design.