Blackhawks Official Draft Review Blog
The 2018 NHL Draft is in the books and the biggest summer of Stan Bowman's tenure is officially underway. I think we were all anticipating a very busy from the Blackhawks with trades and picks and moving and shaking. It didn't pan out that way at all. The Blackhawks stayed in their original draft spots and didn't move any big ticket roster players off of their ledger. All quiet in Chicago.
Now, there were some ugly videos of me reacting emotionally to the Boqvist selection on the internet. Currently trying to delete them. I want to explain why I'm not overly enthused about that pick. It really comes down to one idea…I want to max out with Toews, Kane, Keith, and Crawford. Those guys are truly special players who don't come around very often and you should try to win as much as you can as big as you can while you've got them. And if that means taking a player like say Oliver Wahlstrom who in theory can help you win sooner, in theory, than Boqvist then I think you should take Wahlstrom even if Boqvist has a higher ceiling and he grades out higher on your board.
There were two other factors that bothered me a little with the 8th pick. Boqvist is an undersized, offensive defenseman, with a right-shot. The Blackhawks currently have their top 2 prospects in that same mold with Jokiharju and Ian Mitchell taken in the draft last year. Obviously that's not the be-all-end-all when it comes to the draft, but I do think when you're a team that's still trying to compete maybe you should try to fill organizational holes as opposed to just taking the best player available no matter what, like most teams do drafting in the top 10. Those teams are rebuilding. The Blackhawks are not. Not at this point anyways. The other factor…the Arizona Coyotes. The Coyotes took Barret Hayton at 5. A player who ABSOLUTELY would've been there at 8. Meaning that's an opportunity for the Blackhawks to move up to get a guy like…Hughes or Zadina. Both seemingly with shorter paths to the NHL and both being better organizational fits. Now, obviously I have no idea what it would've taken to move up three spots, but it feels like there should've been a deal to be made there. The Blackhawks have a ton of nice looking young D prospects, a few guys stashed in Europe, the Hossa contract(which should in theory be attractive to AZ), and yet nothing got done. Takes two to tango, but someone seemingly fucked up. The Coyotes definitely did because they could've picked up an asset and still gotten their guy at 8.
8th Overall: Defenseman Adam Boqvist, Sweden, 5'11 165lbs
Having said all of that above…I love Adam Boqvist. He's one of the few guys in the draft that has "HOLY SHIT" level ability when you watch him play or even on youtube. Because I'm a morning person and a nerd, I watched a good amount of the U18s in Russia back in April. Boqvist just leaps off the screen because he can skate so well. Same type of thing with Quinn Hughes. You just notice those guys because they can go wherever they want because their skating always allows them to recover defensively. Boqvist weaves through the D with the puck. Unreal skill with the puck. He's definitely a guy who can help you offensively in transition. He was a dominant player against his peer group, but doesn't seem like he did much playing in the Swedish Elite League. Hopefully he will play there full time next season and get used to playing against men. I'd also say he's a lock to be a top pair guy for Sweden in next year's WJC. Nobody is a finished product at 18. Boqvist won't be ready next year and might not be ready for 2 more years. Having said all of that, I am sure that he's going to be a dynamic player for the Blackhawks for a long time. Mark Kelley and Stan Bowman have a really great track record at the draft and I bet they feel great about this pick. I just wish he was a guy who could help them win another Cup with Toews and Kane.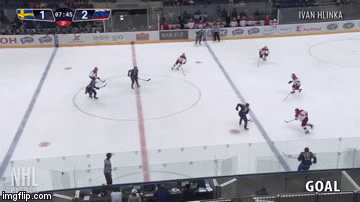 27th Overall: Nicolas Beaudin, Defense, Canada, 5'11 172lbs
Another small defenseman for the Blackhawks. This one is a left-shot. I can't pretend to know anything about Nicolas Beaudin. I'm not sure I had ever heard his name before the Blackhawks drafted him. Reports are that he's very smart and has a lot of poise. Not an elite skater. He did put up over a point per game as a defenseman in the Q which is nothing to sneeze at. The Blackhawks certainly have a pattern of player they like at this point…Forsling, Boqvist, Mitchell, and Beaudin can share a closet like twin sisters. All the exact same size at under 6 feet and under 190lbs. Smaller, skilled, and d-men who can skate are definitely on trend in the NHL. Looking like the Blackhawks are envisioning a future where all of their D are that style. Not sure if that'll work, but it appears like that is the experiment they've chosen to run.
69th Overall: Jake Wise, Center, USNTDP/Boston University
Credit to me, I've actually seen Wise play in person and he was memorable. Kid works his ass off on the ice. Competes every shift. I've also had a couple buddies who work in the USHL reach out to tell me what a stud Jake Wise is. So we'll see. Maybe this is a steal for the Hawks and a very nice pick at 69. Sounds and looks like a guy who can end up as a good 3rd line center if he gets a half a step quicker and a little stronger.
I'm not going to just copy and paste reports on every pick from other sites. There are other places on the internet to get insight on the rest of the Blackhakws picks. Overall, it's very unlikely that this draft was ever going to be the difference between winning another Stanley Cup or not. I was hoping for Tkachuk and more help to the roster, but things didn't break the Blackhawks way. They still got a very dynamic young dman and hopefully some more players who can contribute at some point down the road.
The real work for Stan begins now. He still has many things to cross off on his to-do list. Needs to find a taker for Hossa's contract, needs another top 6 winger, needs to improve the defense, and also needs to address the goaltending situation. This is when you make your team better and the Blackhawks need to get better in a hurry because the clock is ticking.