Marian Hossa Is Officially Unofficially Retiring, What Are The Blackhawks Options?
It's been widely reported now that Marian Hossa is officially done playing hockey. I thought we all already knew that, but he finally said so himself. He gave an interview last week with a Slovakian media outlet where he confirmed that he's done with hockey. I blogged earlier than he had put him Chicago home up for sale as well. I was told by a source that the Blackhawks probably could've traded Hossa last summer, but upper management types decided they didn't want to trade him immediately. Sounded like more of a PR or just an honor thing with Hossa than anything else. Now enough time has passed and there's certainty around his situation. In that interview, Hossa himself said…
"Let's see how this is done in the club. Maybe my contract changes to another club, I can not say yet, or I will stay on the list of injured players."–Marian Hossa
Sounds like a guy who knows his contract is getting moved to sunny and beautiful Arizona. I really do think Hossa is getting traded and I think it'll be to the Coyotes. That is what is best for everyone involved. The Blackhawks gain optimal Salary Cap flexibility. The Coyotes get a contract which helps them get to the Salary Cap floor with Hossa's AAV of $5.275M, but only having to pay $1M/year in real dollars because of the way Hossa's deal was structured. Only having to pay $1M in real dollars is very attractive to the Coyotes because they don't have a lot of real dollars.
Someone sent me the link to a trade idea floated on the Blackhawks reddit page that makes a LOT of sense.
Blackhawks Trade:
Hossa (3 years remaining, AAV $5.275M. Actual total salary remaining: $3M)
Anisimov (3 years remaining, AAV: $4.55M. Actual total salary remaining: $12M)
Coyotes Trade:
Dave Bolland (1 year remaining. AAV $5.5M. Actual total salary remaining: $5.5)
The Coyotes get two contracts that help them get to the Cap Floor and one of those guys can actually still play hockey. The Blackhawks get two big cap hits off their books. They save $4.25M against the Cap in 2018-19 once Bolland goes on LTIR and get a ton of future cap flexibility after Bolland's contract expires.
AND…we'd get to have a Dave Bolland Night at the United Center next year. Where we could relive plays like this…
And this…
And this…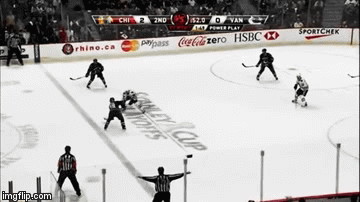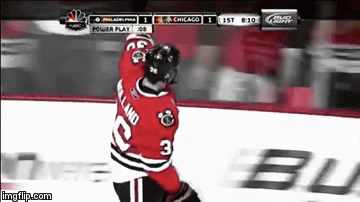 And of course…this I didn't intend for this to turn into a Dave Bolland tribute blog, but here we are.
Anyways, the Blackhawks could also put Hossa on LTIR this summer before the season starts and it'll be easier to manage than last year because they won't be technically over the cap. I still think the best move, for everyone, is to trade him to Arizona. My gut says that's what they'll end up doing.
2017-18 was obviously a disaster, but in the Salary Cap era you can't carry dead weight and expect to win big. Between Hossa and Corey Crawford the Blackhawks had over $11M on the roster that they weren't technically using, plus another $3M they were paying in overage bonuses to Artemi Panarin. Hopefully next year the Blackhawks, with a couple of moves and a little more development, will be back in the playoff mix next year. And while the blue line will be an issue for the Blackhawks to address this summer, we are living in a world where the Capitals and Golden Knights are in the Stanley Cup Final. Neither of those teams are filled with guys racking up Norris votes. Maybe things aren't as bad as they seem.
PS: Those Bolland and Hossa highlights were a trip down memory lane. No team will ever be as fun as those first two Cup teams because they had so much personality. Easy team to love, and probably an easy team for everyone else to hate. It was great being us.