Barstool Office Power Rankings - Week 14
Welcome back to everyone's favorite segment, the Barstool Office Power Rankings. Week 14 is officially in the books and we're plowing full speed ahead into the holiday season.
Just got the tree today as a matter of fact.
A big, beautiful tree. Ho ho ho, Merry Christmas. Hired a guy who spent like 3 hours decorating that thing, putting a ton of care and attention into it. Really repping Christianity hard.
And, of course, not to be forgotten: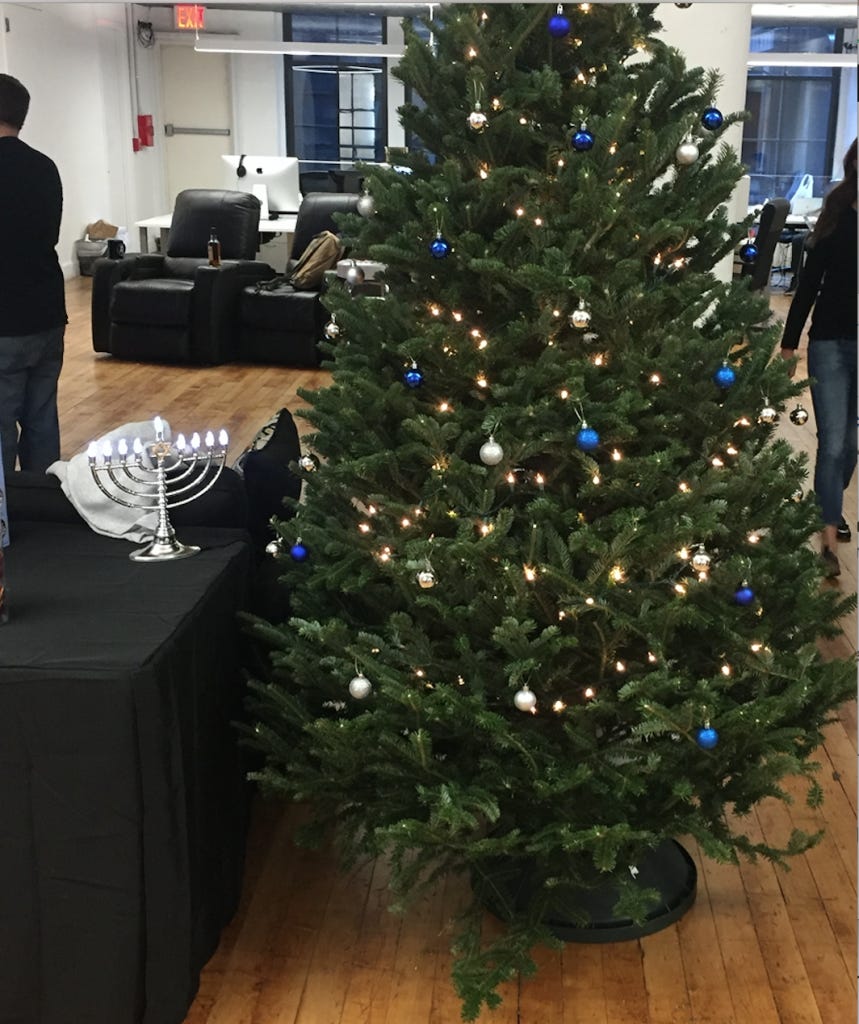 That's what makes Barstool such a special place, being so inclusive.
Shout out to Office Manager Brett for plugging it into the wall so at least the thing fucking lights up.
Anyway let's get into it…the top employees of the week, plus those who could use a little work and step their game up.
POWER RANKINGS
5) Ashley Benson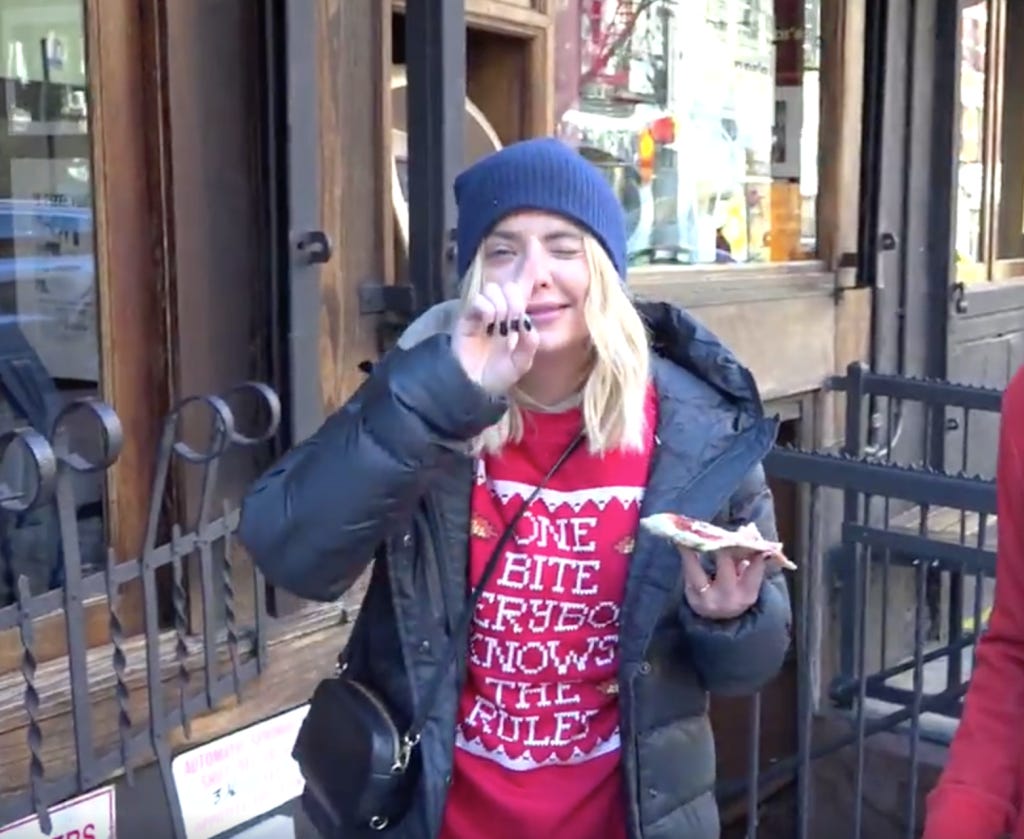 There aren't many mega celebs with 4.4 million Twitter followers and 15 million Instagram followers who can jump right into a Barstool video and instantly be a natural and steal the show.
One bite, everybody knows the rules.
Everybody also knows that I NEVER pander or have any hidden agendas with these Power Rankings, I take them seriously and my integrity can never be questioned, so rest assured, this ranking is completely legitimate and has nothing to do with an obsession for a stunningly beautiful actress and the hope that she'll at the very least follow me on Twitter or something I don't know I'm just saying.
4) Club Cool 2.0
This is easily the best new franchise we've ever launched – "Not Inviting Dave To Things"
I mean Connor invited him directly to his face and Chaps walked around the office with tickets in hand saying anyone who wants to go is welcome to go. Could not have been a more open invite. And a total motley crew of people that ended up going. Bloggers, people from sales, people from marketing, people who aren't even employees. But if you do anything and Dave isn't there and doesn't specifically remember you inviting him you are now the Cool Club. So shoutout to the squad, version 2.0, no offense to the 1.0 guys who couldn't make it to a hockey game in Newark.
Air Drum Skills on a 100 billion trillion:
3) Feitelberg
Okay this was one of the coolest moments in my past 7+ years of super cool moments at Barstool. And that was for me – imagine what it was like for Feitelberg, the biggest Tom Brady fan on the planet, watching his hero and idol smile and laugh as his son opened up the flag featuring the catchphrase he invented?
Even the biggest hater on the planet has gotta be happy for the kid.
Add in the fact he was far and away the best air drummer in the previously mentioned clip and was acknowledged as such by the notoriously harsh judge Davey Pageviews, and you've got yourself quite a week.
2) Sirius XM
I'm always impressed by the true visionaries out there. The companies that make smart and sound decisions in a business world full of idiots. The titans of industry with the foresight and intelligence to make the right deals and partnerships. First it was Peter Chernin and the Chernin Group, and now we're happy to announce that Sirius XM has joined them on top of the corporate ladder. Two companies that recognized all the howitzer and skinny jeans jokes in the world don't matter, at the end of the day, the meal ticket that you want to hitch your wagon to is a bunch of degenerate smut bloggers in Harambe t-shirts and the nonstop content machine they're running in NYC.
Barstool Radio. January 3rd. Sirius XM. 93 The Rush. 2 hours a day, 5 days a week, Barstool all up in your ear canals.
1) The Stoolie Who Filmed Dave's Bald Spot On His Walk To Work
Shout out to the random Stoolie who hangs out by his window and films Dave Walks To Work every day. Not even an employee and still has the natural nose for content, we've got people on payroll who could learn a thing or two about that dedication. Without him we would have never been graced with the best content of the week.
To Dave's credit he is right, the front is legit. Great front of the hair. I'd be lying if I said I wasn't jealous of the surfer flow sometimes.
But as for the back, as the old saying goes, tape don't lie.
Shout out to our boy Team Vivalo.
PS,
Nate's Highlights Without Rights for it was fucking hilarious.
Needs Improvement
Smitty's Shoes
I am by no means snobby about fashion, think I'm pretty normal when it comes to clothes, somewhere in between Feitelberg's eccentric trendy gear and…well, Smitty. First it was the ill fitting suit. Now, it was so, so much worse – these shoes. I want to puke just looking at these shoes. I see them poking out from underneath my desk sometimes and feel physical and emotional pain just from their presence. I don't know how many times we have to blog about it but can we please, pretty please get some sort of clothing company out there to hook our boy Smitty up with some adequate footwear? You just can't be a 30-something man living and working in New York City and be walking around in these, it's unacceptable.
Kmarko's Gloves at the Devils' Game
Just to show that I'm fair and balanced I will go ahead and call myself out fashion wise for having gloves on in the pictures. Probably the #1 chirp I received after the game, lot of people coming at me for it. For the record it's not like I was wearing them the entire game, we were leaving the suite and I thought we were heading home so I threw them on and then Chaps said hey we can go out on the ice. It all just kind of happened.
Also for the record the gloves themselves are totally awesome, I'll vouch for them 100%. Just probably didn't need to wear them indoors, that's on me.
The Number Of Clancys
I mean there's just an outrageous number of Clancys here. And they look exactttllyyyyy alike. And sound exactly alike. And are basically the same person. As if it wasn't hard enough to concentrate around here, now there are Clone Clancys running around terrorizing everyone about hypothetical questions and the Mets.
Oh speaking of KFC…
Lunch Consumption of the Week
KFC taking his sandwich to pound town in the middle of a Fox feature on our company.
Also still on KFC…
Chirping me for working from home one morning was a savage move, especially when he comes in at 11 AM on a good day, BUT – bright side – it got the conversation going that FINALLY got that slob John to clean his trash heap of a desk.
If having OCD about cleanliness in your work environment is wrong I don't want to be right.
Bomani Jones' Radio Show Listeners
Nothing better than watching PFT put braindead people into mental pretzels.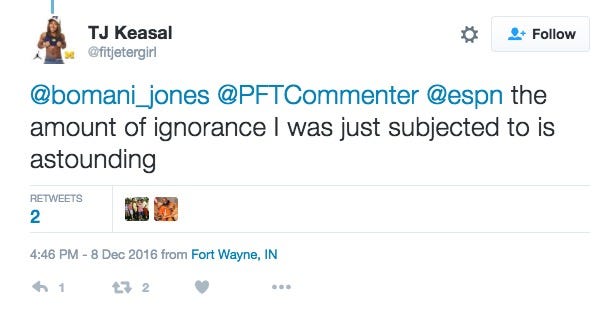 Or maybe it should be PFT Commenter here who needs improvement, for not laying the sarcasm and satire on thicker? Gotta hear both sides folks.
Podcast Of The Week
Pardon My Take named by Apple (ever heard of them?) as one of their top 12 podcasts of the year. Not only that, but they were the only sports podcast on there. Meaning, they are the #1 sports podcast in the world. Ever been on the Apple podcast page? There are approximately 1 billion podcasts on there. Pardon My Take is the best one. Unreal accomplishment for two of the hardest working idiots I know.
#TBT of the Week
So yesterday I was digging through my Google Photos archives because I wanted to post a #TBT and get my Instagram game up, because that's just what I do, I'm always thinking about how to improve my brand. I came across the Greg Olson kickball tournament that we all went out to Chicago for and was snagging a pic of all of us at the field when I scrolled too far and saw this one.
I want to give myself credit here – I refused to tweet it. Thought it was too mean. Didn't want to pile on the boss, especially after #Baldgate. Yes that's right, even at the expense of possibly being yelled at for not posting content, I put Dave's feelings ahead of that.
What I did do though was lean over and show John who then showed Big Cat and unfortunately they'