Monday Rap: LIV Continues to Push The Hell Out Of Its Team Concept, A Fine Finish For the Honda Classic And A Legal Victory For the PGA Tour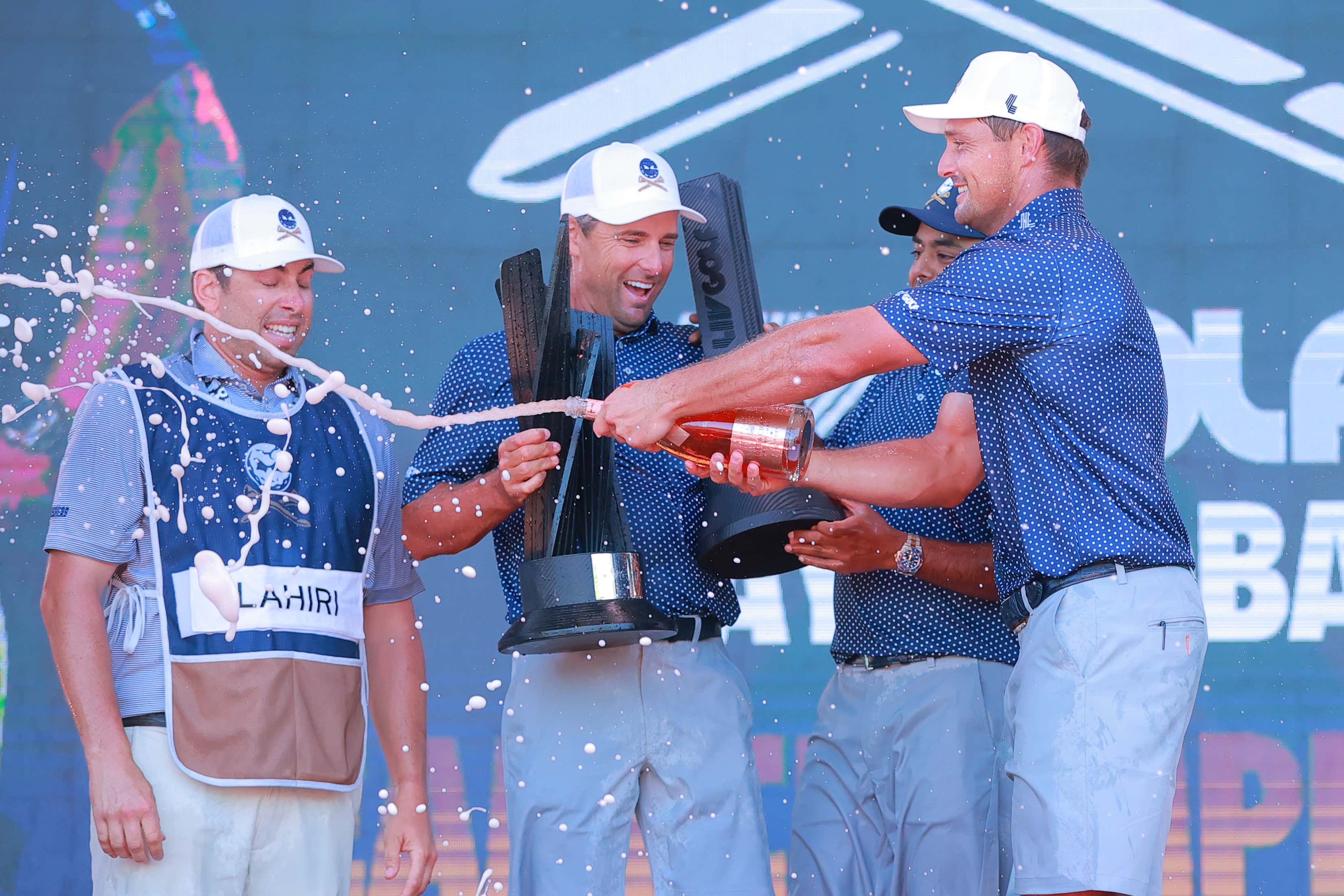 Hector Vivas. Getty Images.
LIV returned to action this week with less-than-optimal results
Sunday marked something of a Saudi Sports Equinox. In London, you had Yasir Al-Rumayyan—chairman of the Kingdom's Public Investment Fund, head of Saudi Aramco and chairman of Newcastle United—front and center at Wembley Stadium as his side lost 2-0 to Manchester United in the Carabao Cup final. A few hours later, Jake Paul and Tommy Fury fought in Riyadh as Cristiano Ronaldo, who was paid $200 million to join Saudi side Al-Nassr, watched on from a luxury suite. All the while, the Saudi-funded LIV Golf carried out the final round of its season-opening tournament at Mayakoba in Mexico. 
LIV surely hoped to make a statement of its own after a highly successful two-week stretch for the PGA Tour, which held back-to-back designated events at the Waste Management Phoenix Open and the Genesis Invitational at Riviera. What LIV got was a nine-shot victory for the Crushers in a rather buzz-less team competition and a four-shot victory from Charles Howell III over Peter Uihlein in the individual competition. 
Howell III absolutely deserves credit for the way he played Sunday, birdieing seven of his first 10 holes to remove any mystery from the back nine. Still, Howell's individual performance was a bit overshadowed by some aspects baked into the fabric of LIV Golf. There was even more emphasis on the team competition throughout the week than there was last year. This makes sense—LIV didn't pull off the marquee signings it hoped to in its first offseason, and much of the intrigue throughout LIV's debut season was centered around who'd be playing in the events. The rumor mill ran wild all summer, and LIV would pluck off a few players at a time to boost each successive event. Every week provided LIV an opportunity to show off one of its new signings, and their interviews explaining their decisions to join were much-watch television. As for this year? With the same 48 players set to compete in all 14 LIV events, they're going to half to look elsewhere to make things interesting. They also didn't have any of their big-name players in contention in Mexico to lean on for storylines. Here's how some of the top guys finished:
Cameron Smith - T5
Joaquin Niemann - T11
Abraham Ancer - T15
Sergio Garcia - T23
Bryson DeChambeau - T23
Phil Mickelson - T27
Brooks Koepka - T27
Dustin Johnson - T35
Patrick Reed - T38
Bubba Watson - T40
That's where the team concept comes in—as I've written about comprehensively, and as LIV executives have said throughout this past year, the franchise model is absolutely crucial if LIV's to ever reach a break-even point, let alone profitability. The business model from the beginning has been to build the franchises into valuable entities with their own identities, fanbases and corporate sponsorships, and then to sell those franchises for an influx of cash. It didn't really function last year as the teams weren't really teams; each had a rotating cast of characters, and players wore the same corporate sponsor-filled clothes than they did on the PGA Tour. That's no longer the case. While some players still have individual sponsorship deals that require them to wear certain logos—Cameron Smith, for example, was still a walking billboard for his umpteen corporate partners—the majority of LIV Golfers wore team-issued matching uniforms. That includes Dustin Johnson, whose deal with Adidas expired at the end of 2022 and was not renewed, and Bryson DeChambeau, who appears done with Cobra-Puma judging by his Ping irons and Cuater shoes. 
The announcers certainly got the message from the higher ups that we need to push this team concept, baby! All week we were told about the added element of playing—all together now—not just yourself, but for your guys. The captains are on board, too; they have equity in these teams, so they have a vested interest in selling that equity, which means they have a vested interest in talking up the team component. 
"I was fighting like I was playing for an individual title," Crushers winning captain Bryson DeChambeau said after finishing 24th in the 48-man field. "Just the way it feels out there when you're competing for your guys. And so every shot mattered. It didn't matter where I was, or what position I was in for the individual title. It was, how can I make birdie on this hole? What can I do to make birdie? That's what my goal was today."
The problem with a stroke-play team competition, that's happening at the same time as the individual competition, with virtually no team-vs-team action (as each player is grouped by his individual score, not by his team) like you see in the Presidents or Ryder Cup, is that you can be left with a pretty boring conclusion. That's what happened Sunday at Mayakoba, and LIV will now cede the spotlight to the PGA Tour for another back-to-back stretch of designated events, at the Arnold Palmer Invitational at Bay Hill and the Players Championship, before it resumes with its next event in Tucscon. 
Still, the money's still cashing. Howell III won just three times in 600+ starts on the PGA Tour and won a combined $2.75 million from those victories. Between his individual win and the Crushers' team win, Howell made $4.75 million on Sunday alone, which would account for more than 10% of his career earnings on the PGA Tour. And that was just his sixth start in a LIV event. As long as LIV continues writing those kinds of checks, someone will be there to happily receive them.
A legal headache for LIV's backers
With all the lawsuits flying around professional golf, trying to keep up with where cases stand and what constitutes a significant development can be challenging. Allow me, then to do that hard work for you. The PGA Tour secured a major, major legal victory last week when a California judge ruled that Yasir Al-Rumayyan and the Public Investment Fund are not exempt from discovery in connection with LIV's lawsuit against the PGA Tour and the tour's countersuit against LIV. Al-Rumayyan and the PIF were seeking to be exempt from discovery via their status as foreign leaders, who are not typically subject to such judicial processes. But the court ruled that Al-Rumayyan and the PIF have been engaged in commercial activities that go beyond the scope of carrying out governmental duties. 
"The ruling means that the PIF and Al-Rumayyan are now stuck playing defense and without as many tools to deflect from having to open themselves up to providing what could be sensitive documents and emails," says Darren Heitner, a professor of sports law at the University of Florida. "It also should lead to corporate representatives of the PIF and Al-Rumayyan being required to provide sworn testimony when answering questions that often will likely seem to have even the loosest ties to the dispute. Ultimately, such a ruling could bring the parties, which have seemed very far apart publicly, closer to resolution given the reluctance to engage in what could be a painful discovery process."
That's lawyer-ese for: they don't want to have to have their books open. Being subject to the discovery process means courts can now access previously private messages regarding LIV Golf. And, according to Heitner, that could make LIV's side more amendable to a settlement that would avoid that sort of information becoming public. 
"I do expect the court to take measures to best protect the leak of sensitive information and documents, particularly given the parties involved and the number of people paying close attention to the docket," says Heitner. "But the PGA Tour will likely aim to pry into the facts surrounding how so many golfers were convinced to leave to LIV, with money and other benefits being a key area of inquiry."
Also under scrutiny in this case are the contracts LIV golfers signed to join the league, particularly in comparison with the PGA Tour's rules for its members. John Nucci, another sports lawyer, posted a now viral-thread detailing some of the contracts provisions, which seem pretty restrictive. 
It's certainly interesting reading given the crux of LIV's case against the PGA Tour, which is that the Tour is unfairly restricting independent contractors. There are no free lunches in life, and part of the reason LIV guys are being paid all that money upfront is so LIV can use them as promotional tools, which they've been doing. 
On the flip side, LIV secured a legal victory when the judge ruled that the case will continue on its expedited schedule, which—assuming it gets to trial and that both sides won't settle, which looks increasingly likely given the rulings on discovery—would bring it to trial in January 2024. LIV had suggested that the PGA Tour had been trying to delay the trial to prolong the tour's suspension of LIV players, which is at the core of the case. 
A compelling farewell to the Honda Classic
There are few things—perhaps no things—better in golf journalism than a sentimental Michael Bamberger, and his piece on the Fire Pit Collective on the demise of the Honda Classic, and what it says about the direction of professional golf as a whole, is must-read stuff. Yes, this year marked the conclusion of what used to be one of the premier non-major events on the PGA Tour schedule. It's easy to understand why this was once such a big tournament. It's played on an excellent and highly challenging course in PGA National. It takes place squarely in the center of the Pro Golf Mecca that is the Jupiter-Palm Beach area, so plenty of guys could sleep in their own beds. As recently as 2015, the winner of the Honda received 60 world-ranking points, more than the winner of that year's event at Riviera and Kapalua and the same as the winner of that year's Arnold Palmer Invitational. Fast forward eight years and just eight of the top 50 players in the world teed it up, with the highest ranked guy in the field being Sungjae Im at No. 18. 
The downfall of this event is due almost solely to the ever-changing PGA Tour schedule. The Honda is the only non-designated event in a five-week stretch starting with the Waste Management Phoenix Ope and ending with the Players Championship. Most top guys played both WMPO and Riviera, then took last week off before playing the Bay Hill-Players double. So it's easy to understand why Honda is out as a sponsor after more than 40 years, though Jack Nicklaus did say Sunday that there will be a PGA Tour event in the Jupiter-Palm Beach region moving forward and that the tour was hoping to find a more suitable date on the calendar. 
Either way, Sunday's battle between Chris Kirk and little-known Eric Cole proved quite the sendoff for the Honda Classic. 
Kirk, searching for his first win in nearly eight years, held the lead for the majority of the day but pushed his second shot into the par-5 on 18th hole, It hit the railing short and right of the green and ricocheted way into the air, eventually almost hitting the Honda vehicle parked in the middle of a lake. Kirk was unable to get up-and-down for par and Cole, a 34-year-old rookie who spent over a decade on the Mini Tours-and-Monday grind, found himself in a playoff. 
That's when Kirk closed it out properly, flushing a lob wedge to tap-in range for a kick-in birdie. 
Cole's effort to match caught the high-side lip but didn't fall, and Kirk had his first victory since stepping away from the game in 2019 to address his alcoholism and depression issues. After he returned, Kirk needed a top-three finish at the 2021 Sony Open to keep his card and finished runner-up that week, showing the major stones he displayed yet again on Sunday. 
"I owe everything that I have in my entire life to my sobriety," Kirk told reporters after the victory. "I wouldn't be doing this for a living anymore. I probably wouldn't have the family that I have currently anymore. I came really close to losing everything that I cared about.
"For that to have happened and worked out for me, obviously there was some decisions that I made, but mostly the grace of God and a lot of other people that really helped me along the way. But yeah, it's something that's constantly on my mind, so it's pretty easy for me to see that winning the Honda Classic is kind of a bonus when literally every good thing I have in my life I owe to that."
With the win, the sweet-swinging Kirk moves to No. 32 in the world and is into his first Masters since 2016. As for Cole, he'll be disappointed not to leave with the trophy but he did earn $915,600 for solo second, far more than he'd made in 79 combined starts across the Korn Ferry and PGA Tour, and he's in great position to keep his card for next season. Good news all around. 
"If you would have given me a chance to win the tournament in a playoff on Wednesday night, I think I would have taken that, obviously," Cole said after the round. "It's overall a positive. There's a lot that I can learn from it. Like I said, I had a lot of fun. I was proud of the way I played, and I can't wait to get back in that position.
Elsewhere…
—This news didn't get nearly as much play as anything in the PGA Tour vs. LIV ecosystem, but it's some undeniably good stuff that we can all get behind. Last week, the USGA annoucned a national junior player development program that will identify, train, support and fund promising players from across the country no matter their georgraphical or financial background. This is long overdue. One of the main issues with access to junior golf in our country is how expensive it is—tons of families simply can't afford to travel from state to state to have their kids play in big events. 
Virtually every other country has a program like this. When you hear European (or Canadian) guys talk about playing for the national team as a kid, this is what they're talking about. And the U.S. Tennis Association has had a similar program like this for years. By 2027, the new USGA program hopes to fund 1,000 juniors across the country. 
—Remember Marcel Siem? The ponytailed German who lit the 2021 Open Championship on fire with his absolutely electric reactions to pretty mundane happenings on the golf course? 
Siem, who needed to go back to qualifying school just to get his card for this season, won the Hero Indian Open for his first win on the DP World Tour since 2014. And, as you might expect, the 42-year-old was somewhat excited afterwards. 
In a sign of the times, Siem received $340,000 for his victory—about $60k less than the four guys who finished T-11 at LIV Mayakoba.
—In unsurprising news, Golf Channel knew it had to keep up with CBS' mid-round interviews with tour players and they did. Billy Horschel hopped on the broadcast on Friday afternoon to walk the announcers through his strategy for navigating the Bear Trap, the difficult closing stretch at PGA National. Horschel was not swinging it well that day which made for compelling television; he told announcers that, given how poorly he was swinging it, his only real thought was trying to keep his ball out of the water. These walk-and-talks are great for a number of reasons, one of which being they remind us of how universal the golf experience is. Sure, it's all relative, but we've all been there: your swing feels awful, so you play defense and hope to just get it in the house with as little damage as possible. 
—Today's Seminole Pro-Member has a stronger field than either LIV Mayakoba or the Honda Classic. Twelve of the top 20 players in the world are teeing it up in South Florida today—that includes Max Homa, who's partnering with Seminole president and golf powerbroker Jimmy Dunne. For all of Homa's success in recent years—the Presidents Cup, winning a bunch of times, signing to Tiger's new simulator league, getting some PIP money—this might actually be the most clear-cut sign of his arrival into golf's elite. When Jimmy Dunne wants to be friends with you, you know you've made it. 
LIV guys, by the way, were not invited to participate. In related news, Dunne recently joined the PGA Tour's policy board. 
—Lilia Vu erased a six-shot deficit to win the Honda LPGA Thailand. It's the UCLA grad's first victory on the LPGA Tour. 
—Justin Suh's had an interesting first few years as a professional golfer. He's the "other" member of the famed Class of 2019 alongside Collin Morikawa, Viktor Hovlana and Matthew Wolff. Suh was the top-ranked amateur for a while when all those guys were in college, and he sat for an introductory press conference alongside them at the 2019 Travelers Championship. Those three obviously played their way into relevance quickly. Suh, on the other hand, needed a few years to find his footing as a professional. But find his footing he has—the Californian was last year's Korn Ferry Tour player of the year and finished T5 at the Honda Classic this week…while using a Nike putter!
I can't wait to see who's the last guy to still game a Nike club. Nike hasn't been in the clubmaking business since 2016, but you'll still see a few swooshes out in the wild. Brooks Koepka loves his Nike driving iron, and Tommy Fleetwood gamed Nike blades for a while before signing with TaylorMade. Suh's had his Nike putter in the bag for quite a while, so he might be the odds-on favorite to be the last Nike clubholder standing. 
—A big shoutout to Nick Maccario, whose brother, Zach, has done great work on the Fore Play social channels for a few years. Nick is a much better golfer than Zach. Case in point: he finished solo second in the Gasparilla Invitational amateur event with a three-day total of 7 under, three shots behind winner Brendon Wilson. Hell yeah, Nick. 
—The PGA Tour has yet another designated event this week with the Arnold Palmer Invitational at Bay Hill. Tiger Woods is not playing, but 44 of the world's top 50 players are. That includes Jon Rahm, who will look to continue his historic pace and chase a fourth victory of 2023.
Until next week,
Dan