Ninja, Mr. Beast, xQc, Phil Hellmuth, And More Huge Names Played One Of The Wildest Poker Games Of All Time
Last night was perhaps the wildest, most juicy, most insane streamed poker game of all time. It was live on YouTube from LA, with the top streamers in the world, Alex Botez, and then also Phil Hellmuth and Tom Dwan. They all bought in for $50k to start, and things, from hand 1, were out of control.
Things really took off halfway through though when Phil Hellmuth appeared to run an angle on amateur player "Slime" by folding...and then claiming he didn't fold when Slime flipped over an inferior hand.
Phil said he was sliding his hand over to Tom Dwan, who was sweating other people's hands all night. Ok, fair enough. Phil however made Slime pay him $5k for then exposing his own hand, which was wild and weird and people are not happy with him at all.
Phil also just bitched and moaned and whined the entire night, especially towards Alex Botez, who was fucking awesome. He shoved his A8 into her A9 and when she won, he didn't shut the fuck up about it for the next 3 hours.
I'm not gonna say Phil "ruined" the game, but he was SO ANNOYING. It was a bunch of ginormous influencers/streamers having a fun time, dicking around, and Phil wouldn't stop complaining and making it all about himself. He literally had a seat in the juiciest game possible and played like a complete pussy and was insufferable the entire time. Sure he's the "Poker Brat", but my god, read the room for a fucking second, dude.
Karma did come for him though…
Aw damn.
Alex ended the big winner, while Alan Keating lost over a mil.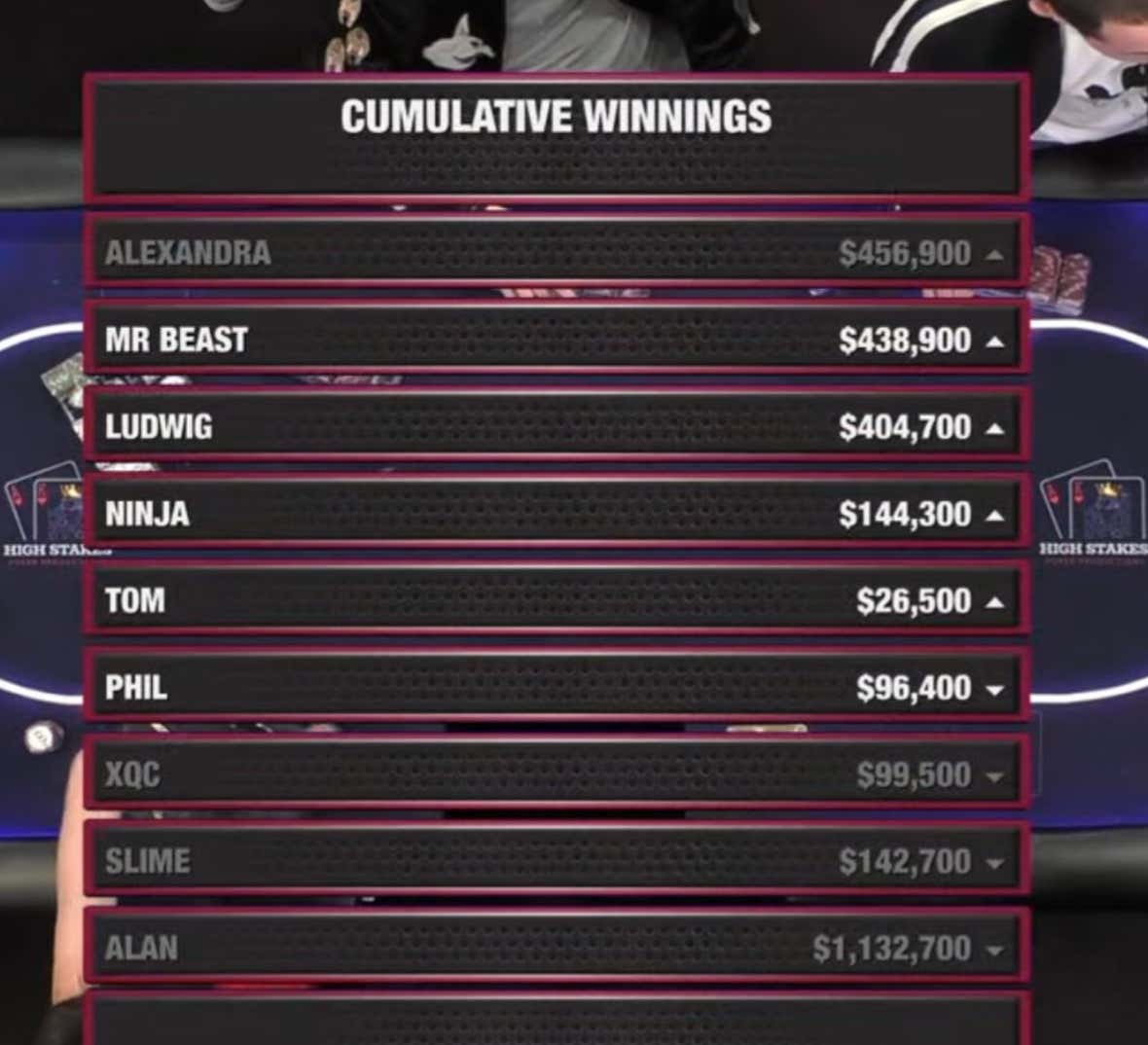 Phil's bullshit aside, this was a huge success and great for the game. Ninja, Mr. Beast, and the others putting new, young eyeballs on the game is great for poker. If online was legal, we would see a big influx of guys depositing today. A few more streams like last night's and we could have another poker boom. They just gotta keep Hellmuth off these. The "angle" aside (by the way, Phil isn't dumb enough to angle on a stream like that, he just has no sense or feel of the situation) he was just a tough watch, but the other players let it happen because he's a fish in the game. I was very impressed how quickly the non pros picked up on things, there's a reason they are so rich and famous, they are sharp as tacks. 
Phil will keep being Phil- there's definitely some merit to what he does. Heels put asses in seats, no doubt. And Phil is the ultimate heel. I wish he would just embrace it instead of thinking he never is in the wrong- like dude, you are in the wrong, just own it. But all in all, a very successful night of poker and hope there are more to come.