The Second Day Of Travis Scott's Astroworld Festival Has Been Cancelled After 8 People Died And Hundreds Were Injured
CNN- At least eight people are dead and many others injured after a crowd surged forward toward a stage at the Astroworld Festival in Houston on Friday night.

Here's what we know:

Crowd surge: At least eight people are dead and many others were injured after a crowd surged forward as rapper Travis Scott was on stage at the festival on Friday night, officials said. The event's live stream showed Scott pause his performance to look on in confusion as an ambulance with lights flashing pulled into the venue.
"The crowd began to compress towards the front of the stage, and that caused some panic, and it started causing some injuries," Houston Fire Chief Samuel Peña said during a press conference. "People began to fall out, become unconscious, and it created additional panic." Peña added that the festival's on-site medical units were "quickly overwhelmed" following the crowd surge.

According to Houston station ABC13, the crowd began to surge when Drake made a surprise appearance with Travis Scott. One fire department official said the incident "seemed like it happened over the course of just a few minutes."

"Suddenly we had several people down on the ground, experiencing some type of cardiac arrest or some type of medical episode," Houston Police Executive Assistant Chief Larry Satterwhite told the AP. "And so we immediately started doing CPR, and moving people right then, and that's when I went and met with the promoters, and Live Nation, and they agreed to end early in the interest of public safety."
"Scores" injured: "We had scores of individuals that were injured," Houston Fire Chief Sam Peña during a news conference early Saturday morning. About 50,000 people were at the sold-out outdoor music festival at NRG Park — the stadium complex where the Astrodome and the NRG Stadium stand — when the incident happened just after 9 p.m. CT, officials said. "The crowd for whatever reason began to push and surge towards the front of the stage, which caused the people in the front to be compressed — they were unable to escape that situation," Peña told CNN Saturday morning.
Investigation ensues: Investigators will review video from the scene and look at how the venue was laid out and whether it had enough exit points, Peña said. The investigation will explore "what caused, one, the issue of the crowd surge, and two, what prevented people from being able to escape that situation," Peña said. The causes of deaths are pending the medical examiner's determination, he said. Officials have canceled the second night of the concert Saturday.
Condolences shared: Houston Mayor Silvester Turner expressed his condolences to the families of those that died and were injured at the festival in a tweet early Saturday morning. "The city of Houston extends our condolences to the loved ones of 8 people killed & several injured at #ASTROWORLDFest. Organizers held the event to bring people together for music, but it sadly ended in tragedy. Thanks to police, fire & other agencies that responded to assist," the tweet said.
Past issues: In 2019, three people were trampled and hospitalized as thousands rushed to get into the festival. The event, now in its third year, is organized by Scott, a Houston native. It had been scheduled to run from Friday through Saturday, according to the event's website.
This is incredibly fucked up and sad. 
And absolutely avoidable.
Poor planning obviously played a huge part in this, but no amount of planning can prevent the worst in humans taking over. And that's exactly what this was.
Stampeding to the front of the stage when the gates opened, trampling people, and then rushing to the front of the stage like assholes smushing people literally to death.
And then for Travis to look on at the madness and just continue the show?
What the fuck man.
(WARNING THESE IMAGES ARE GRAPHIC)
Here's their statement -
What makes this all even more fucked up is this is the Cactus Jack x Travis Scott brand.
They purposely create hysteria with everything they do, from sneaker and merch releases to their shows.
This was the promo and choreography for the 2019 Grammy's performance! Staged actors climbing and jumping barricades 
The one thing I haven't seen any of these big J journalists or news outlets report anywhere is that Travis Scott was straight up BANNED from Lollapalooza and had a warrant out for his arrest after his performance in 2015 for "inciting a riot".
I was there and watched it get shut down 5 minutes into his set.
Travis Scott was arrested by Chicago police Saturday after the rapper encouraged Lollapalooza attendees to climb over security barricades and storm the stage. The Houston rapper's festival performance lasted just five minutes before being shut down after dozens of fans joined Scott on stage. Scott was arrested soon after and charged with disorderly conduct, Chicago's ABC 7 reports. One fan was also charged in the incident.

In video from Scott's brief appearance, the rapper is seen telling festivalgoers to climb over the barricades to move closer to the stage. "Everyone in a green shirt get the fuck back," Scott says, referring to the security in the pit separating the crowd and the stage. "Middle finger up to security right now." Scott then further incited the Lollapalooza crowd with a chant of "We want rage."

Dozens of fans then hopped onstage with the rapper, but the music was cut off as organizers threatened to end the performance if the stage wasn't cleared. "Listen, they're gonna stop the show if y'all don't get down. I wanna finish performing," Scott told fans. "We can start over, everybody just get down." However, at that point, the concert was shut down and Scott reportedly vacated the scene quickly
Lolla dropped the ban and let him back a few years after, and they're probably thanking their lucky stars this didn't happen in 2018 when he returned.
The thought of your kid not coming home alive from a concert should never have to cross your mind as a parent. Fuck festival organizers, and everybody involved in this.
Tragic.
P.s. - this is pretty fucked up marketing. How has this not been taken down?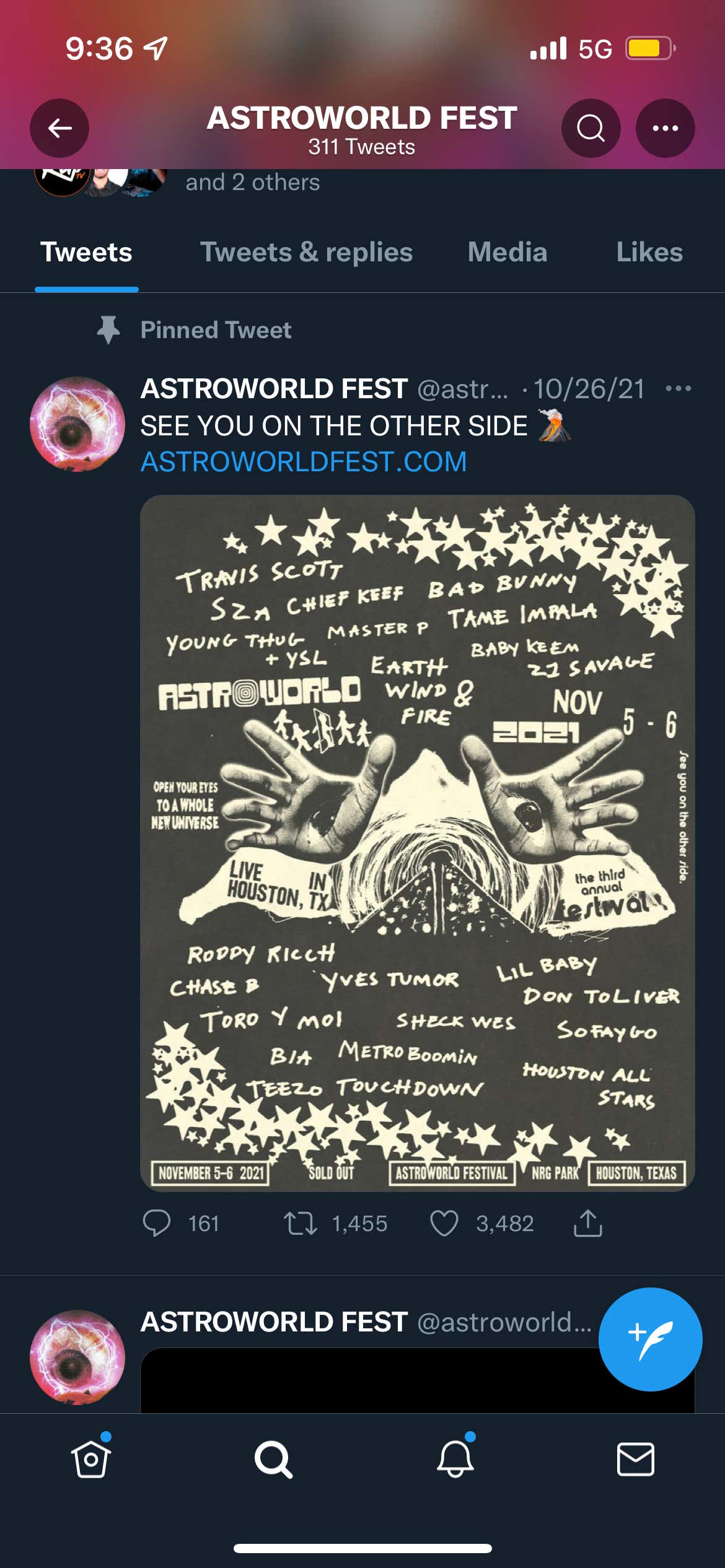 p.p.s. - an extra big fuck you to this piece of shit dancing on the ambulance in the crowd
—— UPDATE ——
Travis Scott has issued the following statement