"It Was Hell...I'm A Survivor" — The Last Two Members of the Infamous Dubai "Butt Squad" Released After Grueling Jail Stint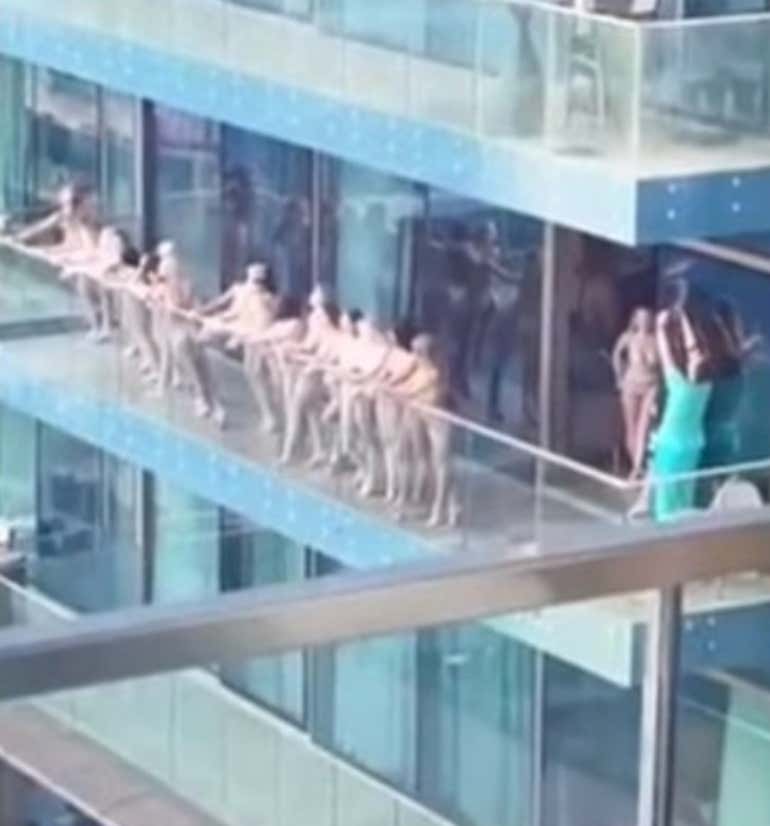 NY POST— The last two members of the infamous "Butt Squad" that made international headlines by posing naked on a Dubai balcony have reportedly been freed from the Arab sheikhdom – including one who had contracted COVID-19.
Ukrainian Vogue model Evgenia Taran, 21, and another model identified in reports as Anastasia Kashuba are back in Kyiv after being released from jail, East2West News reported.
Taran, who called herself a "survivor," and Kashuba, who was detained until she recovered from the illness, were among about 20 models allegedly invited by Ukrainian-American Vitaliy Grechin, 41, to take part in the X-rated photoshoot, according to the outlet.
Finally, our Ukraine's weeks-long national nightmare is over: the last two members of the Dubai Butt Squad have been released from prison and are involuntarily on their way home, right behind the other 9 Ukrainian models from the gang who were instantly deported. (No idea how these two managed to be the only two out of 40 with extended jail time — that's either horrible luck or extremely aggressive nudes.)
Among the two is fan-favorite Evgenia Taran, who, rightfully, has labeled herself "a survivor."
"
Taran, who called herself a "survivor"…has admitted her mistakes.

"I made a lot of conclusions, realized my mistakes and to some extent (I am) grateful for what happened. I am in Kyiv again, I love everyone, I hug. Appreciate what you have," Taran added.
Now, they may have been peacefully released from the jail, but if this had gone on like, 48 hours longer the Ukrainian army would have been steamrolling through the country, starting a war if they had to — whatever it took to bring their models home.  Evgenia may not have been able to call herself (more on that in a second), but you hardly need to hear it firsthand to imagine the horrors befalling a Butt Squad member in a Dubai prison. 
Whatever medieval torture-racks and enhanced interrogation techniques you're thinking in your head right now, don't bother — it's even worse than that.
The model described the "hell" while in custody.

"The light was on 24/7 and there was endless knocking air conditioning," she said. 

"The lack of toilet paper, spoons and human attitude from employees goes without saying.

"But the most terrible thing is ignorance, because your questions are not answered, and they allow you to contact the world according to their mood, and for money," Taran said.
That "1 week" isn't so laughable now. Now that you know every minute felt like a week itself.  Eating yogurt with their fingers as a harsh, incandescent lightbulb illuminates the wonky air conditioner — honestly,  these women were model-POWs. John McCain would shiver at the thought of this Dubai Butt Squad holding cell.
Kind of makes you wonder, how'd she even make it that long?
"The only thing that saved me there were the books I somehow managed to beg for," added Taran, who has been featured in Vogue Hong Kong and Zip Magazine Hong Kong.
Oh right. The books. I knew it was a dumb question before I even asked it.
Just thankful God answered their prayers and got them out of there before things really got out of hand — they're warriors, to be sure, but it's hard to see even THEM surviving even worse conditions; something like spotty hot water in the showers late-night, an uninspired menu in the chow hall, or a new cellmate that kept eating all the snacks while never replacing them or offering any money. 
You don't need the money, that's not the point. It's the principle. 
All in all, terrible treatment of the Butt Squad. The fucker who set the whole thing up by the way? GHOST. Still on the run, still dodging authorities. Still evading justice as the Butt Squad he left behind took the brunt of it, rotting away in an overlit prison with noisy air conditioning.