Felger & Mazz Went on a Bizarre Hate-Rant Directed at Kyle Van Noy
Tony Masserotti on Kyle Van Noy: "Oh, God. Last year he SUCKED. Please! And the year before he sucked even worse. It's Two Degrees of Suck."
Mike Felger on Kyle Van Noy: "I don't like him. … To me, it's personal. I've never met him, but every time he opens his mouth I'm like 'You are a tool!' You are an ASS. Every time I hear him talk I'm like 'Where did that attitude come from? You SUCK. And if it wasn't for this team you'd be covering punts in Detroit. You SUCK! Where do you get that attitude from?'"
Last night I was out doing a book signing (cha-CHING) and doing a little Q&A with the audience when a guy in his early 30s asked me an interesting question. He explained he's new to New England since he's been traveling all over the place with the US Navy. And he doesn't necessarily have a team in any sport but he's trying to assimilate into our culture. Which showed, since he was wearing a green Red Sox shirt with shamrocks. Anyway, his question was one of those things you hear out of the mouths of innocents. Like a child's question about why the world is the way it is that is so simple it is actually profound.
"Why," he asked "does the media around here hate the Patriots so much?"
Why indeed. Before I address it, I have to offer full disclosure that I personally like Felger and Mazz. As opposed to their feelings toward Kyle Van Noy. They've been great to me. Felger was the first "legitimate" Boston media guy to recognize Barstool. He did an interview with Uncle Buck back when we were still establishing ourselves. I've been a regular guest on their show. Felger got me a great TV gig on the pre- and post-game show. For two years I was on the WEEI show that went up against theirs. And even though we were No. 2 in the ratings, they lapped the field. Absolutely destroyed us and everyone else like a ratings Death Star. Which you have to respect because ultimately that's what the job is all about.
But at the same time, I acknowledge what they are. They're holdovers from a time when the Boston sports press had all the power. When a few dozen columnists, beat writers, local anchors and talk show hosts were The Influencers. And the way they operated then was to go all negative, all the time. I'm talking about a time when that was easy: The 15 years between the Celtics title in 1986 through 2001 when Brady replaced Bledsoe, the Tuck Rule went our way and Adam Vinatieri connected to win the Rams Super Bowl. When Boston was rightly being called "Loserville." And things had gone so dry around here you could easily take a flamethrower to anyone and anything and burn it to the ground without using much fuel. So we got years worth of Nomar is a prick. Pedro is a diva. Paul Pierce is a fraud. And so on. And since no one was winning anything, it was a winning formula for selling newspapers and getting ratings.
Though then, like now, it's not all about ad revenues. It's personal. Certainly with respect to the Patriots. They were the ones who flipped the upside down pyramid over and took control away from the media. And the old holdouts like F&M, Dan Shaughnessy and Ron Borges – who I think lost his job after getting catfished by that fake Don Yee, but no one has said anything – resent the hell out of it. So they continue to operate out of that old playbook that says every player sucks, every personnel move is a disaster, and no coaching move makes a damned bit of sense. It's all they know. And no matter how many Duckboat parades roll by their door, nothing is going to change that.
Now, as far as Kyle Van Noy, I just don't get it. Not a bit. If you want to say you don't think he's that good, I'll disagree with you. Strongly. I think he's been a hugely pleasant surprise. I mean, he's not Luke Kuechley, but he's a terrific system fit who can rush the passer or play off the line and cover sideline-to-sideline. Last season – what Mazz would call his 2nd Degree of Suck – he missed three weeks in December. And the defense gave up 67 points (22.3 ppg) in those games, as opposed to 28 (9.3 ppg) in the three games prior. More than anything, I'll apply my standard for judging talent. What I'll call the "Are You Good Enough to Get Us to a Super Bowl?" standard. And since he's been here two seasons and checked that particular box twice, I'll say he's at least good enough not to be screamed at that he "SUUUCKKKSSS!"
As far as him being a "tool," an "ass" and carrying an "atitude"? I've been paying attention and I guess I just don't see it. Instead I see a lot of this:
And this: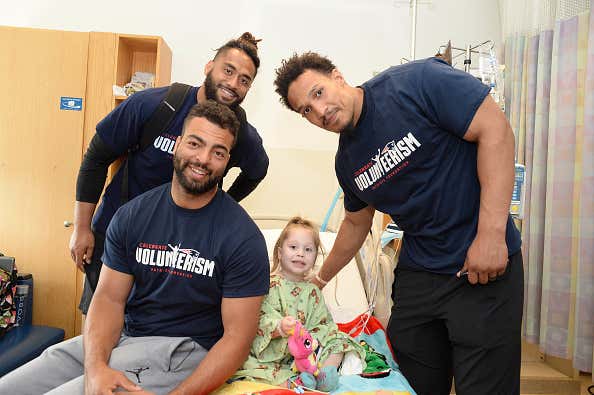 But what do I know? I never studied Journalism and don't pretend to know as much as the Boston sports media who hate the teams and people they cover almost as much as they hate the fans. All I know for sure is that Kyle Van Noy will somehow find a way to live a happy life in spite of the personal attacks. If he IS a dick, I'd say he's pretty much earned it.