VERTICALS // Barstool Golf
Barstool Golf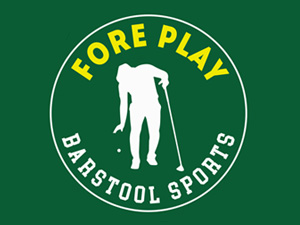 Fore Play
ABOUT
Fore Play is a weekly podcast by common golfers, for common golfers. Trent, Riggs, Frankie, Lurch, and their wide variety of guests openly discuss major tournaments, pro gossip, and just about everything golf—just like normal folks sitting at a bar watching coverage, venting about the game's difficulties, and weighing in on pro gossip. Your classic golf addicts, the Fore Play crew brings a young, unique voice to the rapidly-evolving game.
INTEGRATION OPPORTUNITIES
Audio
Social
Video
Experiential
Merchandise
Fore Play Travel Series
ABOUT
The Fore Play guys have traveled across the globe to hit Australia's hottest courses. Come along for the ride as the guys play on some of the world's most prestigious courses.
INTEGRATION OPPORTUNITIES
Fore Man Scramble
ABOUT
Watch live as the Fore Play crew take on a professional golfer or celebrity in a four-vs-one scramble at some of the most famous golf courses in the country.
INTEGRATION OPPORTUNITIES
Riggs VS
ABOUT
Riggs is taking his competitive spirit and natural charisma to some of the most breathtaking holes in the country. Follow his golf game as he competes against courses with special guests.
INTEGRATION OPPORTUNITIES
Daily Nine
ABOUT
Riggs makes it a point to get out there and play nine on a day-to-day basis. Be part of Riggs' routine as he continues to work on his golf game chip after chip.
INTEGRATION OPPORTUNITIES
Fixing Frankie
ABOUT
Frankie hasn't quite nailed his game yet. Barstool is looking to take Stoolies for the ride as he works on his technique with special guests guiding him along the way.
INTEGRATION OPPORTUNITIES
51 Strokes
ABOUT
51 Strokes is a masterclass in following your dreams. It's a teaching tape on pursuing your passion. Caleb Pressly is a terrible golfer who one day wants to go pro and he's about to manifest that destiny. Listen in as he consults the greatest golf minds in order to fill his brain with facts about the game he has haphazardly dedicated the rest of his life to. He might be a 51 handicap golfer now, but when it's all said and done he will be a Masters Champion and a national hero.
INTEGRATION OPPORTUNITIES
Audio
Social
Video
Experiential
Merchandise