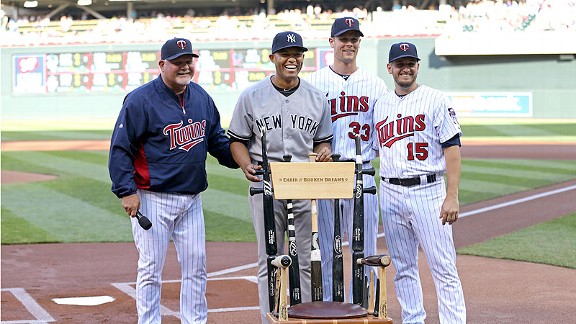 MINNEAPOLIS — Mariano Rivera was delighted with his latest gift, a rocking chair constructed out of bats he had broken throughout his career, courtesy of the Minnesota Twins, even if he did have to get up out of it and go to work unexpectedly Tuesday night. "I'm going to put it in the trophy room with the rest of the stuff," he said. "We'll take care of it and appreciate it." According to the Twins, the chair was the idea of manager Ron Gardenhire, and its unique design — spindles made of broken bat parts — is what appealed to Rivera. "Oh yeah, because they thought about it," he said. "They put their mind into it. When you see that, you appreciate it. It's great."
I get it that everyone is looking to give Mariano a little something during his last trip to their stadium and I get that Rivera is too gracious of a man to ever say anything but thank you, but this is the fucking worst. Mariano Rivera needs a rocking chair made of bats like he needs an asshole on his elbow. As if going to Minneapolis for 4 days wasn't bad enough, now he has a fucking rocking chair to ship back to Panama so he can probably just burn it.
At the end of the day, Rivera has made $169mil playing baseball. He has 5 championship rings. He owns almost every major record for a closer. So that brings up the age old question of, what do you get the man who has everything? The answer to that is literally never, a rocking chair made of baseball bats. Bullshit gifts from a bullshit team.
PS: If they really wanted to show some appreciation they would have presented Rivera with Justin Morneau, that's what he really needs.
I'll be tweeting drunk all weekend about the Yankees. @BarstoolJJ