Phil Hughes Needs To Get The Fuck Of My Very Good Team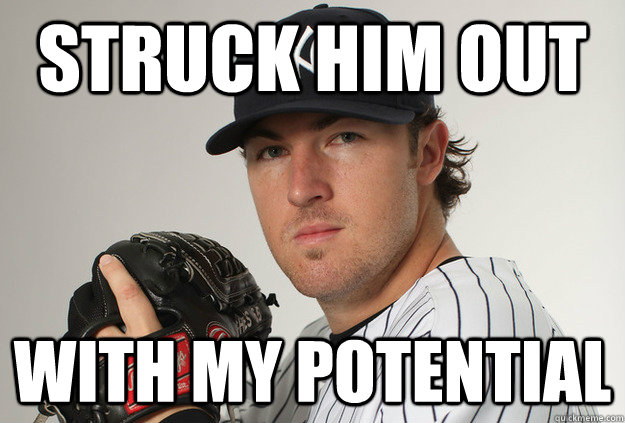 New York – Yankees pitcher Phil Hughes is moving to the bullpen while David Huff takes over his rotation spot — getting the start Saturday against the Red Sox — manager Joe Girardi told reporters Tuesday (Andy McCullough). Huff, 29, is 2-0 with a 1.13 ERA, 0.88 WHIP and 11 strikeouts in 16 innings this season for the Yankees. He began the season with the Indians but was claimed off waivers by the Yankees May 25. In his career, he's 17-26 with a 5.41 ERA as a starter. Hughes, 27, is 4-13 with a 4.86 ERA and 1.41 WHIP this season. In August, he went 0-4 with a 6.46 ERA. The Yankees moved to 74-64 after Tuesday's victory and now boast the best record among teams not in the current playoff picture.
Now we're cooking with gas! This team is hot as fuck right now and normally that means that you shouldn't change a thing. But that logic doesn't apply with Phil Hughes.  I don't know if Girardi's infamous Binder told him to make the change or just common sense, but I'm thrilled he's adjusting on the fly here. Hughes has been so terrible that he can go sit in the bullpen until his contract is up for all I care. As a matter of fact they should handcuff Hughes and Joba to the bullpen bench like prisoners awaiting arraignment.
On a positive note this team is on fire for the last month. Baltimore, Cleveland, and Kansas City now in the rear view, just like anybody with half a brain knew they'd be. So to a certain extent, we control our own destiny now. Last week of the season we host Tampa Bay. All we have to do is match the Rays the rest of the way and we'll have the opportunity to take care of them ourselves September 24-26 . We're trending upwards. They're slipping. The Double Wild Card is a complete crap shoot and we could be the hottest team going in. At the end of the day, the playoffs are like the hottest club in town, there may be a line to get in but once you're through the doors anyone can get laid.  The Yankees are ready to fuck.
Want to talk Yankees or read about me getting too drunk? @BarstoolJJ