Big Rematch As Rico Bosco, Eddie & Clem Return For Trivia (The Dozen: Episode 028)
Trends by The Hustle is a team of entrepreneurs, analysts, data scientists, and journalists who obsessively track up-and-coming startups, new industries, and interesting ideas. They tell you what kind of businesses are taking off or set to take off, and then they spell out how to get in on it and make money with that information.

The best part, though, is this community that they've built.

Entrepreneurs and driven people from every walk of life answering each other's questions and helping each other out and collaborating on projects.

You should definitely check it out, and it's only a buck to try Trends for two weeks. They're so confident that you'll immediately see the value in being a part of their community, that they'll give you 14 days for $1.

To try Trends for just $1, head to trends.co/dozen. $1, two weeks, see what all the hype is about.
Here are the questions from the show, with the answers at the bottom of the blog...
- - - SPOILERS - - -
SUMMARY OF TODAY'S CONTEST BELOW THE VIDEOS
Here are the last few episodes of 'The Dozen: Trivia Competition'. You can view all of the episodes by clicking this link right here.
I don't know how Brandon & PFT got Team Ziti to double the WWE category, but it was a pivotal moment. That loss, with the follow-up of disastrous Bonus Round sunk Team Ziti. Despite a pretty terrible performance on their own questions (2-10), Brandon's flexing in WWE and the Bonus Round gave them the 2-0 week.
Brandon & PFT move to 16-11 with the win:
Match 001: vs. Marty Mush, Eddie, Billy (W, 12-9)
Match 002: vs. Smitty, Tommy, Will (L, 9-11)
Match 003: vs. Tommy Smokes, Will (L, 5-16)
Match 004: vs. KB, Nick, Pat -(W, 11-6)
Match 005: vs. Coley, Trill Withers, Tyler (W, 9-7)
Match 006: vs. Ellie, Glenny, Ramsey (L, 5-11)
Match 007: vs. Big Cat, Rone, Joey M. (L, 7-11)
Match 008: vs. WS Dave, Carl, Chief (W, 10-9)
Match 009: vs. Nate, Trent, Fran (W, 10-9)
Match 010: vs. WS Dave, Carl, Chief (L, 8-10)
Match 011: vs. WS Dave, Carl, Chief (L, 7-10)
Match 012: vs. Frank the Tank, KB, Nick (W, 13-8)
Match 013: vs. Trillballins, KenJac, Donnie (L, 6-11)
Match 014: vs. Feits, Kayce, Bob Fox (W, 12-5)
Match 015: vs. Large, Zah, Cheah (W, 11-9)
Match 016: vs. Eddie, Rico, Clem (W, 10-9)
Match 017: vs. Kate, Pat, Jake Marsh (W, 12-4)
Match 018: vs. Smokes, Hubbs, Frankie (W, 16-2)
Match 019: vs. Chaps, Kate, Cons (W, 9-4)
Match 020: vs. Coley, Trill Withers, Glenny (L, 8-9)*
Match 021: vs. Frank the Tank, KB, Nick (L, 8-14)
Match 022: vs. Billy, Rone, Jake (L, 6-9)
Match 023: vs. Smitty, Glenny, Nate (W, 14-7)
Match 024: vs. WS Dave, Carl, Chief (W, 11-10)*
Match 025: vs. Big Cat, Rone, Cheah (L, 9-16) 
Match 026: vs. Frank the Tank, KB, Nick (L, 7-11) 
Match 027: vs. KFC, Joey, Trysta (W, 16-7) 
Match 028: vs. Eddie, Rico, Clem (W, 9-6)
* - Overtime
Let's take a look at the post-match Tale of the Tape:
PFT & Brandon are just so damn dominant in lifelines, especially doubles. They rarely miss, and they steal one every now and then. That continues to be the difference.
Tune in every Tuesday & Thursday at 11|10c in the morning for the 'The Dozen: Trivia Competition' LIVE. They then drop on BarstoolSports.com and YouTube afterward as edited replays.
NEXT OPPONENTS: TBD
TODAY'S ANSWERS: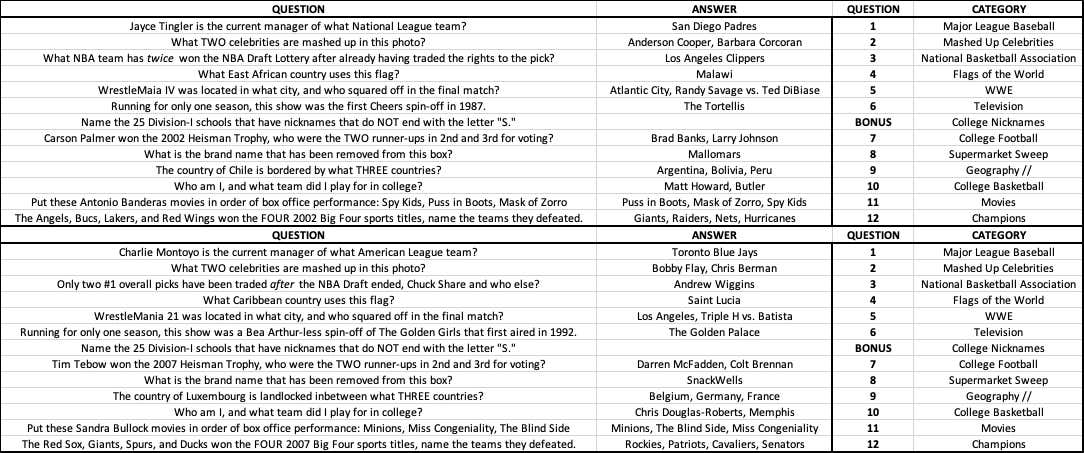 See you Tuesday!