Two Things You MUST Do In Vegas: Go To A Golden Knights Game, And See The Show "Absinthe"
I was in Vegas this last weekend. I've been to Vegas now 5 or 6 or 7 times, something like that and it's always a good time. Even the time I went when I had like $800 in my bank account and no job, I still enjoyed myself. I find I'm rather good at finding a comfortable balance between getting really drunk and still making sure to find time to get in a good Vegas experience. Rather it be food, a show, or checking out a new hotel/casino that I haven't been to, I try to see and do something different every time. This time was no different.
My trip started on Thursday when I hopped on a bird and headed out to the desert. I went out on Thursday for the grand opening of the new PokerGO Studio at the Aria. It's fucking awesome. Just a state of the art studio where they will broadcast the high stakes poker games from. Maybe I'll get to play in there one day.
I also played in the charity poker tournament they had running, and was sat between BHanks and my friend Daniel. Me and Daniel both busted on the same hand to BHanks, at the exact second Tampa scored on Washington to take a 3-2 lead. He bet on the Caps, and I have my entire life tied to them. Sad!
Friday was the day of the Golden Knights game. I'll tell you this- west coast start times are wild. The game started at 5pm, which is odd when you remember that normal people who live in Vegas with real jobs also go to games. But anyway, as you know, there is a ton of hype around Knights games. About the environment, the in-game entertainment, and Vegas in general as a hockey town. Thanks to my friends at SeatGeek (use code STOOLIE20 to save $20 on your tickets, I highly recommend it), I was able to check out the game. And my friends, let me tell you, it did not disappoint.
They take the Vegas experience and funnel it into an arena for 2 and a half hours of hockey. The pregame show exceeds expectations. I literally had to walk through a bar to get to my seats. The music was loud the entire time. But not in a tacky way, either. No organ music, no "chargeeeeee!", but music that actually gets you pumped up and LOUD. And then this is when I knew it was over
It didn't matter how many shots on net Winnipeg was putting up, once Lil Jon hops on the mic, it is OVER.
Now, how does a night get better after seeing a Knights playoff win from center ice? Let me tell you- you get invited to the Tiger Woods Foundation charity event at MGM. So we walked over to MGM after, went into the charity event, and I met a lot of great people from his foundation, a lot of great people not from his foundation (shout out to Peter, the true brains behind Fantasy Labs, your one stop shop for all things daily fantasy sports)…and then of course Tiger Woods himself! (I won't recap how I met Tiger again in this blog so in case you missed it, you can read about my experience meeting Tiger here.)
I also did a little MC work during the charity event, which I surprisingly didn't suck at.
Also helpful that I had a drink in my hand. Thanks to Daniel, WPT, and Tiger Woods Foundation.
What a wrecking crew.
Oh and then we went out with the trophy after.
They didn't let me bring it into XS though, very unfair!
After a fun Friday night, Saturday arrived, and after watching the Caps lose again, we went to see the show called "Absinthe". Now, I had heard of Absinthe, and when I asked for suggestions of what was "must-do in Vegas" many people replied "go see Absinthe", and so I made that a priority. After a few beers with Brent, we went to the show. Now, I had stayed away from reading spoilers or anything about it, I just wanted to go in knowing as little as possible. The first thing I learned was it's not in a huge theater like Cirque, but rather an old school circus tent in front of Caesar's Palace.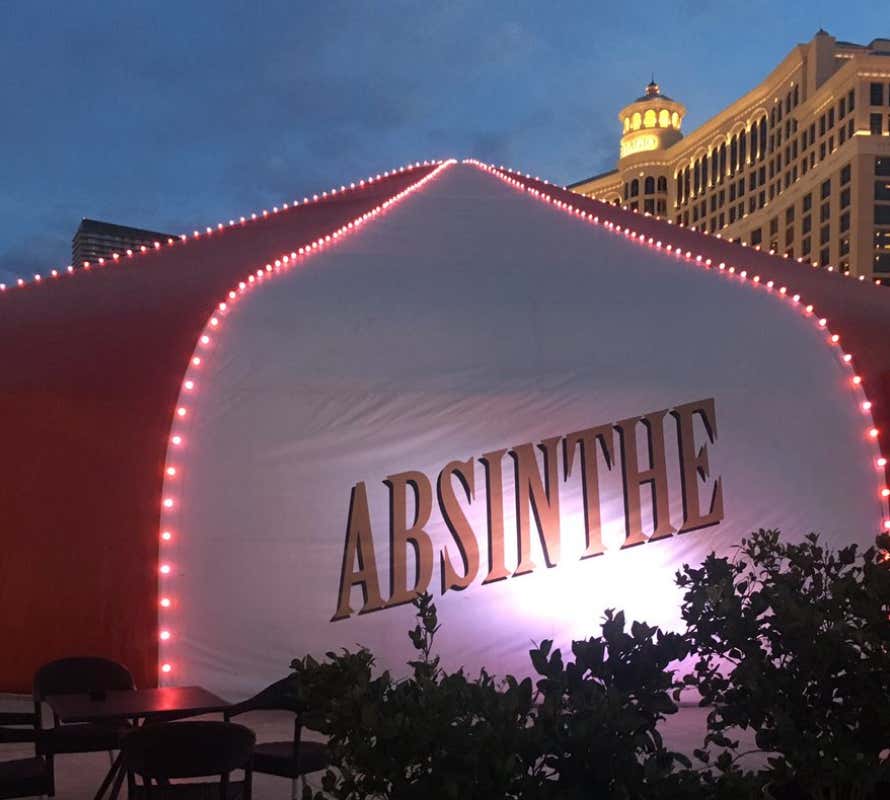 And it was perfect. The show itself is an A+. I don't want to spoil it, but imagine a variety show mixed with an old timey circus mixed with some of the funniest, dirtiest jokes you've ever heard. I don't want to understate that, I was in awe of just how far they pushed the jokes. And the acrobats were just insane. Again, I don't want to spoil anything, but I was speechless at almost all of the acts. And the host of the show should be way more famous. I could gush about Absinthe forever, it was really that good. Not sure I liked it more than the LOVE, the Beatles Cirque show, but it was a million times better than Blue Man Group, that's for sure.
And thus pretty much ended the whirlwind weekend in Vegas. Did a lot of cool things, met a lot of cool people, and didn't lose too much money gambling. I did my classic move where I ran $200 up to $500 playing blackjack doing minimum bets…and then lost it all in like 5 minutes doing larger than minimum bets. Oops! A story as old as time itself. Vegas, amiright?
.
.
.
Oh, and remember the time I met Tiger?
And yes, he was very cool and nice and just a real chill dude.
So that's the trip. I love writing these trip reports, and I encourage you to do them too. It's nice to be able to read back old ones and remember things you otherwise wouldn't. Especially because we're all getting old and my memory is turning to trash.
So I'll see you again soon, Vegas. I miss you already.
.
.
I've written about past Vegas/Atlantic City trips. You can read about them from the links below:
Nate's Poker Diary: I Learned A Lot About Life From A Weekend In Atlantic City
Nate's Vegas Diary – Man, What An Awesome, Wild Ride
A Good Run At A Fun Blackjack Table Is One Of Life's Best Times
I Had Myself A Pretty Good Night At The Aruba Office #NatesGotTheChipsAndThatsAKnownFact