Last Night In The NBA: The Western Conference Finals Is Set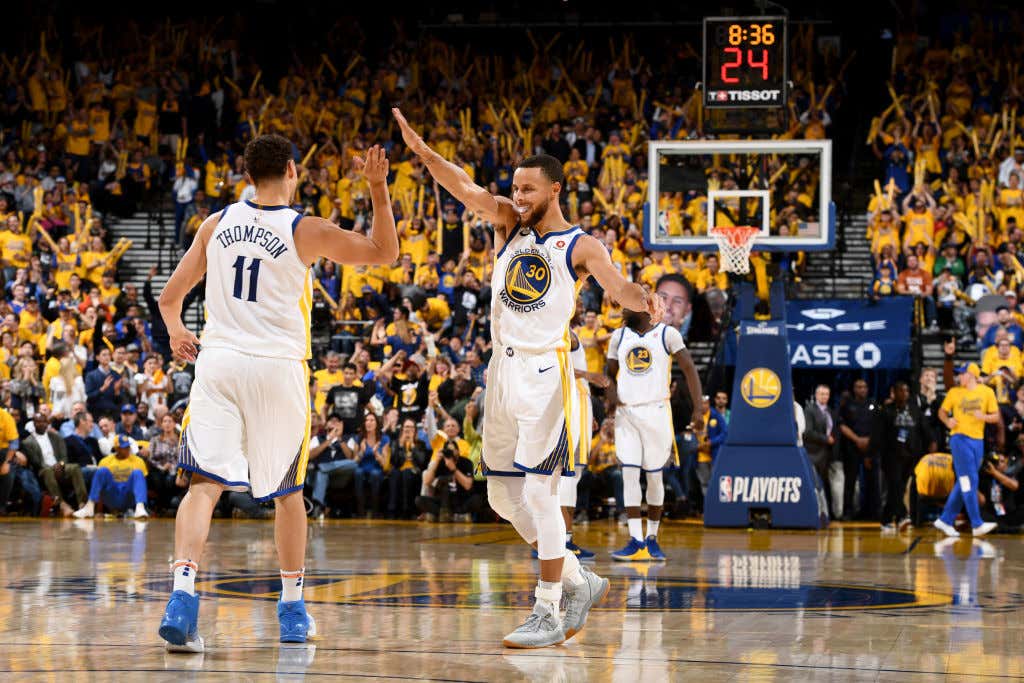 Happy Wednesday everybody and welcome to another edition of Last Night In The NBA where we catch you up on everything that went down from the night before in the Association. It was a night of closeouts for the two games on the schedule, a couple results that weren't all that surprising. With both HOU and GS playing at home, it would have been quite the upset if we saw either of those series extend to a Game 6. Even if you anticipated this outcome, that doesn't mean there weren't exciting aspects of the actual games. As always if you maybe were watching the Sox/Yankees instead and didn't happen to catch what went down, here's what happened
Utah Jazz 102 vs Houston Rockets 112 (HOU wins 3-1)
As a basketball fan, I was conflicted with this game. On one hand, I'm happy we're seeing HOU advance to the WCF. I'm happy for my fellow Sun Devil James Harden, and the fact that CP3 finally broke through. But on the other hand I'm sad the Jazz lost their best player in the fourth quarter of what was a close game. Who knows what happens if Mitchell doesn't get hurt, my guess is maybe Paul doesn't go on that huge fourth quarter run. How huge was it? See for yourself
Just a huge night from Paul, finally silencing the critics that he'll never get it done in the postseason. Not to be over dramatic, but what Paul did on the floor last night was something we have never seen in NBA history. Since the league started tracking TOs in 1977-78, no player has ever had a playoff performance of 40/10 with 0 TOs. Not one. Whatever you feel about the Rockets, it's always cool to see history.
It's really hard to get over the Rockets hump when they come out and stop 48/46% splits, 18 3PM, and just 9 TOs. Even with only having three players in double figures, it's hard to find a Rocket that didn't play well. I suppose you could say Harden, who went 7-22,
but that just shows how loaded this HOU team is. That's the biggest different with the Rockets to me, and why they went out and got a guy like CP3. Without him, if Harden has a night like he did last night the Rockets probably lose, and this thing goes back to UTA with the Jazz having all the momentum in the world. But now, they can just turn to Paul, who is still fully capable of going all Point God on everybody's asses.
I'm also happy for Mike D'Antoni, who finally can sit back and relax knowing his style CAN work.
For UTA, a tough ending to what was a pretty magical season. I thought Mitchell said it well. That he was sad about the loss but proud of everyone as a whole. I'm not sure how you couldn't be. This Jazz team was left for dead once Hayward left, considered a lottery team by many, and all they did was have one of the best regular seasons in the entire league, upset a star studded Thunder team, and actually game HOU a run for their money despite losing in 5.
Mitchell broke out as a legit franchise player, and him outscoring the Rockets by himself in the third was wild to see
Mitchell finished with 24/4/9 on 9-17 in his 34 minutes, and honestly the Jazz played about as well as you could given the circumstances. They shot 46.9%, took care of the ball for the most part with 12 TOs and had balanced scoring, with 5 guys in double figures.
It does suck that they couldn't hold their slim lead heading into the fourth quarter, and they picked a bad time to have their worst defensive quarter allowing 37 points. But they didn't have an answer for Paul, who had 20 in the frame. Just like so many teams have had to deal with this season, the Jazz got fucked by an injury, which is why if I'm a Jazz fan I'm sitting here today wondering what might have been. The Rockets really didn't have an answer for Mitchell, which is why it sucks so much.
But don't lose sight of the big picture. This Jazz team had a great year and will absolutely be a tough team moving forward. There are certainly worse positions to be in that's for sure
New Orleans Pelicans 104 vs Golden State Warriors 113 (GS wins 4-1)
Yawn. Shocker the Warriors closed this out with minimal difficulty. Their stars came out and said enough was enough, it's time to be done with you.
How terrified should the Rockets be of the Warriors as they prepare for a grueling series? See for yourself
Yikes.
In typical Warriors fashion they allowed the Pelicans to hand around for a half, and then they came out in the third quarter and it was bukkake time. They won it 36-19, and with that it was a wrap. Even with NO going on one final little run in the fourth quarter, they still never really threatened. Listen it's hard to beat the Warriors in a series where you only have one game in which you keep them to under 113 points, and that just so happened to be the Scott Foster game. Just sayin.
If the postgame comments were any sign, the Warriors are ready to remind the Rockets who the defending champ is, and I cannot wait.
For NO, everything I said about the Jazz also applies here. All things considered they had a great season, considering most left them for dead the second Boogie got hurt. For them to not only make the playoffs but upset the 3 seed, and actually have some competitive games against the Warriors is definitely something you can hang your hat on. Last night was our final goodbye to AD for the season, and he did not disappoint
The same could be said for Jrue Holiday, who had himself an awesome season and one hell of a playoff run
Even though they learned what happens when you let up for just one quarter against the Warriors, the Pelicans should be proud of the year they had. Now their summer will be filled with drama and questions surrounding Rondo and Boogie's next deal, so who knows what this Pelicans team looks like moving forward. They have Mirotic signed for one more year before he becomes an UFA as well.
But the big takeaway is that the Pelicans saw playoff success with Anthony Davis. That has to be the most important thing, because if AD feels like he can win in NO, then he'll stay after his current deal is up in a few years. I will say though, now the Pelicans enter next year with expectations, so it'll be interesting to see if they can find the same level of success.
And that's it! You're now all caught up on everything that went down last night in the NBA. We're back tonight with just one game on the schedule, a potential gentleman's sweep in PHI/BOS Game 5. Because of that this blog won't exist tomorrow, but you can find everything you need to know in the regularly scheduled Celtics blog. See you then!