Joel Embiid Picking Up Kevin Hart Like A Toddler Is What The Process Was All About In The First Place
Now I'll admit I was a tad hesitant about the idea of the Sixers allowing Kevin Hart to sit courtside at the game again last night considering it was his fault that Dwyane Wade was able to hop in a time machine and go back to 2006 in game 2. Obviously that was with Embiid out of the lineup but for the first close out game in the Sixers' first playoff series of The Process Era? I just thought it wouldn't be worth the risk.
But at the end of that game after the Sixers eliminated those goons from Miami, it was all worth it. In this very moment right here, The Process was complete.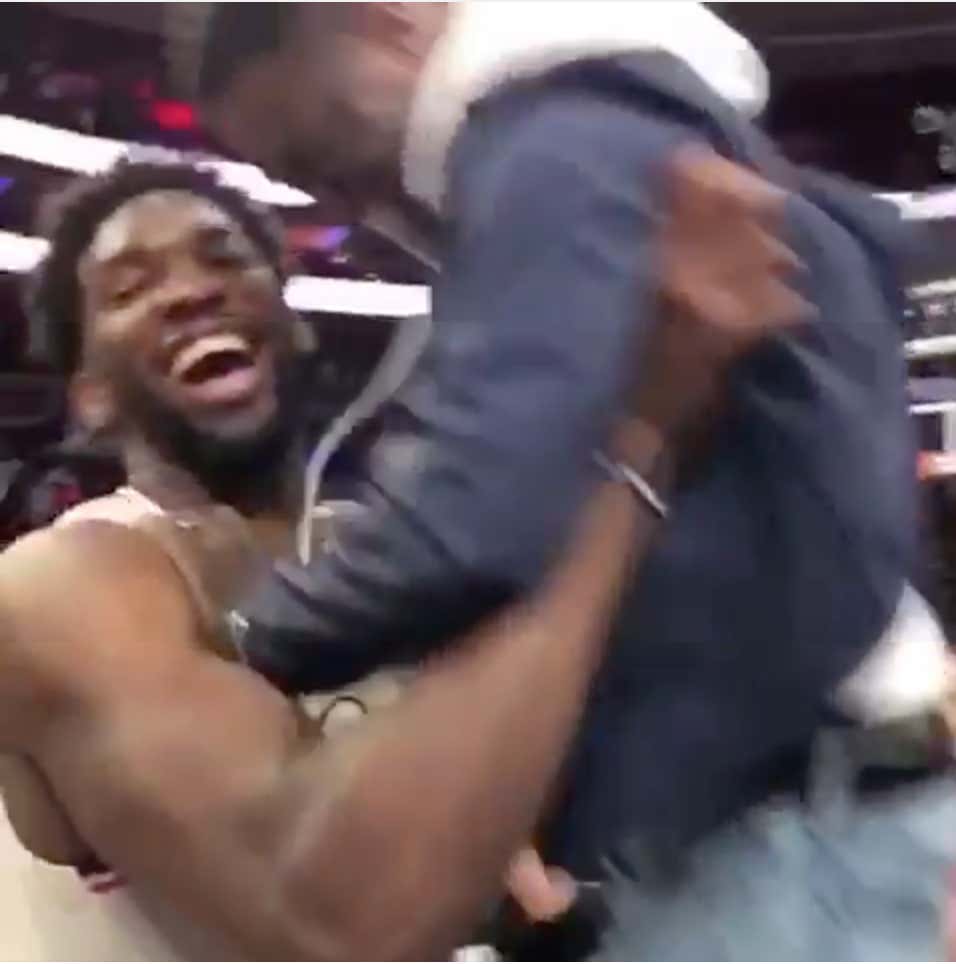 They say a picture is worth a thousand words. So how many words would a pair of GIFs be worth? At least millions, right? Because if this looked familiar last night…
It's because we've seen it before already.
Embiid is Shaq. Shaq is Embiid. History has a tendency to repeat itself. And considering Ben is Kobe, that means the Sixers have 3 straight championships coming their way. Love or hate The Process all you want. But there's no denying that having a 7'2″ transcendent talent who picks up Kevin Hart like a toddler isn't all the proof you need that The Process has worked out to perfection.
A few sidenotes to close this one out. 1) What a fucking crew this is.
It looks like someone just spun a wheel of random celebrities to throw this crew together.
2) I need to know what was in Jay Ajayi's purse.
Obviously phone, wallet, keys. But that's what a clutch is for. There's gotta be more in there that we don't know about and I won't sleep until we get the answers.
3) This photo is incredible.
Only thing that is troublesome here is that it's not like Essentia is Deer Park or anything. That's some designer water shit right there. Shit is pricey and they're treating it like it's rain water. But yeah. This looks exactly like how much every single member in the Eagles locker room loves Doug Pederson. A group like this that truly loves each other and truly loves their coach? That's a dangerous group to go up against.