Pup Punk's Debut, Brett Getting Roasted, And Donnie Does A Speech - Power Ranking The First Annual Barstool Awards
As you may know, last night was the 1st annual Barstool Awards, where we honored ourselves with made up awards in a Dunkin Donuts in Queens, New York and broadcasted it live to 10's of thousands of loyal Stoolies around the world. We've all wanted to do an awards show like Michael Scott's Dundees for as long as we can remember, and we all have wanted to do a Barstool roast for as long as we can remember, and the Barstool Awards were sort of a combination of both. We honored some great videos made over the last year (or two…it was supposed to be 2017 but time is only a concept), laughed at some of the worst videos and ideas of the last year, and roasted some of our fellow coworkers in between. All in all, it was an absolutely hilarious show, and it really showed just how much crazy, insane shit happened over the last year.
So without further ado, here are the top 10 moments from last night's first annual Barstool Awards.
10) How Hot Everyone Looked
Not for nothing, we all cleaned up real nice last night. Turns out a couple dozen bloggers can pull it together and look pretty hot when we have to. We had Sunshine on the Red Carpet taking real pictures with a real camera, and we look stunning. We should do an award show every week.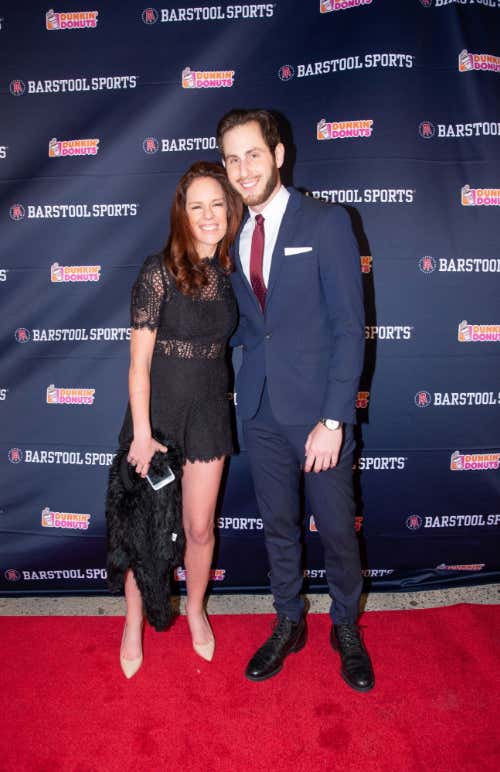 And I'd like to thank the Hartford Whalers for drafting me. Excited to begin my professional hockey career with them.
.
9) George Brett Sent In An Acceptance Speech
Dave said it best, what a world when one of the best baseball players of all time stops what he's doing and makes an acceptance speech for the Barstool Awards that we were doing in a Dunkin Donuts. That right there, my friends, is the true Barstool difference. And it's awesome, because he truly remembered his day at HQ and thoroughly enjoyed himself. That doesn't happen at any other company.
Thank you Mr. Brett and please come back any time.
.
8) YP Trying To Accept My Award 
Now to be fair to YP, he did ask me earlier in the day if I won for Best Hit, could he accept the award with me, and I said yeah, maybe. I didn't really think about it because I didn't expect to win. But when he popped RIGHT UP out of his seat like Derek Zoolander when Hansel actually won the award, it was all over for him. Dave looked at him like "uhhhhh dude, you got bodied, you don't get to accept it", and with the crowd boo'ing him, I had no choice but to go up onto the stage solo. I graciously appreciate YP for being so fucking annoying that day that he deserved to get truck sticked, allowing me to pick up the hardware.
I reached out to YP for what his acceptance speech would have been. He deserves to have it shared with the world:
I want to thank my friend Barstool Eric Nathan for acting mad and really selling his half of the scene.  I want to thank the props team for placing that box in the perfect spot off camera enough, but close enough to still trip over and sell the hit.  I want to thank Barstool Big Cat for pulling the parachute as fast as possible to make sure that I could hit my mark and fall perfectly.  Just a perfect combination of speed, skill, and teamwork in order to make it seem like I got bodied by Nate.  Thanks to everyone.
.
7) Dunkin Donuts/Our Technically Flawless Broadcast
Imagine everyone in HQ's delight when we learned that not only could be spend a Thursday night in a Dunkin Donuts, but we could spend a Thursday night in a Dunkin Donuts…in Queens! The bus ride over was wonderful. The traffic was so slow, we had so much time to look at all the buildings that make up NYC's skyline for hours on end. But folks, all jokes aside, it was worth it. You ever walk a red carpet outside of a Dunkin Donuts and then find your table inside and have dozens of fresh donuts just waiting for you? And munchkins as well! And hash browns. We had so many hash browns. And why?
Some say "technical difficulties" other say "oops did we say we were going to start at 8? We're really starting at 9″. And let me tell ya, we started at 9pm on the dot! Shout out to Dunkin for being great hosts and All Biz Pete for another technically flawless show.
.
6) Donnie's Speech
Donnie won the award for "Best Foreign Film". It was very well deserved. He pre-recorded an acceptance speech, and it was so perfectly Donnie. That guy is just the best.
Thank you Donnie, you beautiful lunatic, you.
.
5) Francis and Frankie Sitting In A Tree
Francis is in love with Frankie. There's no other way to put it. L-O-V-E. They are the definition of relationship goals. I don't know how else to describe it…just watch and listen for yourself:
It's so cute how coy Frankie plays. Just adorable.
.
4) Dave's Show-Long Roast Of Smitty 
To be fair, it wasn't just Dave that was roasting Smitty all show long, it was everyone. I mean Frankie probably had the most vicious line about Smitty when he thanked him for never coming to work and for being a terrible drummer. But Dave had one line that was so funny, it takes the cake. It was during the category "Smitty's Show That Almost Got Greenlit"…and with that being said:
.
3) Loud Sean's Acceptance Speech
Loud Sean took home the award for "Worst Sports Performance" for his horrendous basketball game against the Sheriff. If you recall, the game came about because Sean said he could beat Sheriff in basketball, to which Sheriff replied "I'll fuck your wife and stomp on your kids". Very rational response! So they settled it in the worst game of 1 on 1 basketball that we streamed live on our app, and the whole thing was so freaking bizarre and strange and will go down in Barstool history as one of the weirdest days we've ever had. Loud Sean, who by the way has lost like 75 pounds over the last 6 months, gave a helllll of an acceptance speech, easily the best speech of the night.
The ol' switcheroo at the end, amazing job by Sean.
.
2) Pup Punk Singing An Acoustic Version Of "Back To Skewl" 
God dammit Rone, save some talent for everyone else! Amazing performance from Pup Punk last night, and fantastic job by Frankie filling in last second for Smitty. Francis wrote a blog about it, and it very well could be a Ringo Starr situation on our hands. Also, reminds me of the movie "That Thing You Do".
But what a performance, and their first one EVER at that! These guys could sell out theaters across the country if they wanted. Mix in some Blink 182 and New Found Glory covers and we're cooking with gas.
Also, look at proud Papa Portnoy watching the money pile up:
1) The Office Manager Brett Fuck Up Of The Year Award/Roast Sesh
Holy moly this was easily the funniest part of the night. It was Michael Scott ripping Toby, multiplied by a million. Poor Brett getting dragged by Dave for every mistake he's ever made. We all love Brett, but we were all in tears laughing as Dave picked apart every last fuck up Brett's made. When he started talking about how Brett flew in a girl he wanted to hook up with for an interview with Dave I thought Keith might have a heart attack and die right there on the floor of the Dunkin.
God bless ya, Brett. Great speech too, sorry we booed you for being sappy.
.
As I said, just an awesome night with hysterical moments recapping the last year+ of video and a few other things on the side. Thank you to Dunkin for being such great hosts, Dave for being a great MC, and shout out to me for picking up not 1, but 2 awards!
Here's a few more highlights just to bring us home:
.
Cutest Couple – Keith and John
Don't worry, Francis agrees:
.
Leo DiCaprio Award – Francis
CEO Of The Year – Erika Nardini

.
Nothing says "let's wrap up 2017″ like an award show on April 19, 2018 that features clips anywhere from 2015 on.
You can watch the full awards under this, for the best of the rest including Smitty's acceptance speech where he doesn't look at the camera, a cameo from Samir from Deadspin, and PFT giving his thanks to Marlin's Man. Until next year!
.