The Barstool Sports Annual WrestleMania Preview Extravaganza
Hello and welcome to the Barstool Sports WrestleMania Extravaganza blog! Are you a die hard wrestling fan stoked for the "Show of Shows" tomorrow night? A former/casual fan who tunes in once a year and needs to be caught up on current storylines? A first time watcher who's finally giving the graps a shot? Well then, you're in luck because I'm covering all of those bases! I've broken the card down into three tiers – Main Event Matches, Mid-Card Matches, and Kickoff Matches – and I'll be previewing each and every bout on the card for you. If you're interested in watching WrestleMania, it'll be live on the WWE Network (available for $9.99/month BUT free for your first month if you're a new subscriber, yes, that's right, WRESTLEMANIA IS FREE) and the kickoff show starts at 5pm, main card at 7pm. Pat McAfee, the entire Heartland crew, and I will be in attendance at the Superdome tomorrow night so follow along on social media for our live reactions to the action, and Jared Carrabis and I recorded a preview for the show in podcast form, so check that out HERE if you're more of a listener than a reader. Now let's get into it!
Main Event Matches
Brock Lesnar (c) vs Roman Reigns for the WWE Universal Championship (RAW)
This WrestleMania 31 rematch appears to be the main event of the evening, and while the build over the past few months has been really well done, and dare I say perfectly executed, nobody cares. Fans still won't accept Reigns as a babyface and everyone knows Brock is headed back to the UFC, AND that Vince would like to coronate Roman Reigns for the third time in a row on the "Grandest Stage of Them All". Expect this match to either get indifference and random chanting from the crowd, OR massive heat towards Roman Reigns and god-tier pops for Brock Lesnar. The latter IS what happened last time around, to be fair, and it wound up being a crazy stiff instant-classic. Now, some of that was credit to Seth Rollins' cash-in, which isn't possible now unless Carmella wants a shot at the gold, and now that we've SEEN the match already, I'd bet on indifference. Roman's a lock to win this one, and hopefully it doesn't main event as they wouldn't be sending their audience home happy if it did.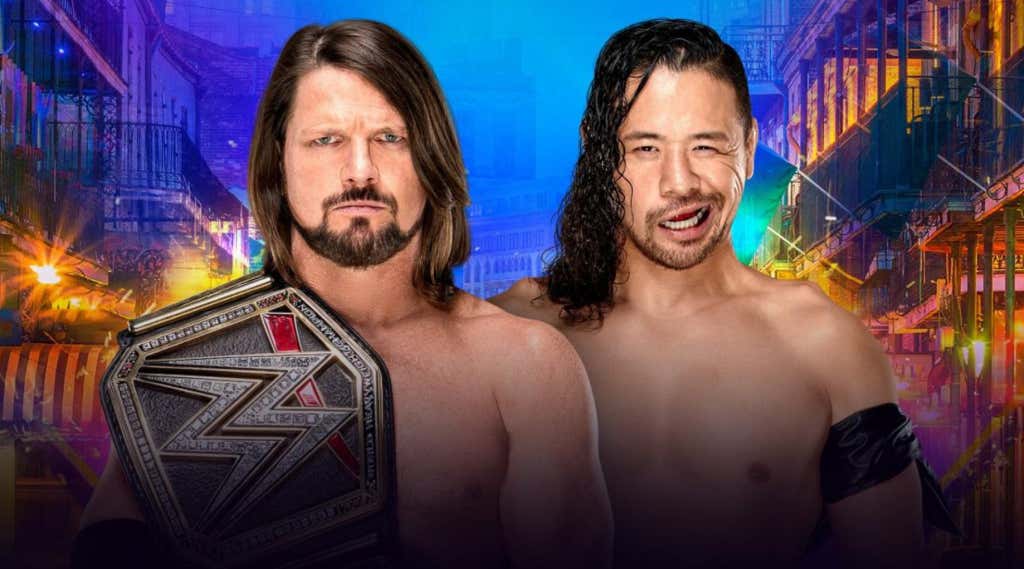 AJ Styles (c) vs Shinsuke Nakamura for the WWE Championship (SmackDown)
Over two years ago, on January 4th, 2016, AJ Styles and Shinsuke Nakamura battled in one of the most talked about matches in New Japan Pro Wrestling history. It was a back and forth war where both men put everything on the line and gave it all that they had. Now, they'll meet in a squared circle for the first time since that legendary encounter, and it's easily the most anticipated match on the card for the majority of the WWE Universe. It's been the buzz all week down here in the Big Easy. Everyone we talk to, whether they're in the business or just a fan, has their eyes on this one. There's not much of a vicious rivalry at all here, it just comes down to revisiting that first match at the Tokyo Dome and proving who the best wrestler in the world is.
Ronda Rousey/Kurt Angle vs Stephanie McMahon/Triple H (RAW)
During Ronda Rousey's monumental contract signing with the WWE, Kurt Angle pre-warned her that Triple H and Stephanie McMahon were only looking to get her under contract to control her and make a mockery of her, as revenge for what she did three years back in Santa Clara…
Welp, Ronda saw through the lies presented by the Authority following Kurt Angle's reveal, and signed the contract that guaranteed she'd get to select her first opponent. From there, she picked Stephanie McMahon. Tensions have flared up since that moment, adding Kurt Angle and Triple H to the match and making it a mixed-tag, and sending multiple participants through tables. I'm VERY intrigued to see how this one will play out. As I wrote in the past, the most important thing coming out of this match at WrestleMania is that Ronda Rousey gets time in the ring to show off her wrestling skills, but also not enough time where it seems like she's struggling with Stephanie McMahon mano a mano. Ronda is a cold blooded killer and should be presented as such, so she should pretty much run through 41-year-old non-wrestler Stephanie to set up a title feud in the near future. At the same time, you don't want fans to be disappointed if she only does 3 moves and wins, so that's where they're gonna have to be creative and have Triple H get involved, maybe get some weapons involved as well, and have Kurt take the majority of the heat so by the time Ronda gets the hot tag, we're ready for the finish. We'll see though.
John Cena vs The Undertaker??? (RAW)
Here's a match that technically isn't on the card, hence the "???", but will absolutely 1000% take place, so it's included in my breakdown. John Cena's been on some hard times over the past twelve months. He lost to Roman Reigns, he lost the Royal Rumble, he lost the Elimination Chamber, and he couldn't get a match at WrestleMania. Now, "Robbie", you say, "He's John Cena. Why can't he just insert himself into any match he wants?" According to the 16x Champion himself, he doesn't want to take a spot on the card away from a full-timer now that he's basically a part-timer. So his solution to this dilemma, getting a match at the "Showcase of the Immortals", was to call out The Undertaker who retired last year. He said Taker's still got more left in the tank and went out like a coward, leaving the fans out to dry. Respectfully, I disagree, and think it has been YEARS since Taker's put on a passable match; he's too old, he's too big, he's too slow. Last year's WrestleMania main event was a genuinely sad match to watch. So I was adamantly against this match happening for a long time now, threatening to use it as my piss break and boo the shit out of the old man Undertaker…with one exception. I said, which I thought would never happen in a million years, that if The Undertaker happened to return as The American Badass Taker who rode to the ring on a Harley, I'd be all in. That it'd become one of my most anticipated matches on the card. I wanted him to return at Big Evil after the Streak was broken, and that's also when I thought the Cena match should've happened, so this is way long overdue, but fuck it: I'm in.
DEEEEAAAAAD MAN WALKIN'.
Daniel Bryan/Shane McMahon vs Kevin Owens/Sami Zayn (SmackDown)
Here it is, my #1 most anticipated match on the card. I don't have to talk your ear off about this one too much, because I have for every second since Daniel Bryan has been cleared, but here's the deal: Shane McMahon is the Commissioner of SmackDown Live and Daniel Bryan is the brand's General Manager. Dating back to mid-2017, the two have butted heads a bunch on how to run the show, mainly when talking about how to deal with and reprimand Kevin Owens and Sami Zayn for their continuous disobedience and rule breaking. It looked for a while that they'd been building to a feud of some sort involving all four of these men, but Daniel Bryan was sidelined and retired due to concussion issues, so fans were getting restless thinking this was all a big ol' waste of time. Fast forward a bit and here we are. Kevin Owens and Sami Zayn beat the everliving fuck out of Shane McMahon, the next week, Daniel Bryan is cleared to compete in a WWE ring, he fires them for their actions, and they beat the everliving fuck out of him. This lit the fire inside the American Dragon, and he decided to challenge them to a match…Kevin Owens and Sami Zayn…vs Daniel Bryan and Shane McMahon. If Kevin and Sami win, they'll get their jobs reinstated. If not, they will remain fired from SmackDown Live. It all goes down at the site of the "Miracle on Bourbon Street" where Bryan won the WWE World Heavyweight Championship in 2014, and I am undoubtably going to shed some graps-related tears seeing my all time favorite return to the ring. Yes Movement, see you there.
Charlotte Flair (c) vs Asuka for the WWE SmackDown Women's Championship (SmackDown)
Much like AJ Styles vs Shinsuke Nakamura, this one isn't about disrespect, or vengeance, or animosity, or anything like that. Quite the opposite actually. This match is about respect and will determine who the best female wrestler on the planet is. Charlotte Flair has been ridin' high as the queen of the women's division these past few years, but there's one person she has yet to face: "The Empress of Tomorrow" Asuka, undefeated for her entire tenure with WWE spanning three years. This match has a real capability of stealing the show, as the crowd should be wild for it and the storytelling both women are capable of doing in the ring is second to none in that division. Will Asuka find the key to the puzzle that is defeating Charlotte Flair, or will another legendary streak be broken in New Orleans?
Midcard Matches
The Miz (c) vs Finn Bálor vs Seth Rollins for the WWE Intercontinental Championship (RAW)
This Intercontinental Championship match should be a real hoot. It happened once before, last year, and received high praise from critics and fans alike, and Seth Rollins battled Finn Bálor on Monday Night RAW just 6 days ago in one of the most fun television matches of the past few weeks. Throw The Miz in, who excels greatly in multi-man matches, and you've got something special. Hopefully Finn's breaking out the Demon paint for Mania, because that entrance would be UNREAL!
Cesaro/Sheamus (c) vs Braun Strowman/??? for the WWE RAW Tag Team Championships (RAW)
Braun Strowman, albite being the hottest act in the company for the past year, was just like Cena not too far out from WrestleMania; he didn't have a match. He didn't call out an old retired man, however, no. Why would he do that when he could enter the Battle Royal to determine the #1 contenders for Sheamus and Cesaro's RAW Tag Team Championships alone, and win?! The only issue now is…he has to find a partner. So tomorrow night, we should be in for a nice surprise during this match. I think the leading candidate to team with the "Monster Among Men" is Samoa Joe, but let's not rule out Big Cass, Drew McIntyre, and Rey Mysterio as dark horses here. Maybe even the Hulkster, you saw his bod today, he was looking ready for one last New York run!
The Usos (c) vs The New Day vs The Bludgeon Brothers for the WWE SmackDown Tag Team Championships (SmackDown)
FINALLY, The Usos have received a match on WrestleMania's main card after being stuck on the kickoff for so many years now. They really deserve it, honestly, as they've solidified their spot as one of the greatest tag teams in WWE history with their run and rivalry with The New Day last year, who are also in this match. To spice things up, the Bludgeon Brothers are also thrown in there for a three-way tag. I think this is probably going to be a RIDICULOUS spotfest where we see some shit we've never seen before out of everyone, and I really hope the Usos retain their titles when it's all said and done.
Alexa Bliss (c) vs Nia Jax for the WWE RAW Women's Championship (RAW)
The RAW Women's Championship Match, unlike the SmackDown one, is a contest I don't care much for. I love Alexa Bliss, I think she's one of the best talkers in the WWE, and is superb in the ring, but I'm just not a fan of Nia Jax getting this one-on-one title shot over…well…ANYBODY in the Women's Battle Royal. And I like Nia Jax! I'm just not sure I'm on board with her as a sympathetic character I should root for all of a sudden after she's been presented as a bully for so long. Kinda dreading her victory in this match.
Randy Orton (c) vs Bobby Roode vs Jinder Mahal vs Rusev for the WWE United States Championship (SmackDown)
The only thing I care about in this Fatal-4-Way is Rusev winning. I don't care much for Bobby Roode right now, haven't cared much for Randy Orton in a long time, and have never/will never care in the slightest for Jinder Mahal. Rusev would get a massive pop if he won though, and he's SOOOOOO over right now, so that's what I'll watch for. It'd be poetic, actually, Rusev winning at WrestleMania ON Rusev Day!
Kickoff Matches
Cedric Alexander vs Mustafa Ali for the WWE Cruiserweight Championship (205 Live)
It's the Heart of 205 vs the Soul of 205 Live. After Enzo Amore allegedly raped a girl, vacated the Cruiserweight Championship, and got fired from the WWE, a tournament to crown a new champ was put in place by 205 Live General Manager Drake Maverick, and here are the two finalists. Make sure you get in early to see this match, whether you're watching on television or in-person, because it's going to be OFF THE CHARTS good and get its due time thanks to it being on the pre-show. Cedric Alexander and Mustafa Ali are truly the best two superstars they could've selected for this Championship match and I can't wait.
Andre The Giant Memorial Battle Royal (RAW/SmackDown)
For the battle royals, I'm pretty much just going to give my predictions as they don't need much of a storyline explanation. They're battle royals. I'd say the logical pick for the Andre is Elias, but then again, WWE's known to throw curveballs during this match so hell, maybe it's Big Cass. Should be fun as always.
WrestleMania Women's Battle Royal (RAW/SmackDown)
I believe this match is going to one of two people. One is a very logical guess, the other is a complete dark horse. My "logical" guess is Becky Lynch. She hasn't been doing shit for over a year despite being one of the most talented full packages in the WWE, and could REALLY use a huge win of some sort at WrestleMania to get her reactions back to where they used to be. My "dark horse" pick is Sonya Deville. Deville is very new to the WWE and wrestling in general, but came from an MMA background and uses that as her gimmick. You'd have to assume Ronda is going over Stephanie later on in the night, and needs a filler feud to buy time before shooting straight into title contention, so I think Deville would make a ton of sense in legitimizing Ronda as a wrestler a bit. Sonya could play the "you ran from our sport, but you can't run from me" angle, and Ronda could beat her showing she's still a threat in both MMA and pro wrestling, which she may or may not be, but this is wrestling where we get to decide things like that! Sasha Banks and Bayley are the only others I'd put as favorites to win, although I think we'll see them eliminating each other to further their rivalry.
Overall, I think this is the best WrestleMania card on-paper we've seen since WrestleMania 30, if not 26. Along with Daniel Bryan's return come more interest in wrestling than I've had in years, and we've had such an amazing weekend in New Orleans that I'm just so excited for it to culminate with this show. We're gonna have the time of our lives celebrating our love of professional wrestling and I hope you will too!