Lamar Jackson Hasn't Hired An Agent, Instead Will Be Represented By His Mom
Lamar Jackson just said fuck Drew Rosenhaus, fuck Joel Segal, fuck Leigh Steinberg, fuck Tom Condon and fuck Don Yee. I'm going with Felica Jones. The Felica Jones who was Jackson's "first strength coach"? Yep. The very same. Hello Felica.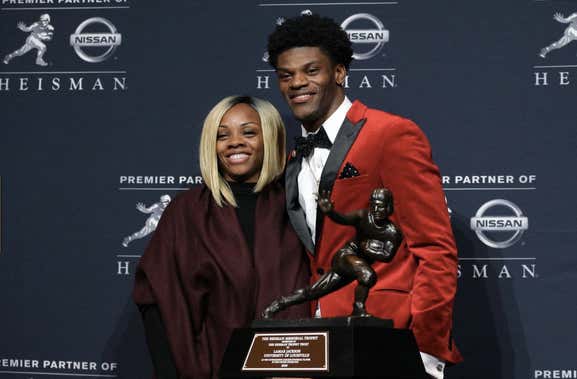 Obviously there are a couple ways this could go. The hope, for everyone, is that it doesn't go the Eli Apple way. Apple's mom ruined him, his chemistry with his team, and possibly the Giants altogether.
From a self-governance perspective, Jackson has to hope that it goes something like how Richard Sherman's self-representation has gone. Sherman has acted successfully as his own agent, and while he surely has his own lawyer, he avoids having to pay that 4% to 10% of his salary and the 10% to 20% of his endorsements.
The disrespect Jackson has sustained throughout this draft process has been shocking. From early on, scouts have tried to shoehorn him into the WR position, citing his accuracy stats, and less accurately, his lack of height.
Despite the sub 60% splits, the amount of plays he will add with his elusiveness/running ability/pocket presence will more than make up for the sub-optimal accuracy. Other's non-belief in Jackson makes it easy to root for him.
It seems people are simply trying to talk themselves out of Lamar Jackson. Why not switch Baker Mayfield to WR?? He's got the athleticism to be a slot guy a la Edleman, not to mention that Jackson's ACC has been a bit more successful producing NFL QBs (Wilson, Watson, Winston, Rivers, Ryan, Trubisky, Taylor, Bridgewater, etc.) than the Big 12 (…Bradford?). Why not flip Sam Darnold to WR? He's basically built like Kelvin Benjamin. Why not flip Josh Allen to TE? From what I've read, he's tall. Do we see how stupid this argument is yet?
If I heard everyone saying that, I might want to represent myself too. If I saw my tape (not just the runs, but the throws too), and compared it to everyone else's, and still saw the disrespect, I might want my mom to be my agent too. Fine. Fuck it. No one has to believe in me but me. If that is Lamar Jackson's attitude, I have to respect it.