Due To A Weird NHL Rule, The Caps Time Traveled Yesterday
RMNB - John Carlson scored a goal in the second period with helpers from TJ Oshie and Evgeny Kuznetsov. Although this might seem like a normal occurrence, Kuznetsov's assist came while he was in the penalty box. Let's explain.
Carlson's goal came thirteen minutes and 33 seconds into the second period. With Sabres goaltender Chad Johnson off to the side of the net, Carlson hit the puck with the hope that it would cross the line. On the ice, the refs called it a no goal after Kyle Okposo kicked the puck out of the net.
Soon after, Kuznetsov took a tripping penalty on Evan Rodrigues.
When play was called dead, Oshie asked the officials to review the goal, confident the puck crossed the line before Okposo touched it.
As the goal was called good, the twenty seconds between the goal and when play stopped were put back on the clock. Due to a weird NHL rule, Kuznetsov's penalty would still be valid even though the play didn't happen. 
———–
I find this so bizarre. I'm a big fan of logic. Continuity. The every moving time continuum known as life. You can't go backwards, only onwards. Even if there's a fire! So what happened yesterday doesn't make a lick of sense to me.
In case you're still confused, here is what happened in the game between the Caps and Sabres: The Caps almost scored, and then the play was later stopped due to a Kuznetsov penalty. They then reviewed the "almost goal" and it was actually a good goal. So since that's when the clock and play should have stopped, they turned the official game clock back to when the Caps scored, but the penalty still stays, even though that time technically never happened. So how can a penalty happen if the time after the goal never happened? According to the NHL…it just does.
.
But if the time never happened, how can the penalty happen?! How can you commit a penalty in a time that was then played over again? And why is Johnny B. Goode playing over the speakers? Woahhhhhhhhhhh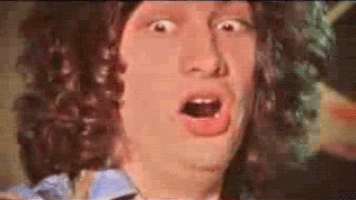 .
Let's hope the next time the Caps travel, they do it….into the 3rd round of the playoffs