College Basketball NPOY Race: Keita Bates-Diop is Leading the Ohio State Resurgence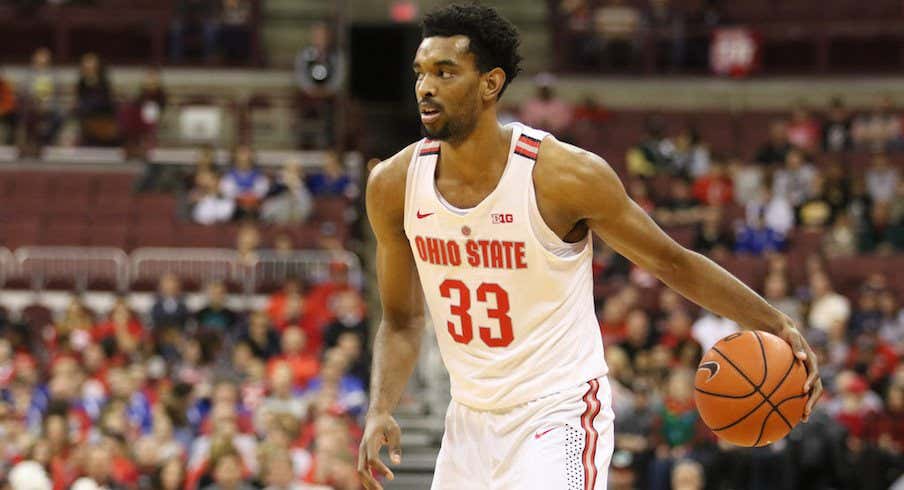 With the regular season just about a month away from ending, we'll be doing different running themes with the blog. Every Sunday I've been putting out bracketology – that will stay the same. As will Monday's Contender Series. I'm going to start highlighting the NPOY race though and some potential winners. I did a huge scouting report on Trae Young back in December so for the time being we'll use that as his breakdown. We'll get into some other things I'm often asked about including bubble teams (those will run on Wednesday), coach of the year and other such awards.
The man with arguably the toughest name to pronounce has become arguably the toughest guy to stop in the Big 10. Keita Bates-Diop wasn't a household name coming into the year. Part of that is due to the fact he was injured last year while also being overshadowed due to the plethora of wings Ohio State had. This year though, Bates-Diop came into the year healthy and in a new role. Gone are guys with similar game as him. Entering Columbus is Chris Holtmann – a coach who is known for getting the absolute most talent out his players. Now, this isn't to say Bates-Diop wouldn't be doing the same thing if Thad Matta (the most underrated coach of this era) was still around, but this is what Holtmann is known for.
So with that in mind, here we are on the morning of February 13th and Ohio State is in sole possession of the Big 10 lead. In fact, all they have to do is beat Penn State, Michigan, Rutgers and Indiana and the Buckeyes win the Big 10 outright. You can point to Holtmann. You can point to the fact Andrew Dakich has exceeded expectations – he was supposed to be fighting for a starting spot at Quinnipiac this year. You can point to Kaleb Wesson and CJ Jackson being better than dummies like me thought heading into the year. But, all fingers need to be pointed at Keita Bates-Diop. He's the star of this team and the main reason the rest of the guys are flourishing. Take a look at Bates-Diop stat line:
19 ppg/9.0 rpg/1.6 apg/1.6 steals per game/1.0 blocks per game to go with:
On top of all that, Bates-Diop is doing this with great efficiency. He's scoring 1.105 points per possession and isn't relying on just one thing to beat his opponent. According to Synergy he's been in spot up shooting the most at 28.5% of possessions. After that he's been in transition, post up and cuts between 11-13%. You can't just try to defend him one way because he'll go inside-out and take advantage of his 6'7″ size with long arms. He uses that to his advantage, both in the post and out on the wing. He's absolutely excellent at creating space by having a high release point and a quick release. It makes opposing coaches really have to decide who they want to guard him – and a reason as to why he was able to beat Purdue last week. Here's what I'm talking about with how high his release is:
The other thing with Bates-Diop is he's always under control. He doesn't get sped up when he's attacking the basket, whether it's cutting or off the bounce. There are a couple of different sets that Holtmann likes to run to get Bates-Diop inside. Against Illinois he started Bates-Diop opposite low block with a guard right in front of him and another wing opposite side. As the opposite wing cuts across the lane, the guard acts as if he's cutting and sets a pin screen for Bates-Diop to flash to the open low block. Then there was this play against Purdue, which I'll remember all season. It showed sort of who Bates-Diop is. After setting the high ball screen and getting the swing pass, he gets it to Tate in the high post. After he makes the cut to the low block, Mathias tries to front him assuming there's some weakside help. The problem is Haas is too high in the lane and Vince Edwards is completely out of the lane. This is where Bates-Diop uses his length. He's not going to blow anyone away with athleticism, but is able to finish due to those long arms.
Bates-Diop is going to continue to be the focal point for Ohio State's offense down the end of the season here. It's impressive watching him play and while I have no idea how successful he'll be at the next level, he's played his way into a top-35 prospect in the NBA Draft. That says a lot about the kid and more importantly his game. He's extremely fun to watch due to the fact that he can beat you so many different ways all while making it look like it's in slow motion. Ohio State has the chance for a deep run in the NCAA Tournament because of that reason.
Player of the Year Rankings

Shout out to Rob Dauster who is the first one I remember reading a weekly NPOY rankings blog. I'm not saying I stole this idea from him, but it helped. 
1. Jalen Brunson (Villanova)
2. Trae Young (Oklahoma)
3. Marvin Bagley (Duke)
4. Trevon Bluiett (Xavier)
5. Deandre Ayton (Arizona)
6. Keita Bates-Diop (Ohio State)
7. Keenan Evans (Texas Tech)
8. Chandler Hutchison (Boise State)
9. Miles Bridges (Michigan State)
10. Jock Landale (St. Mary's)
Coach of the Year Rankings
*Note I accidentally left off Chris Holtmann last week when I forgot to put him back in after moving around the order. 
1. Tony Bennett (Virginia)
2. Chris Beard (Texas Tech)
3. Chris Holtmann (Ohio State)
4. Bruce Pearl (Auburn)
5. Chris Mack (Xavier)
6. Jay Wright (Villanova)
7. Rick Barnes (Tennessee)
8. LaVall Jordan (Butler)
9. Mark Few (Gonzaga)
10. Mick Cronin (Cincinnati)