Blake Griffin Faces The Clippers Tonight for the First Time and Says He's Not Going To Be "Buddy-Buddy" With His Old Teammates. Good, Destroy Them All
Blake Griffin will see many familiar faces Friday night when the Los Angeles Clippers visit Little Caesars Arena.
His former frontcourt partner in center DeAndre Jordan.
His former coach, Doc Rivers.
But Griffin says it won't be time for pleasantries. With both teams fighting for their playoff lives, Griffin expects a physical hard-fought game when the Clippers face his new team.
"I know those guys really well so I can't say it's just another game," Griffin said after the Detroit Pistons' 115-106 victory over the Brooklyn Nets on Wednesday night.

"It's a game where I really know that team, but we're trying to get wins, they're trying to get wins. I'm not the guy to be all buddy-buddy during games. It's going to be a war."
Good for him. Fuck the Clippers. They treated him like absolute dog shit on his way out. He genuinely seems like he's happy on Detroit right now with a fan base behind him that actually cares and likes their team. Since the trade they're 5-0 and right back in the playoff hunt, with only room to go up as Reggie Jackson returns soon enough.
Clippers guard Austin Rivers is close to coming back and is questionable for tonight's game. Since the entire NBA hates Austin Rivers, I assume Blake despises him and wants to put him on a fucking poster. I hope he plays and Blake annihilates him on a dunk. I know Blake's game is a little different these days after all his surgeries as he's become more of a finesse jump shooter, but I think he's got one more "dunk on every human being" game left in him. Blake dunking over DeAndre Jordan tonight would be something. Don't step on the tracks when the train is coming though.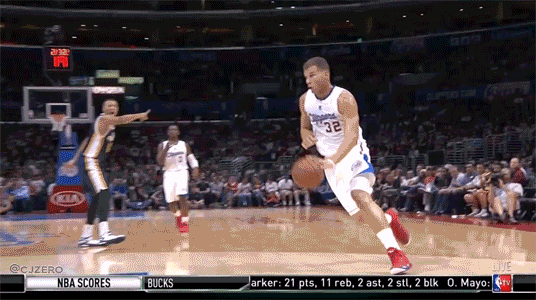 Also check out Blake on Kevin Hart's little comedy series he's been doing. I was originally going to make this the basis of the blog because it was really funny and well done. Blake does a few Jim Halpert stares into the distance that crack me up.